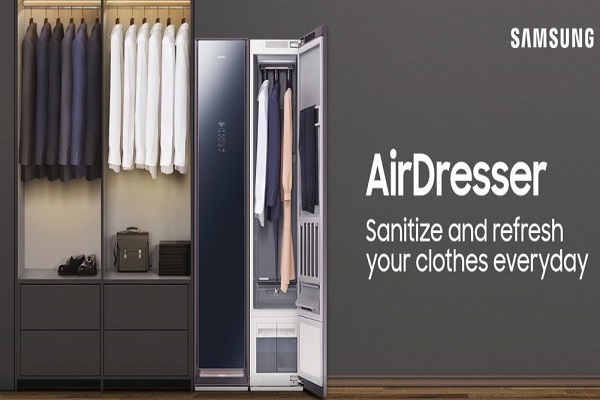 To provide more variety to its consumers, electronics major Samsung has launched its clothing care solution called AirDresser. This new product uses air and steam to remove dust, pollutants and germs and also deodorises and sanitises clothes.
The device can be used to remove light wrinkles and deodorise clothes on a daily basis.

The product will be available at a price of Rs 1.1 lakh on Samsung's official online store Samsung Shop and on e-commerce portals Amazon and Flipkart from December 24, 2020.
Consumers can avail a discount of Rs 10,000 and a no-cost EMI of Rs 5,555 (for 18 months). This offer will be valid for 15 days.
Also Read: Hand-washing app for Samsung smartwatches

The JetSteam in the AirDresser aims to sanitise clothes and eliminates viruses and bacteria including, influenza, adenovirus and herpes virus.  The product can be used not just for clothes but also for bedding and soft toys as well.
 "We are confident that consumers will enjoy better clothing care and easier maintenance with AirDresser as it sanitizes clothes and eliminates 99.9 percent of viruses and bacteria and it will go on to become an essential home appliance just like the washing machine and dryer," said Raju Pullan, Senior Vice President, Consumer Electronics Business, Samsung India.
Samsung said in a statement that the Air Dresser will also be available through its B2B channels for use in corporate offices, co-working spaces, high-end retail, luxury hotels, restaurants, sports centres among other spaces.