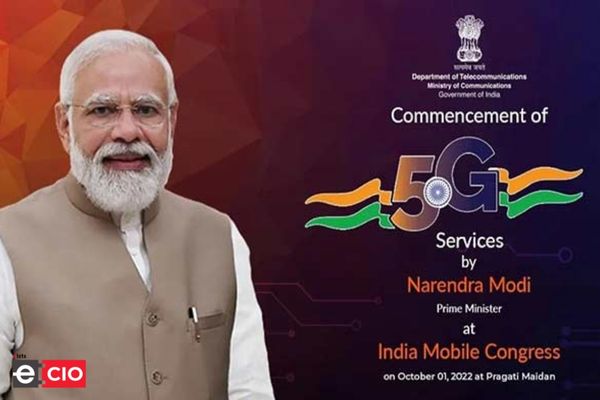 Prime Minister Narendra Modi introduced 5G services and opened the 6th India Mobile Congress on Saturday at Pragati Maidan in Delhi. PM Modi also went to Pragati Maidan to observe the display. 5G technology will deliver continuous coverage, high data rates, reduced latency, and extremely dependable communications. It will improve energy and spectrum efficiency, as well as network efficiency.
By 2035, the total economic effect of 5G on India is expected to be USD 450 billion. The fifth generation or 5G service, capable of supporting ultra-high-speed internet, is predicted to open up new economic prospects and societal advantages, functioning as a transformative force in Indian society.
The largest telecom spectrum auction in India had recently garnered a record Rs 1.5 lakh crore of bids, with Mukesh Ambani's Jio capturing nearly half of all airwaves offered with a Rs 88,078 crore price. During its Annual General Meeting (AGM), RIL affirmed that it will debut by Diwali this year in Delhi, Mumbai, Chennai, and Kolkata. It also intends to bring cheaper 5G phones to market in collaboration with Google.
Mukesh Ambani said 5G is much more than the next generation of connectivity technology. "To my mind, it's foundational technology that unlocks the full potential of other 21st century technologies like Artificial Intelligence, Internet of Things, Robotics, Blockchain & Metaverse, he added.
Bharti Airtel will start 5G services in eight locations, including four metros, on Saturday and will gradually reach the entire nation by March 2024, according to Sunil Bharti Mittal, Chairman of the company. In its June quarter earnings conference, the business stated that it expected to cover the whole country with 5G service by 2024. Airtel also stated that its SIM cards are 5G-ready and would work flawlessly on 5G devices.
Without providing a specific date, Vodafone Idea stated that it will use its strong presence in rural India, business clients and tech partners, as well as the worldwide knowledge of Vodafone Group, to gradually roll out 5G network and services.
Vodafone Idea has previously announced a partnership with smartphone manufacturer OnePlus to make 5G devices available in India.
According to government sources, this will illustrate how 5G can improve education by bringing teachers closer to pupils and removing physical barriers between them. It will show the potential of Augmented Reality (AR) on screen and how it is being utilised to remotely teach youngsters across the country without the usage of an AR gadget.
Chirag Gupta, CEO & Co-Founder, Deyor, says –"Fast and reliable internet is the most significant currency in the tech world today and is just as crucial for the tourism industry. It is essential for customer retention–the new developments in the digital space will allow better guest personalization, enhance access to information, and streamline operations industry-wide. Additionally, it will optimize costs for the entire business. Along with providing increased bandwidth, 5G's low latency and high density will open space for the use of technology like robotics. For tourism, this is a huge milestone as the age of covid calls for lesser physical contact, and our field is no different. We strongly believe this new era will open up immense possibilities for the travel industry–smart airports, smart hotels, and in the coming years, perhaps an enhanced virtual experience for the user that need not be bound by any physical constraints at all."
5G technology will help in connecting billions of Internet of Things devices, will allow higher quality video services with mobility at high speed, and delivery of critical services such as telesurgery and autonomous cars among others.
Also Read | What are the advantages of the advertising industry with the new 5G technology

Unlike existing mobile communication networks, 5G networks will allow tailoring of requirements for each of these different use cases within the same network.
5G will help in real-time monitoring of disasters, precision agriculture, and minimising the role of humans in dangerous industrial operations such as in deep mines, offshore activities etc.