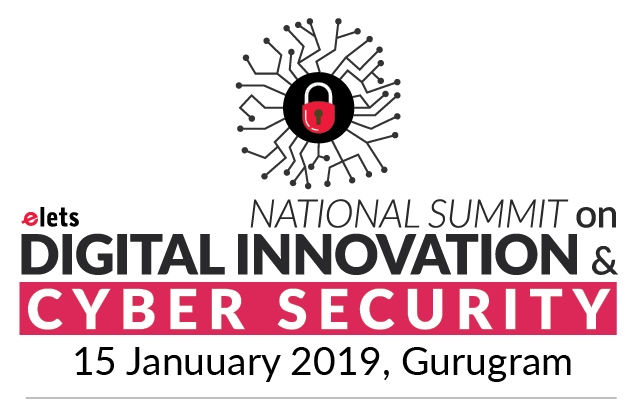 Gurugram: Jan 15: "It is time to regulate the cyber environment and the IT industry and the fraternity should help the government in delivering appropriate cyber services to citizens, " was the clarion call given to the august gathering of more than 300 people assembled at the Digital Innovation & Cyber Security Summit, Gurugram by Captain Abhimanyu, Hon'ble Finance Minister, Government of Haryana.
Speaking at the inauguration of the conference organized by the Government of Haryana in conjunction with HARTRON, the state nodal IT agency, and Elets Techno Media, Captain Abhimanyu lauded the Haryana IT leadership and especially the HARTRON Innovation Campus in Gurugram that has emerged as an innovative place for startup ecosystem to evolve. The Haryana IT leadership was represented by Ankur Gupta, Principal Secretary, Dept of Electronics & IT, Haryana and Vijayendra Kumar, MD, HARTRON and Secretary,  Dept of Electronics & IT.

During his welcome address, Vijayendra Kumar informed the assembled gathering that Haryana has become the first state in the country to have a toll free number for cybersecurity. He also emphasized on the unique CSR initiative undertaken by HARTRON to recognize specially privileged people.
Cybersecurity was one of the key focus areas of the Summit with Captain Abhimanyu setting the tone with his concern on behalf of the political governance fraternity on how to protect the privacy and rights of people. Padma Jaiswal, Secretary, Directorate of IT, Puducherry asked the industry to update solutions on data protection to synchronize with the cybersecurity laws. She also predicted 5G will be the smart project instruments in the future as it enters into the private space too. Brijesh Singh, Inspector General of Police (Cyber) and CISO, Maharashtra Police also urged the industry to innovate on cybersecurity business. George Kuruvilla, MD, BECIL, informed about his organization's capabilities in monitoring broadcast and social media. BECIL is already conducting this monitoring for Ministry of I&B, Ministry of Transport and Government of UP.
The Summit recognized 30 awards different government departments, industry vendors and 10 startups (who were part of HARTRON Innovation Campus startup ecosystem). Captain Abhimanyu handed over the awards for excellence in innovation to the winners during the Summit. The Summit was supported by industry partners including Railtel, HPE, DLF Cybercity, LG, Dell EMC, Symantec, Fortinet, Engineer.ai, ICICI Bank, Array Networks, Rean Cloud, Panasonic, Seqrite, Axis Bank, Canon, Punjab National Bank and HDFC Bank.