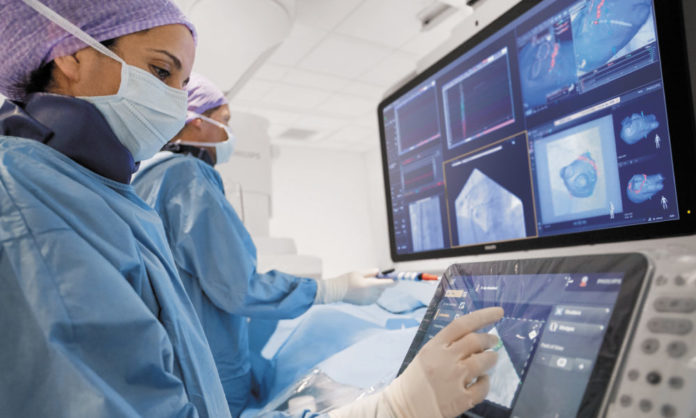 Royal Philips, a leading health technology solutions provider, has announced the India launch of Azurion, the company's next generation image-guided therapy platform (IGT).
The platform is powered by ConnectOS, Philips' newly developed operating system to optimise system integration which features an easy-to-use intuitive user interface combined with real-time information on multiple work spots within the interventional lab, the company said.

The system is the result of a multi-year extensive research and development programme involving leading cardiologists across the globe and innovation teams at Philips including ones from the Philips Innovation Centre, Bangalore.
Azurion has been designed to address the challenges of higher throughput requirements, ease of conducting interventions and controlling costs while improving standards of care. It is equipped with new workflow options and performance dashboards, as well as an upcoming range of productivity improvement services.
Following the acquisition of Volcano in 2015, through which Philips has become a leader in advanced catheters for diagnosis and therapy, the company is now further cementing its overall leadership in the image-guided therapy market in India.
As a leader in the Indian market, Philips offers integrated solutions comprising interventional imaging technologies and planning and navigation software combined with interventional devices, including catheters for diagnosis and therapy, and a broad range of services, all aimed at helping clinicians provide superior care at predictable costs.
At the launch, Dr G. Anil Krishna, Managing Director, MaxCure Group of Hospitals, said, "It was a pleasure to witness the launch of Philips' next generation platform in Image Guided Therapy-Azurion. Azurion is a completely new system all together and represents a major leap in healthcare innovation that will lead to highly improved experiences for both patients and care givers."
Partha Paul Business Head – IGT & DXR, Health Systems India, said, "Azurion will revolutionise the IGT market in India by providing superior care through pre-programmed, personalised settings to help minimise preparation errors, and features high quality imaging at ultra-low radiation exposure. Philips has always been the frontrunner in providing latest technologies in the healthcare segment and the launch of Azurion has further strengthened its position in the market."
Driven by their benefits for patients and care providers, minimally-invasive therapies, such as catheter-based treatment of certain tumours, aneurysms, obstructed blood vessels, heart rhythm disorders and defective heart valves continue to rise in popularity.
In addition to reduced patient trauma and shorter recovery times, such procedures also have the benefit of allowing treatment of patients who would not be able to withstand the trauma of open surgery. Effective imaging, measurement and navigation technologies are therefore key to guiding minimally-invasive procedures.
At the core of the interventional lab, these technologies allow identification and visualisation of target organs and tissues, the operation of interventional devices, and the placement of implants, leading to improved chances of therapy success. It is backed by innovative services and support that offer a lifetime of benefits, reinforcing Philips' commitment to users and patients