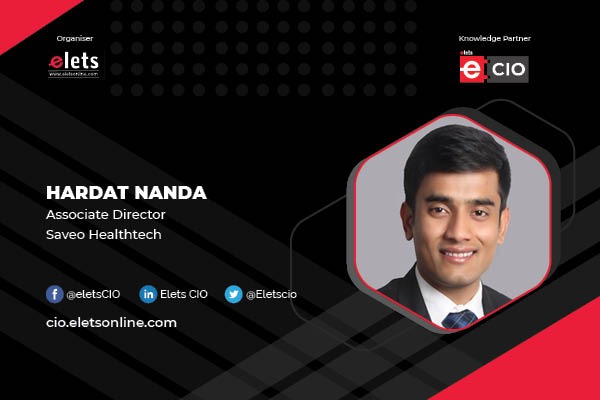 The only constant in this cosmos is change and post-COVID the chemists are evolving. The Covid 19 pandemic has put an enormous and prolonged strain on global health systems and suppliers of key community services. Chemists are now more inclined to utilise technology and smart logistical solutions due to supply-side difficulties. To understand how Saveo Healthtech is streamlining the pharma ecosystem, Nidhi Shail Kujur of Elets News Network(ENN) interacted with Hardat Nanda, Associate Director, Saveo Healthtech.
1. What is Saveo Healthtech and how is it streamlining the pharma ecosystem?
India is the 3rd largest producer of pharma goods (by volume) and the most prominent vaccine manufacturer globally. India contributes 20% of global generic exports (in volume) and exports medicine to 200+ countries. More importantly, the Indian domestic market is to grow to a $130Bn industry by 2030 (3x jump from 2021) – this presents an ample opportunity. However, India reels under severe pressure when it comes to procurement, logistics, technology usage and innovation – in essence, holistic healthcare delivery.
Saveo aims to build a seamless healthcare delivery network improving all the above aspects.
Despite India's contribution and growth forecasts – India reels under several inefficiencies that could derail and check the growth. Recent data suggests that the average prescription fill rate in India is 6/10, which means that an individual can only get 6 out of 10 medicines in India, which can be attributed to several factors such as tertiary data or prescription data not flowing to all the pharmacies, manual inventory management by pharmacies on the store (85% pharmacies don't have ERP in India) as well as a fragmented distribution that makes it difficult for pharmacies to procure.
Also Read | Covid proved that competitive advantage cannot be done without technology: Shobhana Lele, CIO, Bombay Dyeing
Moreover, COVID exposed the fragmented and asynchronous nature of the healthcare and pharmaceutical industry – resulting in a demand-supply breakdown of medicines, devices, hospital beds, and oxygen.
In order to address the gaps and streamline the industry, Saveo is building the largest smart network of pharmacies in India. Saveo is building a B2B digital marketplace for pharmacies by converting quality suppliers into dark stores and running a vertically integrated full-stack managed marketplace model to provide better, faster & cheaper- procurement to pharmacies across India and offer the highest fill rate.
Secondly, we are the only multi-category drug platform in the market and thus provide the one-stop chemist platform for all medical needs.
Post-COVID tech adoption has increased amongst chemists – which has made Saveo's digital solutions (like mobile app/web app – equipped with pharma-centric search engines and recommendation algos) more beneficial for chemists in handling its daily operations on the supply side more efficiently. Chemists, today, use mobile/web apps to place and track orders, discover prices and improve earnings, understand demand patterns in its areas, and most importantly, reduce prescription bounce by leveraging our stock intelligence feature.
2. Is supplying pharmacies providing a holistic approach towards healthcare?
India has approximately the same number of pharmacies as registered doctors – 1 Million. However, chemists are better distributed demographically than doctors in India. Doctors tend to be more concentrated in urban /tier 1 cities than in tier 2+ or rural areas.
Moreover, our primary healthcare system lacks an adequate supply of caregiving personnel and goods. Therefore, Saveo believes chemists could evolve from a mere drug dispensing entity to a caregiving healthcare centre – (primarily for preventive and palliative care).
We are digitally empowering chemists to procure faster, manage inventory/ expiry, and, most importantly, improve their profitability – by providing access to affordable drugs with 100% availability. In near future, we will be equipping them with digital tools to enhance their patient relationship through – real-time video consultations, 24*7 AI chat availability, timely delivery of medicines, digital dosage reminders, patient support programs etc.
Lastly, chemists contribute to 90% of drug sales across all channels and are best suited to help with building a smart and effective healthcare delivery network.
3. Do you think traditional pharmacies are taking the backseat post covid? If yes, why?
Change is the only constant in this universe and I see chemists are evolving post-COVID. Covid 19 pandemic has placed an extraordinary and sustained demand on health systems and providers of essential community services worldwide. The supply of life-saving drugs and vaccines was broken due to a surge in demand and broken logistics.
The supply-side issues faced by chemists have made them more willing to adopt technology and smart logistical solutions. This provides us and others with a huge opportunity to digitally empower chemists. Chemists are more inclined to use mobile and web applications for procurement, price discovery, inventory management, and, more importantly, leverage a logistical network for easy and timely procurement.
Moreover, e-pharmacies – contributing to 3% of drug sales in India – are opening pharmacies in urban towns. Apollo opened its 5000th store in India. The above two indicate that physical pharmacy -(contributing to 90%+ drug sales in India) is the way ahead.
More interestingly, the chemists were the only channel operating during COVID – which made FMCG a potential channel to push its products. Many D2C companies reach out to us to launch its product at the chemist channel – owing to its positioning.
Also Read | Covid-19 has enhanced price transparency, customer awareness: Vijeta Soni, Co-Founder & CEO, Sciative
In short, chemists were in the front seat, and COVID has only elevated its importance in the value chain beyond the pharmaceutical industry.
4. What is Saveo's digital-first neo-pharma brand and how does it help in improving the effectiveness of the healthcare delivery system?
With holistic pharmacy empowerment in mind, we at Saveo created the first patient-centric neo-pharma brand- Carin. It provides tech-enabled patient support through digital reminders and patient support programs and generates QR codes for the smart packaging of medicine. This feature allows pharmacies to provide relevant information to patients, such as drug quality, usage, and side effects. With the provision of its assistance through the brand, Saveo aims to improve the effectiveness of the healthcare delivery system.
5. How do you see Saveo growing in the next five years?
The highly fragmented nature of the USD$ 140 billion pharma industry (3k+ pharma companies, 65k+ suppliers for 1M+ pharmacies serving 2lac+ SKUs) requires consolidation across the supply chain to serve pharmacies better. For the first time in India, Saveo is making all categories (Branded Generics, Trade Generics, Surgicals, OTC, Ayurveda, Specialty, Veterinary, Homoeopathy etc.) available on a single platform and across the metro to tier V regions of India. The strategy right now is to go deeper into the existing states and open new hubs in the nearby states such that by Mar'23, we will have 12 hubs in India, covering 500+ cities/towns and delivering to 50000+ pharmacies. The strategy we follow is serving the new areas from a nearby state's existing hub such that the pharmacies start experiencing the power of procurement. Once the revenue reaches a threshold level, we open a dedicated hub in that new state.