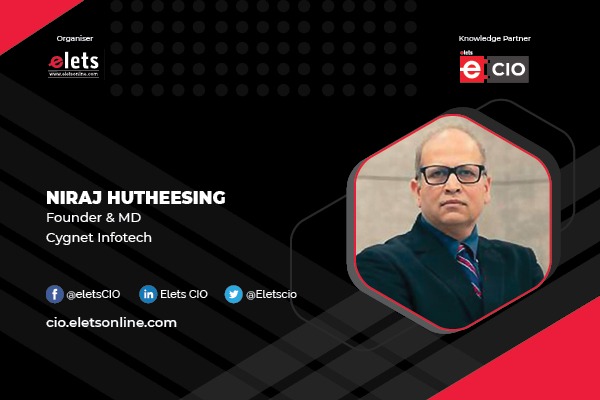 The advent of technology in businesses is changing the game. Companies all over the world are relying on emerging technologies to boost their competitive advantage and drive strategy and growth. Niraj Hutheesing, Founder & MD, Cygnet Infotech, in interaction with Nidhi Shail Kujur of Elets News Network (ENN) speaks about the key technology requirements of the customers and how they are addressing this challenge.
What are the key solutions provided by Cygnet Infotech?

At Cygnet Infotech, we have a legacy of over 20 years of strong experience in helping clients move their bespoke applications to the cloud. Right from the inception of the organization, we have been involved in providing cloud-based solutions to all our clients. In doing this, our focus has primarily been on digital engineering services, with expertise towards software product engineering. Our proprietary solutions revolving around tax technologies, financial technologies, digital signing solutions and cloud-based RPA are proof of our effort as well as our expertise towards solutions around cloud capabilities. We understand that technology and related services have now become imperative to achieve an edge in businesses therefore, we also believe in empowering our customers with our tech-enabled solutions by identifying the right technology platform that will deliver the required objective for the organisation.
Elaborate on the journey far since the inception of the organisation
We started our journey as a product engineering company servicing clients in accounting and tax technologies. Still, we soon migrated towards being a services company developing software product engineering solutions for clients across the globe. We have developed solutions for clients in various industries like ISV, BFSI, Healthcare, Transportation, and Logistics. The need to showcase our capabilities to clients led to developing our suite of products that would complement the organization's services capabilities. The products revolve around test automation, process automation RPA, tax technologies and financial technologies. We have an active presence in regions such as the USA, Europe, the UK, South Africa, India, and the Middle East.
What are your customers' key technology requirements, and how do you address them?
The key technology requirements for our customers revolve around cloud solutions. We cater to organisations wanting to automate end-to-end processes and take them to the cloud. The macro-level requirements we specialize in are converting bespoke monolithic solutions to microservices architecture solutions. This helps to convert standalone systems towards connected and smart systems. Another key technology requirement is around microservices-level solutions, modernization through better implementation of DevOps, and ensuring the cloud-first approach towards development.
How Cygnet Infotech is leveraging OCI to improve customer experience?
The biggest advantage we have from OCI is the availability of data centres in countries which are a focus area for us, to effectively deploy Cygnet Infotech's cloud solutions. We have been able to host our tax technologies platform in the countries of our choice and OCI capabilities allow us to provide the right kind of SaaS solutions in multiple geographies.
We were seeking a platform that would help us create a SaaS-based ecosystem which is horizontally scalable. Our primary aim was to migrate our desktop edition-based RPA product named AutomationWhiz to an improved microservices-based architecture and as per our product roadmap, we were planning to move to the cloud and remove the dependency on our data centre. We knew we needed a reliable cloud provider to support our mission efficiently. Therefore, leveraging OCI became a natural choice for us.
The entire project was initiated with the core goal of a customer-first approach to support SaaS capabilities to improve our customer's operational efficiencies and performance considering the cost factor as well. Staying ahead of the competition regarding customer experience, product features, and technology landscape is equally important for us.
Also Read | "Technology advancements are triggering greater collaboration between IT and business"
The modernization journey started a year back in 2021; we began with self-managed Kubernetes on our existing data centre setting up development, staging, and QA environments to establish the architecture & POC. We sensed the readiness to move from the data centre to the Oracle cloud, and we started using OCI's managed Kubernetes services. We were constantly executing the round of performance testing on OCI which helped us gain confidence in horizontal and vertical scaling across services offered by Oracle cloud.
What is the roadmap ahead for key technological solutions offered by the organisation?
The roadmap for the organization is very clear towards converting more bespoke monolithic applications to the cloud with microservice-level architecture. We help client organisations take maximum advantage of cloud capabilities. We are striving with our clients to make standalone solutions more connected and smarter. This is our philosophy and our culture.