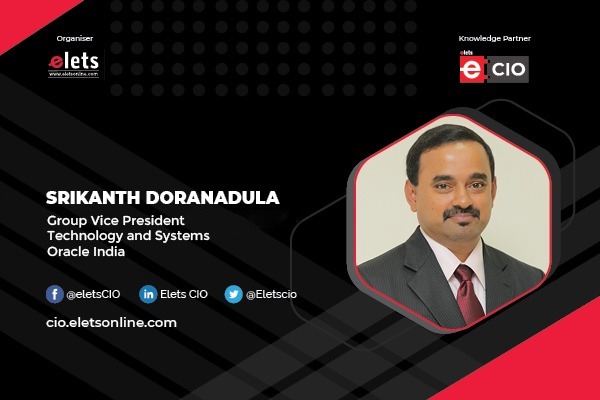 Instead of going the traditional route, organisations are willing to experiment and learn the best way to approach the cloud for their specific business needs. Given the emerging highly dynamic business environment, businesses are also open to leveraging cloud-related technologies such as AI/ML, and blockchain. Srikanth Doranadula, Group Vice President, Technology and Systems, Oracle India in an interaction with Nidhi Shail Kujur of Elets News Network (ENN) speaks about the key cloud trends in the country.
What are the key cloud trends in the country?
India as a country has efficiently crossed many milestones in the cloud race over the last few years. Businesses across sectors have learned to embrace the cloud as an imperative to achieve the most important business goals and also gain a competitive advantage. This is echoed by IDC research which states that the overall Indian public cloud services market is expected to reach a significant $13.0 billion by 2026. With such massive numbers predicted, it is important to understand that it is not enough to just accept the cloud to keep up the momentum. Organisations must learn to fully dive into and identify what works uniquely well for them.

As businesses realise the importance of customising their cloud strategy to gain the maximum out of their cloud investments, we are witnessing a rising acceptance of sophisticated cloud environments including multi-cloud and hybrid cloud. Organisations are open to experimenting and learning the right way of approaching the cloud for their specific business needs instead of going the traditional way. Given the highly dynamic business environment that has emerged, businesses are also open to moving towards leveraging cloud-related technologies including AI/ML, blockchain, and analytics, amongst others to address the most critical business needs.
What are the benefits of hybrid cloud to the public sector?
A hybrid cloud has emerged to be a significant way of introducing any organisation's cloud journey. While it is open to all and should be leveraged basis the business' requirement, however, it has become an ideal option for sectors such as government, defense and also intelligence. Considering these sectors deal with extremely critical data, any breach would cause a domino effect leading to catastrophic results for the nation. To safeguard this data, some well-thought-over regulations are put in place which prevents any unnecessary threat. As these sectors aim to navigate data sovereignty requirements and also address high-security needs given the sensitivity of their data, it is also important to innovate and achieve the most efficient public service delivery. Thus comes the need for a hybrid cloud environment that can address both security and innovation requirements.
With this, public sector organisations can move non-core workloads to the cloud while keeping the most critical ones on-premises. As the cloud automates the non-core workloads to derive meaningful benefits, these organisations can focus their important resources on critical data and also ensure the safety of the same. The public sector can also move critical workloads to the cloud considering Government regulations. When doing so, some of the critical data like income tax, corporate affairs, ministry of finance or even defence should leverage the air gap cloud. This means that it is air-gapped from the internet and deployed in facilities built to government specifications that align with the government's standards.
As the entire country moves to a cloud-first world, the public sector needs to strategically make its way and ensure innovation.
How can the hybrid cloud contribute towards the overall digitisation of India?
It has become much more important than ever to keep pace with the evolving business landscape. No organisation can stick to monolithic systems and achieve a competitive edge with their customers; therefore most cloud-smart enterprises have already added hybrid cloud to their core strategy. These businesses have already started reaping the benefits of their integrated and balanced approach to the cloud by scaling much faster via their customizable strategy for digitization. With better choice, improved cloud economics and regulatory compliance achieved, businesses can focus on their mission-critical tasks and achieve better organisational efficiency. Given its many benefits, analysts and industry experts estimate that the global hybrid cloud industry will grow to nearly $97.6 billion by 2023.
Another important benefit of the hybrid cloud is that it allows many organisations to learn the nuances of the cloud in a phase-wise manner and eventually develop a strategic approach to it. This lets organisations take the time to learn the various benefits of the cloud. Once they start the process and gain understanding, they can choose to stay hybrid or go completely on the public cloud. Additionally, while the primary goal of any responsible cloud provider is to ensure data security, however, businesses can also choose a controlled way to cloud by keeping the most sensitive workloads on-prem with a hybrid cloud approach.
What is Oracle's hybrid cloud offering?
Being a customer-centric organisation, we understand that the hybrid cloud holds the future and will be crucially leveraged by many businesses across various sectors. With experience spread across decades, we have built a unique hybrid cloud portfolio that can be taken by our customers to address their hybrid cloud requirements.
Also Read | Organisations leveraging multi-cloud to achieve business goals
In our portfolio, we have Oracle Alloy, which provides a complete cloud infrastructure platform which enables partners to become cloud providers. These partners can then offer a full range of cloud services and also control the commercial and customer experience. This can be taken up by partners independently in their own data centers and they can fully control it.
Dedicated Region Cloud@Customer is another unique offering which allows a complete OCI cloud region in the customer's own data center. Customers can gain complete control of data and applications, helping them achieve security, regulatory compliance and data residency requirements.
Beyond the dedicated regions, we also offer Oracle Exadata Cloud@Customer, which aims to combine the benefits of the public cloud with customer data centers. OCI delivers the same fully featured, self-service, high-performance Exadata Database Service and Oracle Autonomous Database on-premises that Oracle offers in the public cloud. Additionally, we also offer Oracle Roving Edge, which accelerates the deployment of cloud workloads outside the data centers.