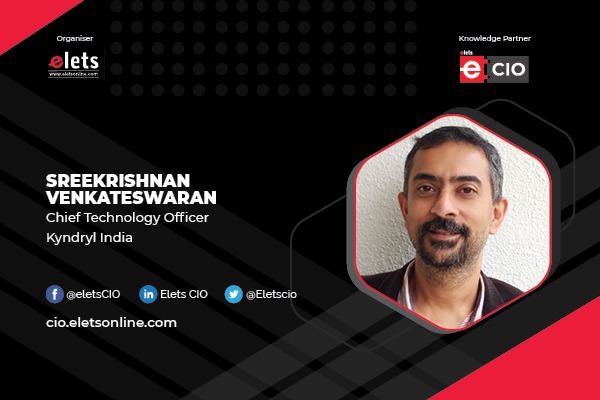 Businesses want to avoid the digital disruption curve and end up in a high-growth industry. And they see Kyndryl as a trustworthy partner who can assist them in responding to and transforming with technology. To brief us about the challenges faced by the customers during their digital transformation journey and how Kyndryl helped solve them" Sreekrishnan Venkateswaran, Chief Technology Officer, Kyndryl India interacted with Nidhi Shail Kujur, Elets News Network (ENN).
Kyndryl in India – What are its focus and differentiated services?

India is the fifth largest economy in the world and is on its way to becoming the third largest. Indian industries are transforming at breakneck speed, with sectors such as fintech, e-commerce, civil aviation, electric vehicles and drones witnessing double-digit growth. Kyndryl has several hundred clients in India across ten industry verticals, and we do cutting-edge technology projects for many of them. Some examples include a pan-India edge cloud for a telecom company, digital transformation at a large Indian airport, AI-based business process automation for a retailer, and a hyperscaler-native app that we are developing for a gaming company. We are also co-creating transformational pilots for our clients, from hospitals and microfinancing institutions to drone companies and banks. Our goal is to bring in deep tech to help businesses, and through them, ease the lives of ordinary citizens.
Kyndryl has a roster of blue-chip clients with whom we have long-term relationships. Some of our global client partnerships started four decades back! Our scale of people and tools enable us to execute large projects that others cannot. Doing things at scale is in our DNA – from the number of people we recruit to the number of systems we manage.
How is adopting emerging technologies by organisations helping them in their digital transformation journey?
Ultimately, businesses want to reimagine their product concepts, increase reach, and improve their KPIs; technology is an enabler to achieving these goals. Because of this, technology service providers are building industry vertical specializations. Exponential technologies – such as AI, Cloud, IoT, Analytics and Blockchain that trigger accelerated change, especially where they intersect – are horizontal levers to solve industry problems. They disrupt the way that industries are run, and because of that, they have an impact on businesses, the economy, and the lives of ordinary citizens.
To take an example, fintech is the outcome of unleashing the might of exponential technologies on the financial services sector, and we all know how that is helping India reinvent itself as a cashless and paperless economy. We are also seeing how fintech is helping to create new innovative business models for bold and disrupting companies that are slow to transform.
What challenges does Kyndryl face in the digital transformation journey of its customers and how can they be addressed?
Businesses want to navigate the digital disruption curve and end up in a high-growth space. And they see Kyndryl, as a trusted partner who can help them respond and transform with technology. This responsibility does not come without challenges for technology service providers like us. We are acutely aware that we must constantly rewire ourselves for the future by thinking two or three years out.
We are continuously making investments that will help us stay ahead of the curve. Kyndryl has organised its business around a carefully chosen set of six practices – Cloud, Core Enterprise, Resiliency & Security, Network & Edge, Digital Workplace, and Applications, Data & AI. We are building cutting-edge IP and service offerings around these practice specializations, while simultaneously expanding our strategic partnerships. And we are constantly upskilling and reskilling our employees.
How is Kyndryl reimagining the approach to tech infrastructure management?
As an independent company, Kyndryl is building a foundation of excellence by creating new systems and services to unlock its full potential when it comes to managing complex tech infrastructure. With our 3As strategy – Alliances, Advanced Delivery and Account Management – we deliver transformative solutions for our customer's unique business challenges. First, forging alliances with key hyperscalers and industry leaders has more than doubled our total addressable market. Second, our focus on advanced delivery has improved operational efficiencies by leveraging the power of automation to design innovative tools and re-engineer processes. Third, we review our client account management to ensure that we are positioned for success and profitability. We are committed to the continuous improvement of mission-critical technology systems that our customers depend on.
Kindly brief us about the Kyndryl innovations for the world: Kyndryl Bridge.
Kyndryl Bridge is a new open integration platform that provides business leaders with real-time insights into their complex IT estates. It discovers symptoms that can lead to business problems and identifies automation to tackle detected issues at source before they lead to disruptions. The idea is to elevate operational strategy from being reactive to turning proactive. This shift is possible by moving from a metrics-based approach to an analytics-based technique for keeping IT environments healthy. Kyndryl Bridge will help businesses bring down outages by infusing the power of data analytics into operations; it will enable CIOs to measure the number of prevented disruptions and track recovered failures.
Kyndryl Bridge brings a new level of observability and visibility, to heterogeneous IT environments while taking a tool-agnostic approach that gives customers the flexibility to use the tools they know and trust. It collects and aggregates the system's performance and operational data. It then analyses results in real-time to provide IT teams with the intelligence needed to keep their systems running at peak performance. Kyndryl Bridge also offers access to a vast library of automation along with an AI-powered ability to locate content of relevance.
Kyndryl manages large IT estates in India; several clients have thousands of servers under our management. We have started the process of rolling out Kyndryl Bridge for our customers in India. This will give our clients improved business outcomes and heightened control by providing integrated observability over their tech infrastructure.