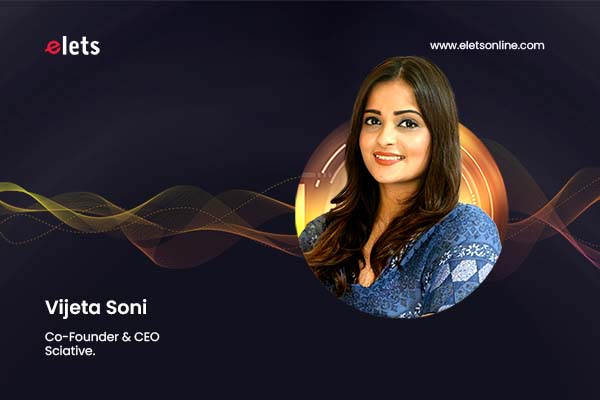 The outbreak and the ongoing effects of the Covid-19 pandemic has changed the world around us significantly. While challenges pertaining to the loss of life and economy is surely saddening but this uncertainty has also given us several opportunities in disguise and digital adoption is one such factor. To get into the depth of technology intervention and the sudden but significant change in the customer mindset, Rashi Aditi Ghosh of Elets News Network (ENN) interacted with Vijeta Soni, Co-Founder & CEO, Sciative.
During the exclusive conversation, she said, "We have observed a clear surge in digital awareness and the necessity for automated pricing and customer intelligence solutions among businesses. Companies cannot afford to lose a customer because of incorrect price or price 'perception'."

1. Tell us about Sciative and it's offerings.
"Sciative" is a combination of two words: Science+Creative. At Sciative, we truly believe that scientific models, theories, and concepts are useless until they are applied creatively to solve real world/business problems.
We have embarked on creating a new path by conceptualizing, designing and developing next generation AI to solve the 'RIGHT PRICING' problem that businesses face on a daily basis. Our ultimate vision is to lead the dynamic pricing revolution and enable all businesses to price right every time.
Our 'RIGHT PRICE' products serve businesses across the travel, retail, e-commerce, and entertainment industries. The idea of an AI-powered pricing product came to us when we realised the massive revenue leakages that happen due to incorrect pricing.
Sciative Solutions was incorporated in 2015 and is a leader in helping companies find the right prices for every product, every market, every customer, and every transaction. We are leading the Dynamic Pricing Revolution with our award-winning machine learning and artificial intelligence-powered technology tools. Sciative is powering price optimization of over 3 billion prices globally across industries such as retail, ecommerce, hospitality, travel, entertainment, technology services, CPG, and industrial products.
2. How is a dynamic price optimization system beneficial for businesses in the current scenario? How does it increase growth prospects?
Traditional pricing approaches no longer work in today's world of constantly evolving market conditions, changing sales channels, and changing customer buying behaviour.
Mega-industries that work with perishable inventory and high market volatility, like travel, retail, cinemas, and entertainment, perennially face a common challenge – pricing. For example, the Indian travel industry (airlines, railways, buses) bleeds over $25 billion in revenues annually due to untimely and uncompetitive pricing.
'Right Price' setting is one of the most crucial problems in businesses, because any price setting error directly results in revenue leaks and lost customers. However, traditional price management methods by businesses almost never achieve optimal pricing because they are designed for traditional environments, where the frequency of price changes is inherently limited and the complexity of pricing models is constrained by the capabilities of off-the-shelf tools and manual processes.
Scientific Price Optimization is the most powerful lever for driving the profit margins of a company. Intelligent pricing strategies and tactics can deliver a significant increase in return on sales. To the benefit of a company, small changes in average price can translate into huge changes in profit margin.
Progressive businesses use automated pricing systems to apply a granular, accurate, agile, and integrated pricing approach across their product portfolios. BRIO, which is our AI-powered smart and intelligent pricing system, uses sophisticated predictive and prescriptive models to provide companies with the 'right price for every product, every customer, every time'. It also adds value by providing customer insights and competitive intelligence on a single platform, all of which are seamlessly integrated into core systems and processes.
3. Emerging technologies are the Gamechangers. What new technologies have you deployed?
The success of our solutions depends majorly on their next generation technical capabilities and built in AI cleverness, which considers 112 parameters simultaneously to optimise price and promotion at great speeds. Our machines process over 3 billion price optimizations daily for over 200 brands and businesses. With our progressive technologies deployed across industries, we leverage:
1. Big Data – Managing multibillion data points for daily price optimizations.
2. Automation – 100% automation is changing the way businesses price.
3. Artificial Intelligence – Self-learning machines that learn patterns from historical synapses, current market and inventory conditions, ongoing demand trends, and predict and prescribe the right educated prices in real time.
4. Pricing Doman Expertise – Over 20 years of experience in Dynamic Pricing and Revenue Management covering Retail, Ecommerce, Casinos, Hotels, Television, Cinemas, Airlines, Taxis, Cruise lines, Theme Parks and more! We are passionate about the right prices that make people buy!
BRIO (our retail SaaS product) and Viaje.ai (our travel SaaS product) are our path-breaking SaaS solutions powered by AI and automation. These tried and tested products in the market are transforming business performance by demonstrating visible improvements in revenues, reducing human-efforts and time in taking accurate pricing decisions.
4. How has the business scenario changed post the pandemic? How is Sciative catering to the same?
Covid-19 has enhanced price transparency – every customer with an internet connected device is comparing products and prices before making a purchase decision. There are a number of options available across D2C and e-commerce channels.
We have observed a clear surge in digital awareness and the necessity for automated pricing and customer intelligence solutions among businesses. Companies cannot afford to lose a customer because of incorrect price or price 'perception'.
While the 'Right Price' revolution is slowly but steadily making its way into the Indian markets now, it is important for companies to not indulge in unnecessary pricing wars. Outdated pricing systems lead to spiral pricing reductions within the market, thus bleeding revenues and margins.
This is where Sciative comes in to help them solve the problem.
Using the travel industry as an example, when determining the price of a bus seat, our algorithms consider 83 parameters like historical data, the type of bus, the route it takes, customer behavior, seasonality, likability of a seat, real-time market data (inventory, offers, promotion history), relative sales performance, etc.-every 15 minutes. With all-rounded pricing decisions, we build VALUE our customers and promote healthy competition. This kind of pricing is going well with the price-sensitive target audience, especially due to the aftermath of the pandemic.
In this age of competitiveness, Sciative is using Artificial Intelligence (AI) to bring a Pricing Revolution to India by leveraging the pandemic as a catalyst in three ways:
● Engagement model: Try before you buy, and new entry level offerings to on-board new clients in new segments with modules that deliver significant value fast.
● Enhanced price optimization features: Personalized pricing features to maximise the lifetime value of our clients' customer base.
● Extensions: Since inventory planning was getting challenging, it offered AI-powered inventory planning modules to help clients match supply and demand.
We have been associated with leading brands in consumer electronics, arts and crafts, beauty, fashion and lifestyle, F&B. Using our Retail Intelligence solution 'BRIO', we have helped retailers to maintain competitive pricing, create and implement effective promotions and customise store-level assortment to revolutionise their decision-making process by providing instant access to actionable insights. BRIO, through its AI model, has the capability of carrying over 3 billion pricing decisions daily, which has helped brands increase revenue by 30% post implementation and achieve a 20-40% improvement in margins across their product categories.
5. What are the sectors that you are working for? Please explain how Sciative is helping companies in each sector?
Sciative works in a variety of sectors ranging from retail, travel, media, food and beverages, direct to consumers, fashion, etc. Sciative has mainly 3 SaaS products, BRIO for retail, Viaje.ai for travel, and AdPrice, a solution for the media and entertainment industry powered by AI and automation.
● BRIO by Sciative provides a suite of dynamic solutions that guide retailers to optimised pricing while also assisting them in cutting costs and maximising profitability.
● Viaje.ai for travel. Our machine-learning algorithms analyse real-time travel routes, market behavior, and seating configurations to determine the optimal price, maximising your overall profits.
● AdPrice for media and entertainment industry solutions gives continuous strategic enhancements and assistance at every stage of the process, from initial pricing and automatic data feeds to monitoring budgets and producing weekly performance reports.
6. What are your business focus/goals for FY 2021-22 and growth plans for the next year?
This fiscal year, we are excited to offer products in the film and aviation industries. While dynamic pricing in the airline industry is widely accepted, I'd like to highlight our Cinema product PRICENA. Fixed pricing will be completely removed from cinemas. PRICENA is being tested at a major Indian cinema chain. In the future, AI bots will automatically adjust movie theatre ticket prices based on relevant parameters such as the director of the film, leading casts, social media views, downloads of songs and trailers, music genre, the duration of the film, catchment around the hall, past booking patterns, competitive prices, and many more. Going to the movies is a wonderful experience. We intend to disrupt the cinema theatre industry by disrupting and expanding the TG for this sector through 'right pricing.' In the near future, a college-going student group will be able to experience a luxury theatre at affordable prices.
In addition to that, we have seen exponential growth in our last few quarters and we are confident that we will deliver a 4x revenue performance in comparison to FY 2020-21. Also, we are expanding our customer base in the national and international market in retail, e-commerce, D2C and travel verticals using AI and analytics. We are confident that in the coming years, not only will our product features expand, but so will our team. This year, our major focus area will be to expand our products and services into the aviation industry, cinemas, direct-to-consumer brands, and e-commerce market places in India and internationally.