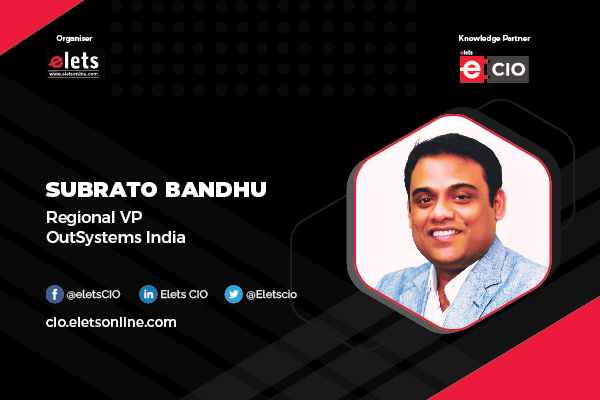 The OutSystems platform contains a robust set of AI-powered tools and automation. It also provides a suite of tools for managing all aspects of each environment's parameters as well as monitoring the health and performance of each deployed application or module. To tell us about the offerings from OutSystems, Subrato Bandhu, Regional VP, OutSystems India, spoke to Nidhi Shail Kujur of Elets News Network (ENN).
Tell us about OutSystems. What are your offerings?

OutSystems was founded in 2001 with the mission to give every organisation the power to innovate through software. Our key offering is the OutSystems high-performance low-code platform, visual model-driven development and delivery platform that allows developers to create enterprise-grade web, mobile and cloud applications. The platform leverages low-code development, which involves straightforward drag-and-drop capabilities, replacing the need for complex programming.
With our platform, developers can design and assemble applications quickly without having to worry about coding syntax or language structure. This significantly reduces the time required for building applications – and that speed helps promote agility. We also help developers adapt applications to meet their organisations' latest challenges at unprecedented speed. Whether applications require updates to workflows, user experience, back-end integration, support for new mobile devices, or new infrastructure technology, changes can be made fast, while also meeting all the security, scalability, and reliability requirements and supporting differing cloud infrastructures.
Our platform includes a rich collection of AI-powered tools and automation that enables scenarios such as this. Applications can be moved across 'development', 'test' and 'production' environments with a single click, and at the same time, IT can provide robust controls over who gets to manage those movements from environment to environment, as well as when and how that is accomplished. We also provide a suite of tools that can be used to manage every aspect of each environment's parameters as well as monitor the health and performance of each deployed application or module.

Could you elaborate on the special advantages low-code apps provide to businesses? What patterns of low-code application adoption do you observe in India?
Low-code platforms not only help organisations rapidly build new applications that are scalable, secure, and reliable, but it also delivers applications that are adaptable and able to be changed as quickly as the needs of the business shift.
To keep up with digital transformation goals, we find that more and more APAC organisations have been turning to low-code platforms like ours. According to our 2020 IDC study, organisations all over the world are increasingly relying on application development tools. 47 % of APAC enterprise leaders rely on various model-driven development tools, while 29% of them plan to adopt low-code tools. Given today's digital-first environment, these numbers are only set to increase. Other studies have found the same: Based on Forrester Research, investment in the low-code market segment is expected to reach US$21.2 billion by 2022, exhibiting a compound annual growth rate of approximately 40%. According to the Gartner Magic Quadrant for Enterprise Low-Code Application Platforms report, by 2023, over 50% of medium to large enterprises will have adopted an LCAP as one of their strategic application platforms.
Recent global events have highlighted the ongoing and growing need for enterprises to build applications quickly. The pandemic underscored this need, but ever-increasing developer workloads and rapidly changing business needs are driving the demand for a new approach to application development in the enterprise. We see more and more businesses adopting rapid application development solutions, like low-code and other modern application development platforms, to speed up and simplify their digital transformation journeys.
In addition to the pressures brought about by the pandemic, customers' growing demands for tailored products and services create additional pressures on organisations to rapidly extend, transform and adapt their existing systems to be faster and more reliable than ever before. Investing in IT and adopting new, more agile technologies is more critical than ever as businesses are forced to transform more quickly than ever before. Many no- and low-code solutions over-index on speed and aren't built for change or scale.
In today's business environment, companies must build applications in ways that support continuous change, which means building for speed, quality and scale. All three are critical for pulling companies out of their technical debt. And it's entirely possible to shrink debt by creating a development process that meets short-term deadlines and long-term goals. By carefully aligning modern application development platforms, organisational structures and team priorities, any business can steadily pay off debt without compromising the timelines of their current projects.
When it comes to low-code, which industry segments do you see the most that are embracing low-code applications?
OutSystems comes in to support modern businesses by looking at their most pressing software development challenges today. Looking to thrive in a cloud-first world, some of them include managing constant change, developer talent shortages, and ever-increasing needs to modernise. Our customers span various industries including banking, media, insurance, energy, government, and financial services – all of which are looking to transform and digitise their operations and processes to become agile.
One of our customers who have benefited from this adoption was Schneider Electric, a global specialist in energy management and automation and provider of integrated efficiency solutions that combine energy, automation, and software for its customers. To maintain the level of innovation output for customers, Schneider Electric required additional agility and efficiency in their business processes, capabilities, and operations. This also included intelligent and modern applications that could be developed, deployed, managed, and changed in line with changing demands. Schneider discovered that their IT landscape was fragmented, with numerous instances of duplicate apps that used non-standard architecture and poor security practices. There was not only a need for speedy development but also governance to manage the lifecycle and quality of applications as well. Schneider Electric set about creating a "Digital Factory" to accelerate, standardise, and improve the development processes. The result? Developers had produced 30 internal business apps in about 40 per cent of the time it had previously required with traditional development. The platform sped the development process by a factor of 2x and saved 650 days of effort in the first year alone. Schneider Electric has now deployed several large enterprise applications that foster efficiency in the supply chain, sales and marketing, workforce and HR administration, finance, portfolio management, manufacturing management, and many more. A large portion of these applications replaced legacy Lotus Notes apps. While most of the applications are responsive web apps, there are mobile apps too. Schneider's IT team completed most applications in about ten weeks of development time.
Also Read | "AI will impact globally and the rapid adoption and developments are definitely improving the cyber security posture"
Financial services also stand to gain from such development platforms. Edelweiss Group is one of India's leading diversified financial services companies that provides a broad range of financial products and services. They utilised OutSystems to build their Loan Origination System (LOS). A big part of how it functioned involved data capture, or CRUD (Create, Retrieve, Update and Delete) operations and workflows. OutSystems gave their development team the tremendous agility needed to rehash both systems in line with dynamic market conditions and regulations. Edelweiss adopted a platform-based approach to process any kind of loan and built a library of configurable widgets and analytical scorecards. It empowered their development team to roll out new features in a matter of weeks instead of months. The configuration capabilities of the platform allowed the business teams to change onboarding and underwriting parameters at will without depending on the IT team.
Please describe your key accomplishments in business expansion, client acquisition, and new product development in the last couple of years.
Our latest update would be our new cloud-native development solution OutSystems Developer Cloud (ODC), which delivers a broad array of benefits for customers building everything from customer-facing portals and internal line-of-business apps to core business systems. This solution combines a state-of-the-art architecture based on Kubernetes, Linux containers, microservices and AWS native cloud services with DORA high performer-level CI/CD, enterprise-grade security, and the unmatched productivity of visual, model-based development.
We also recently introduced our new OutSystems AI Mentor System at our annual NextStep 2022 Software Innovation Conference. This enhanced solution gives a comprehensive set of AI-based development, security, and quality analysis tools that provide expert-level assistance across the most critical areas of the software development lifecycle. With our new AI Mentor System, IT teams can optimise their architecture for performance more easily, identify and fix security-related coding errors, and minimise technical debt and wasted development time.
What is your global footprint?
The company's network spans more than 600,000 community members, 400+ partners, and active customers in 87 countries across 22 industries.
What changes do you see in the IT sector that will make a mark?
The pandemic shift is permanent, and the trend around cloud-native technology is here to stay. For the past 18 months, we have witnessed how the pandemic has been a strong driver of the adoption of cloud-native technologies by businesses. The growing popularity has also forced traditional businesses to shift their strategy to emphasise cloud adoption for application definition and development. As businesses look to scale in a post-pandemic scenario, they need an approach that allows them to digitise fast, provide better flexibility and allow teams to focus on aligning operations according to their business needs. This is where cloud-native comes in – besides enabling businesses to gain digital agility and a disruptive competitive advantage, it also enhances innovation, user experience, and developer productivity while steadily decreasing infrastructure and operational costs.
From a customer perspective, we will see organisations across different verticals moving their focus to cloud-native applications. There is no doubt that it will impact an already software-defined world and businesses cannot neglect this anymore if they want to provide their customers with an enjoyable and reliable experience.
Cloud-native apps provide many benefits for both the customer and developer teams. With benefits such as reduced costs, automated delivery and the ability to allocate resources to other applications, the full potential of this approach is endless. All these factors will come together to help better manage complex business requirements and address challenges of an ultra-responsive user experience which is key for any organisation that wants to be flexible to quickly respond to new challenges and needs in this VUCA (volatility, uncertainty, complexity, and ambiguity) environment, and most importantly, be ready for the future.