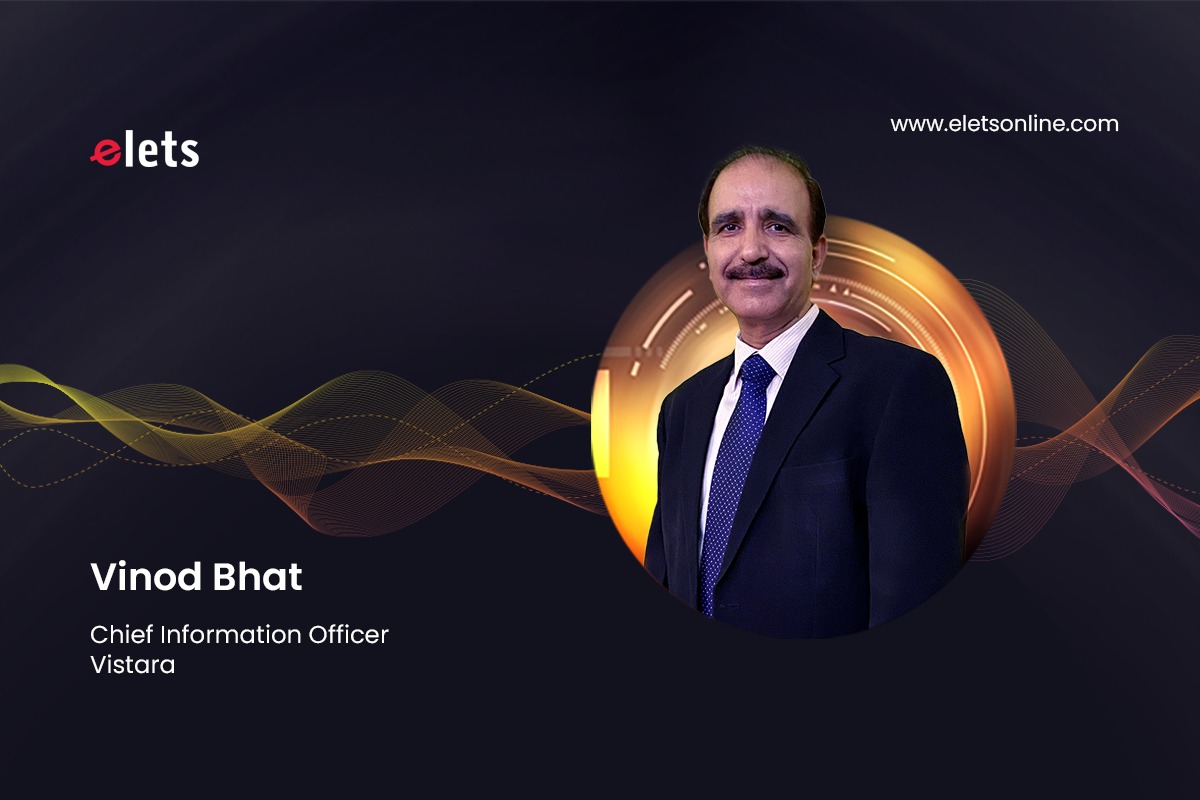 Technology is changing the way businesses are run across the world and in the age of new normal where being contactless is the need of the hour, aviation industry too is gearing up to embrace tech solutions to track the spread of Covid-19, making travel convenient, touch less and seamless. To understand how tech-driven innovations are driving the aviation industry, Shruti Jain of Elets News Network (ENN) had an exclusive conversation with Vinod Bhat, Chief Information Officer, Vistara.
Edited excerpts of the conversation:

1.How will AI change the scenario of the aviation in future?
Artificial Intelligence (AI) and Machine Learning (ML) will continue helping the aviation industry in improving operations, managing route networks better and enhancing safety, customer services and customer support. Industries around the world use AI and other emerging technologies to provide customized services and advance customer experience. Going forward, AI and ML will continue its dominance in the aviation industry across various areas.
• Passenger Identification – AI-enabled tools will speed up the process of identifying passengers. Safety scanners, machine learning tools, and Biometric Identification will reduce dependence on the manual processes used by the global workforce.
• Baggage Screening – AI can help in the luggage test feature, designed to protect the X-ray equipment from dangerous objects and other threats scanned in the X-ray system during the luggage test
• Customer Support – Customer service and support are amongst the most critical areas of an airline's operations. AI can enable real-time identification using historical data at contact centers and other channels. It can help in proactively addressing several issues in a highly cost-effective manner.
• Predictive Maintenance – Using real-time data and historical data, operators can make more informed decisions about when the machine or a part will need to be repaired/replaced.
Also Read: For sustainability, innovation, process streamlining and tech adoption are the new mandates: Subhakar Rudra, CIO, WPIL Limited
• AI can assist enterprises in analyzing customer preferences, location, budget, cuisine, preferences, etc. to deliver personalized offers and services
2. How is Vistara leveraging new technologies like RPA, touchless contact, Big Data & Analytics in their working models?
Vistara, since inception, has been at the forefront of technology adoption and leadership. We are the first airline to have introduced touchless/paperless boarding at a few Indian airports two years ago and we continue to invest in various web/mobile digital technologies to revamp the way our customers travel.
Given the complexity of airline operations and the dynamic nature of the business we operate in, we are one of the few airlines in the world to have 100% cloud-based IT infrastructure. This makes things a lot more efficient and easier, helps us optimize our costs, deploy seamless operations and make the organization dynamically scalable. From website and mobile application enhancement to passenger identification and baggage screening, to customer support and predictive maintenance, we heavily relied on technology/artificial intelligence to strengthen processes and facilitate a seamless travel experience for passengers.
Our teams have developed big data solutions for a comprehensive view of our customers and their needs. We are on a digital transformation journey and are enhancing our "NextGen Connected eCommerce Ecosystem" which will extend the digital experience further to customers and enable business to drive sales and marketing strategies. It will provide an impeccable experience to our passengers through personalized content that caters to their specific needs. In terms of automation and productivity improvement, we are in the process of transforming our fleet maintenance operations. The e-enabling data exchange between aircraft and base has been further enhanced for uploading software updates and to download automatically generated reports and logs etc. Flight planning and network planning are also processes that we are automating by developing solutions for intelligent flight operations.
3.What are the major challenges being faced by you in the process of the road to recovery after covid-19?
Aviation industry has been under a lot of pressure and got significantly impacted during the pandemic. Following the outbreak of Covid-19, the fear of exposure during air travel was one of the biggest concerns amongst travelers and the collective challenge in front of the industry was to rebuild passenger confidence in flying.
Also Read: Covid-19 has enhanced price transparency, customer awareness: Vijeta Soni, Co-Founder & CEO, Sciative
Vistara was already on its digital transformation journey, one that has only been fast tracked due to the pandemic. There was a natural focus on stepping up safety and hygiene measures across various touchpoints. Minimizing human contact through touchless solutions was key to ensuring safety throughout the passenger's journey.
Vistara introduced several tech-enabled processes to minimize physical contact between customers and staff. Casting of kiosk screens on passenger mobile, scan & fly, self-tagging, self-baggage drop, self-boarding, e-gates, biometrics/face recognition, e-boarding passes, and bag tags are all touchless solutions that have been helpful in the direction of making air travel safer and getting passengers to repose their trust in flying.
4. Being a CIO, how you are upskilling the capabilities of Vistara to stay relevant & competent in the upcoming digital future of the aviation industry?
Vistara has invested into the digital infrastructure from the very beginning, including CLOUD, big data, analytics, B2C technologies and so on. Vistara's digital center of excellence helps in staying abreast with the technology changes happening in the industry, by focusing on developing solutions to address key business problems. We work with our partner ecosystem and the service providers in our digital transformation journey.
5. Can we expect biometric technologies like facial recognition, touchless boarding, & retinal scanning initiated by Vistara in the next two years?
Since its inception, Vistara has been at the forefront of embracing new technologies to offer a seamless and hassle-free travel experience to its customers. As a young airline, any concept that promises to enhance customer experience finds the right place in Vistara in the form of experimentation, prototype or a full-fledged solution. In 2019, in partnership with a few Indian airports, we became the first Indian airline to run trials of a biometric facial recognition entry and boarding solution for passengers flying within India. Besides, kiosk check-in (Scan-N-Fly), E-bag tag and automated baggage drop are some of the key initiatives that already in place. We have kept a sharp focus on leveraging biometric technology to make travelling increasingly seamless across customer touchpoints. In future, under the digital boarding process, Vistara customers can simply enroll themselves using their ID and biometric data, combined with their flight details, before entering the terminal. As they navigate through the airport, they can conveniently put their travel documents away to be verified at every touchpoint by the biometric technology. Facial check-in process offers the highest degree of safety and security. The biometric data is used only for authentication and verification of passengers to assist at all the airport processes. Vistara is also closely working with the Airport Authority of India to deploy biometrics across the airports in the country, in a phased manner. We are also working on voicebot (AI) technology to enhance customer experience.
Also Read: Ecom to soon challenge the volumes in modern trade segment: Punit Gupta, Founder & CEO, EasyEcom
We continue to invest in various web/mobile/social digital technologies to revamp the way our customers travel, and we ensure state of art Infrastructure and technology for a frictionless travel experience for our customers in the coming years as well.