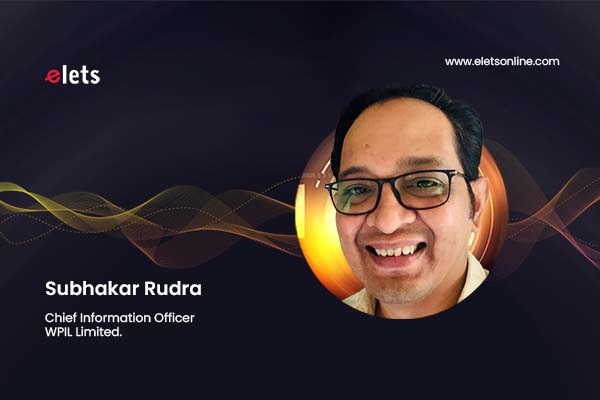 The Covid outbreak brought several challenging circumstances and underlined the criticality of digital transformation across industries. Digitisation, which was already in demand, witnessed major acceleration during the uncertainty, for ensuring resilience and continuity. While digital is the mandate across the globe, manufacturing industry, in particular, is making several interesting deployments and looking forward to transformational changes. To understand the role tech-deployment in the Machinery Manufacturing Industry, Shruti Jain of Elets News Network (ENN) interacted with Subhakar Rudra, Chief Information Officer, WPIL Limited.
Excerpts of the conversation

You have recently joined WPIL from a railway wagon manufacturer. What new experiences and opportunities are you looking forward to gaining?
The products, applications (of Products), services solutions offered by WPIL are completely different from the organisation's I've worked with, so far. On top of that we have presence in and operate across the globe.
Also Read: Covid-19 has enhanced price transparency, customer awareness: Vijeta Soni, Co-Founder & CEO, Sciative
I am looking forward to the opportunity of learning a new and different business while working on technology choices that can provide more value to it, power the organisation and let IT be one of the transformation drivers.
In your new appointment, you would oversee the digital aspects of WPIL Limited. What would be the top priorities?
While the complete digital transformation is overall objective, immediately at the top of the priority list would be,
✓ Addressing the existing issues that need immediate attention.
✓ Working on the existing ERP system. Introducing automation across the processes & functions.
✓ Developing IT policies, procedures and best practices along with setting up cyber-security framework.
✓ Ensuring systems availability over technology adoption like Cloud.
✓ Optimization & standardisation of technology resources to ensure higher RoI while maintaining lower TCO.
In your view, how is the rise of technologies like IoT, RPA, Cloud making the WPIL pumps smarter?
I have joined the organisation very recently. Therefore, it is too early for me to comment.
How would you define the sustainable business roadmap for an organisation, keeping the current situation in mind?
Business road map would differ from an organisation to another. However, during the current situation, to name few, following common factors need to be taken in to consideration in any business road-map for sustainability.
✓ Continuous Innovation.
✓ Process Streamlining.
✓ Adoption of Techs e.g., automation, Cloud etc.
Also Read: Ecom to soon challenge the volumes in modern trade segment: Punit Gupta, Founder & CEO, EasyEcom
What tech-based innovations and vistas are you likely to explore in 2022?
Cloud, Data Analytics and Intelligence and SDWAN to start with, while Information Security Tech exploration would run in parallel.
In your view, which technologies will redefine customer engagement in the next five years?
Given the pace at which technologies are evolving with every passing day and the way boundaries are being constantly pushed beyond our imagination, it is pretty difficult to predict the next one year even.
Yet, if I have to predict, the following would be few of the techs that I would expect to play major roles in redefining customer engagement in the next 5 years.
1. AI
2. AR/VR
3. IoT
4. Blockchain
5. Cloud etc.