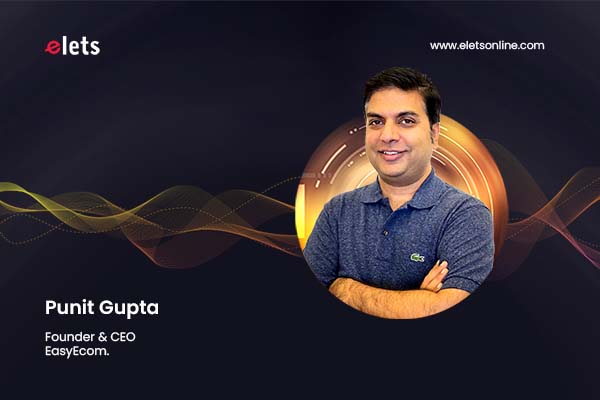 Disruptive technologies and their implementation are no longer new to industries across the world. From being a medium to innovation to a necessity for continuity and resilience, technology has gained a lot of importance specially during the last two years. During the pandemic outbreak, a sector that particularly gained importance os e-commerce as everyone was home bound. To understand, how newage technologies are reshaping the e-commerce industry, Rashi Aditi Ghosh of Elets News Network (ENN) interacted with Punit Gupta, Founder & CEO, EasyEcom.
Excerpts:

1. What Challenges and Opportunities do you see amid the pandemic situation? How have you evolved?
There has been a drastic change in buying patterns for masses globally and everyone has started to rely much more on eCommerce for daily necessities, resulting in a significant boost to growth of the eCommerce ecosystem.
With the uncertainty involved around when this pandemic will get over, the growth has expedited manifolds and brands are compelled to join the eCommerce bandwagon as a CXO level priority. Almost all the large brands we work with, are reporting a clear mandate from their to board to prepare for 15-20% market share to be driven by eCommerce. This is a game changer as this will soon start to challenge the volumes in the modern trade segment that was anticipated to be the fastest growing sector in retail.
However, eCommerce is still not a 100% streamlined business model. Several challenges remain, let us discuss the major ones here.
Dwindling Consumer confidence and Stock Market Volatility
At the onset of the pandemic, people panicked across the world, causing them to rush from store to store (both online and offline) to purchase essential items in large quantities. Also stock markets plunging due to uncertainties ahead did a huge damage to consumer confidence and in turn crashing the retail sales overnight. Consumers have been ordering an increased volume of essentials to be consumed in the coming months as a result of the "stay-at-home" mandate.
Unpredictable demand has resulted from erratic purchase patterns, resulting in supply shortages. Due to massive fluctuations in consumer behaviour toward essential products, even stores that had well-managed inventory have suffered setbacks. Thus, there is a need for demand forecasting for efficient inventory management.
Website traffic is on the rise – brands need to play catch up
During the lockdown, e-Commerce stores that sold daily necessity products experienced unprecedented surge in web traffic. Many physical stores that did not manage their websites or web applications effectively suffered greatly. On the other hand, their e-store struggled to cope with the increased traffic and failed to provide customers with a smooth user experience. Furthermore, several stores did not receive qualified traffic due to a lack of digital marketing efforts. Across the boards, there seems to be a rush now to become eCommerce ready both from technology and marketing efforts perspective.
Superior Supply Chain Management is needed for successful eCommerce engine to run
Global supply chain management markets have been disrupted as a result of imposing lockdowns as a means of controlling the pandemic. On top of that – China, the world's largest goods manufacturer, has seen a huge drop in orders and agreements due to the political tension between various countries and the Chinese government. The Pandemic caused chaos in the global value chain's (GVC) hub regions, including the United States, Europe, and China. Several large D2C brands were left with very little inventory and ended up listing out to other competitors. There is a clear need to optimize the supply chain here onwards to make it foolproof with multiple failover setups in place.
Broken eCommerce technology & Untrained manpower
Biggest hurdle that the existing brands face in driving eCommerce in their organizations is the technology gap and manpower skill set needed to handle eCommerce business. Large brands usually operate on legacy ERPs which are not really equipped to handle eCommerce at all. Additionally the operation and finance department workforce is majorly unskilled to take on the eCommerce way of doing business.
There are several trends and opportunities emerging despite all the problems we talked about. Let us discuss a few of them here.
Add New Regions/Markets to the Webstore
If you want to cater to a global audience, you need to have a digital presence. With a webstore, you can expand your customer base beyond your current customers. Expanding your online presence to places where you might not have a strong presence otherwise will allow your brand to reach new markets and reach a larger audience.
Using a reliable eCommerce platform to build a B2C or D2C website will help you avoid supply chain disruptions and leverage new and effective ways to increase revenue from the online space.
Taking Your Company Online
You are already behind if you only rely on your offline stores to generate revenue. Numerous face-to-face business opportunities have been harmed as a result of the pandemic. It is, however, the most advantageous time to encourage and attract customers to shop online. You can even make a sale by connecting with your existing customers online on WhatsApp. It's that simple, so why wait to get started?
Omni channel model for eCommerce
Successful eCommerce strategy depends on tight system integrations and continual inventory clearance. In case of offline stores with stuck inventory, now brands are looking at using their offline stores as dark stores for fulfilling online orders.
Additionally, ensuring that the brand is live across all eCommerce platforms along with the D2C channels is the key to drive the growth. Listing on amazon, Flipkart, Myntra, Ajio etc will ensure customers can find you no matter where they shop. Omnichannel presence also helps you build customer confidence in the brand.
It is quite evident that eCommerce is not an easy nut to crack. We see this as an opportunity to help brands achieve their goals. Our state of the art omnichannel inventory and warehouse management solution is helping some of the top brands capture the eCommerce growth opportunity. Since pandemic started, we rapidly added team members to be able to tackle the increase in demand. We are now 4x the team size we were at the beginning of 2020.
Besides that we have beefed up our account management teams to help brands with quality customer service that they need in order to grow.
2. How are you helping the e-commerce segment with the recent surge in demand? How are you gearing up for the festive season?
In India, e-commerce has changed the way people do business. From US$ 46.2 billion in 2020, the Indian e-commerce market is expected to grow to US$ 111.40 billion by 2025. An increase in internet and smartphone penetration has sparked much of the industry's growth. The number of internet connections in India increased significantly to 782.86 million in April 2021, thanks to the 'Digital India' program. 61 percent of all internet connections were made in urban areas, with 97 percent of those connections being wireless.
During the festive season, E-commerce giants are here with heavy discounts on their online platforms to match the festive mood of the country. E-tailers will offer steep discounts on a variety of products as well as cash back on purchases. Instant discounts have also been announced by the websites and respective brands on shopping done using debit or credit cards online, thanks to tie-ups with several banks.
As an operating system for e-commerce businesses, we help brands with a multitude of functionalities to ease operations around inventory control, warehouse management, payment reconciliation, accounting automation and so on. eCommerce by nature is a very high volume and low margin business and the only way to make it viable is to deploy automation to every part of the business possible. At EasyEcom, we aim at providing tech solutions to brands to help them achieve this goal. We want to help them manage their sales better so that the top line increases, as well as help them reconcile in order to maintain their bottom line.
3. Would you like to tell us about your cloud-based technology platform?
The hosting and delivery of information and on-demand computing resources over the Internet via a remote network of servers is referred to as cloud computing. Due to the ease of use and lower maintenance, many technology applications that were once popular as installed software are now preferred as cloud applications.
Since consumers and online retailers now have access to cloud computing, it has helped businesses immensely increase their earning potential while also providing customers with access to thousands of stores. The following are some additional advantages of cloud computing:
Accessibility – Having a catalog of products or services stored remotely allows potential customers to access the ecommerce site from virtually anywhere on the planet.
Pay-Per-Use – Computing resources are measured on a granular level, and end users only pay for what they need.
Scalability – It can dynamically increase or decrease in response to the needs of online retailers.
Data security– Information is stored on a remote server, so no data is lost if a personal computer or internal network fails. EasyEcom offers end-to-end management for inventory, warehousing, payment reconciliation, order management for eCommerce businesses. Any fast growing business can derive benefits mentioned below:
● Inventory Procurement through automated Purchase Order Management– Foresee the demand for various products and order in advance to avoid stock-out and potentially missing out on sales
● Omnichannel Order Processing & Centralized Inventory Management– Manage Multichannel seamlessly by monitoring and managing inventory across channels in real-time
● State-of-art Warehouse Management System to manage order routing, splitting, inventory across multiple warehouse locations with advanced shipping rules- Ensure that customers always get the products that they desire. A right warehouse management system eliminates all risks of missed orders and under utilised inventory.
● Automated & accurate payment reconciliation to track and prevent losses of unpaid orders, extra shipping charges, wrong deductions- Maintain and track the financial aspect involved with respect to product charges
● Accounting Automation with auto synchronization with ERP– Real-time accounting and ERP helps to offer automated processes and transaction recording, reporting, and analysis
● Advance reporting and analytics around customers and their buying patterns to identify growth opportunities- Analyze customer buying behaviours and preferences that can help to predict their future buying patterns, thus offering businesses useful insights
4. Would you like to tell us about your recent funding? How are you planning to place it!
EasyEcom is backed by industry experts and leading early stage funds from the USA. Amistad Ventures led the growth focused funding round in 2019 and since then the company has been profitable and growing rapidly.
5. What are your growth plans for 2021 and beyond?
We at EasyEcom have been working round the clock to provide outstanding customer service and guarantee 100 percent value add and satisfaction to our clients. For us, this has resulted in strong word-of-mouth marketing as well as a rapid rate of growth over time.
We doubled down on marketing efforts post the pandemic hit last year, and our current social media and content-led marketing are continuing to be the leading source of high-quality leads, which we have consistently been able to convert into paying customers. Our multi-platform SEM campaigns are assisting in the development of a consistent and long-term pipeline. Finally, we have a strong network of partners in logistics, warehousing, shipping, e-commerce financing, and other areas.
With a strong reputation among partners and consumers, EasyEcom is aiming to be on the rapid growth trajectory in the coming years.