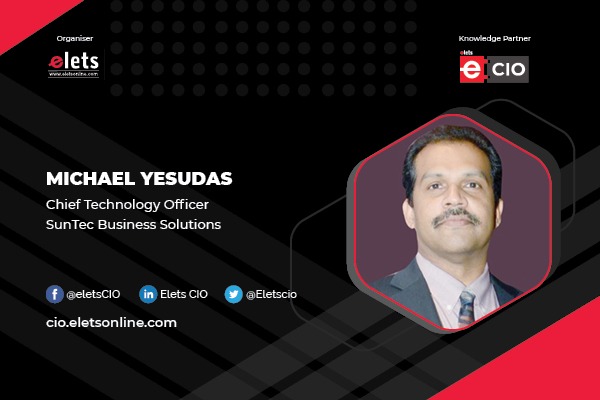 Banks are increasingly emphasising client experience and, as a result, expanding their technological capabilities. To assure improved loyalty and attract new customers, they are increasingly investing in powerful digital solutions and developing holistic customer-centric programs. Nidhi Shail Kujur of Elets News Network (ENN) had a conversation with Michael Yesudas, Chief Technology Officer, SunTec Business Solutions to know about the effects of new-age technologies such as AI, and ML on data processing and consumption.
How do you see the rising importance of Banking as a Service (BaaS)? How will this impact the banking industry?

BaaS platforms have helped develop strategic partnerships and create ecosystems that enable banks to meet customer lifecycle needs and deliver value to them. BaaS creates new revenue streams for banks (by integrating with non-bank companies), anticipates customer needs by accessing deeper financial data, and strengthens customer loyalty by bundling products and services. Banks need to address internal technology gaps and implement robust solutions to monetize customer data, streamline billing, especially between parties and provide actionable insights to gain a competitive edge.
1. What are some of the key technology trends expected in the banking industry over the next few years?
Value-driven engagements: Today, banks are increasingly prioritizing customer experience and hence, scaling up their technology capabilities. They are increasingly investing in robust technology solutions and driving holistic customer-centric programs to ensure increased loyalty and attract new customers. Shifting to a value-driven engagement model from a mere transaction-focused engagement will help banks to navigate long-lasting relationships and target newer segments.
Enhanced customer experience using AI and Machine Learning: As banks move towards becoming customer-centric, AI will help support this goal by improving the quality of data, reducing bias and offering suitable recommendations to drive hyper-personalization for customers. Banks can capitalize on the wealth of customer data using AI, to empower relationship managers to make data-driven decisions and personalize the customer experience.
Also Read | "A key differentiator between manufacturers who are future-ready and those who are not is business agility"
Banking as a Service (Baas): Business enterprises from various sectors will embrace BaaS and become active participants in one or more ecosystems. The overall market will be propelled by both API-based BaaS as well as Cloud-based BaaS. To maximize the benefits of BaaS, banks must address their technology gaps, modernize their core systems, and implement an intelligent middle layer that can help deliver new and innovative digital services.
2. What do you think are the effects of new-age technologies such as AI, and ML on data processing and consumption – especially in the BFSI sector?
India's banking sector is leading in implementing and adopting all emerging AI use cases, a survey by PwC-FICCI revealed. AI applications are estimated to help banks make potential cost savings worth $447 billion by 2023. AI and machine learning have helped banks step up their data-driven capabilities, foster innovation, boost revenue streams and hyper-personalize their services. AI has also aided in deepening customer relationships by providing predictive intelligence on customer behaviour, anticipating fraud & risks, and leveraging cross-selling opportunities. Banks are also automating the process of regulatory change management for seamless regulatory compliance and leveraging AI to reduce errors, uncover new opportunities in the market, and rapidly innovate.
3. What do you think is important to ensuring customer trust and retention through differential pricing and billing systems? How has SunTec helped several clients in the banking sector to leverage this concept (with some examples)?
At SunTec, we believe that personalizing pricing models based on customer relationships, or Relationship-Based Pricing (RBP) & Billing will be a game changer.
Customized pricing models: RBP offers banks a holistic view of customer relationships and allows pricing personalization for each customer based on their behaviour and spending patterns.
Dynamic in nature: Relationship-based pricing models can be molded as per context and shifts in customer situations or changes in the external environment, thereby allowing banks to drive value-based engagement.
Increased transparency: RBP ensures accountability and transparency in real-time and offers customers insights into how they are priced.
A leading financial institution in Asia was looking for a solution to modernize their pricing strategies, standardize pricing across all the markets that they operate in and get a 360-degree view of their customer relationships. SunTec's suite of solutions enabled the institution to calculate real-time charges for their customers based on relationship value and the segment of the customer, improved transparency, continuously evolved fees based on insights and focused on incentivizing positive behaviours. The institution could also factor in the kind of considerations that they had in each market and unify their pricing – which was then set as governing principle in each of the markets. SunTec's solutions helped the institution save USD 600,000 in revenue leakage in the initial stages of the deployment, improve customer account balances by 10%, and achieve 300% ROI.
Also Read | "Pepperfry is leveraging digital with its strong omnichannel customer journey"
4. What has been the evolution of high-performance systems over the last 10 years?
High-performance systems have played a key role in the grouping, aggregating, and processing of large volumes of customer data that is available with banks and simplified the process of deriving customer insights. These systems have enabled faster extraction and processing of data. Banks have also understood the importance of implementing a high-scale, low-cost architecture that will allow data/insights-driven decision-making and seamlessly manage large volumes of data. Impacts from workloads, such as pattern recognition, speech, video, and text processing, facial recognition, deep learning, machine learning, and genomic sequencing have revolutionized the way these systems work. Cloud technologies have accelerated the evolution of these systems by making them much more scalable, agile, and powerful. High-performance systems will continue to evolve and adapt to the changing environment.