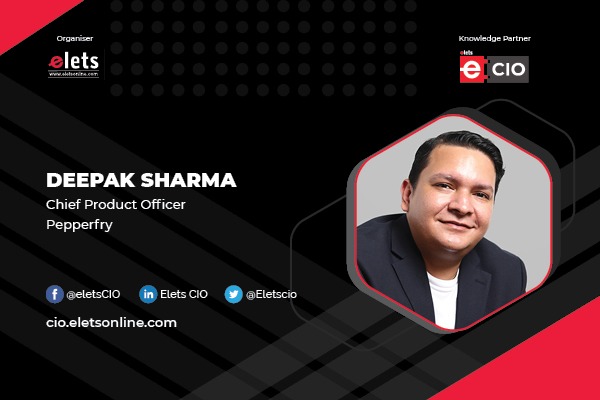 Since the outbreak of the pandemic, the retail industry has been booming. This industry has seen a substantial change in the way businesses function. Nidhi Shail Kujur of Elets News Network (ENN) spoke to Deepak Sharma, Chief Product Officer, Pepperfry about how the retail sector is undergoing digital transformation. Sharma also spoke about how Pepperfry is using data analytics and emerging technologies to understand customer behaviour and relationships with the company.
How is the retail sector undergoing digital transformation?
We have witnessed a paradigm shift in the retail experience and preferences of consumers in India. The pandemic has instigated a predominant change in retailers who are now moving towards launching e-commerce stores. With easy access to online furniture and home goods, customers can shop from the comfort of their homes with the convenience of round-the-clock service. The retail sector has been undergoing a digital transformation for a few years with the increasing penetration of emerging technologies such as applications, websites, IoT, etc.
Pepperfry is leveraging digital with its strong omnichannel customer journey, innovative digital marketing solutions, and technology-driven supply chain solutions. The stores work synergistically with the Pepperfry website with the consumer behaviour defaulting to doing their research online and purchasing offline, especially in involved categories such as furniture and home goods
How can analytics be leveraged to derive meaningful customer insights for enterprises?
Customers interact with the brand in numerous ways through different channels. For an enterprise, customer insights gleaned from analytics can assist in designing new products or services. For any business, it is important to understand your customers and their preferences.
At Pepperfry we use data analytics to understand customer behaviour and relationships with the company. In our store, this is done by figuring out which products get the most views and clicks as well as exploring customer reviews and feedback. A business can derive insights about their customers by seeing their demographics for things like location and preferred payment methods, or by noticing any changes in behaviour, such as by comparing conversion rates before and after a marketing campaign
How do solutions like Voice Analytics and AI-enabled chatbots improve the customer experience in contact centres?
Voice Analytics and AI-enabled chatbots are going to be the norm for customer service. Chatbots are a way for customers to interact with the company without interacting with a human. Voice analytics can help companies improve customer service by analysing how often people call about certain topics.
Pepperfry is using voice analytics and AI-enabled chatbots to advise customers on the most suitable products for their requirements. We leverage these analytics as a key element within our feedback loop to make continuous improvements. We want customers to be confident in our solutions so that they can buy with confidence. By leveraging the new technologies of voice analytics and AI-enabled chatbots, Pepperfry will be able to offer customers expert tips and advice, so that they can get what they need when they need it.
Why is cloud security becoming crucial for enterprises?
Cloud security is a crucial component of any successful business as it helps prevent breaches and cyber security threats from happening.
As we talk about leveraging analytics and digitization, the key enabler lies in the collection, processing and analysis of large amounts of data. Security of this data and thus, the customer's trust, is paramount against breaches or unplanned losses borne from unanticipated hardware failure. Additionally, Cloud security is also a cornerstone when it comes to remote work given the wide distribution of employees, their access controls and data security.
What are key trends that will drive customer experience through contact centres in 2022 and beyond?
Interpersonal human interaction is likely to experience a resurgence in customer service as increasing customer expectations of an efficient and intuitive customer experience leads to companies seeking technological support to supplement their customer service team.