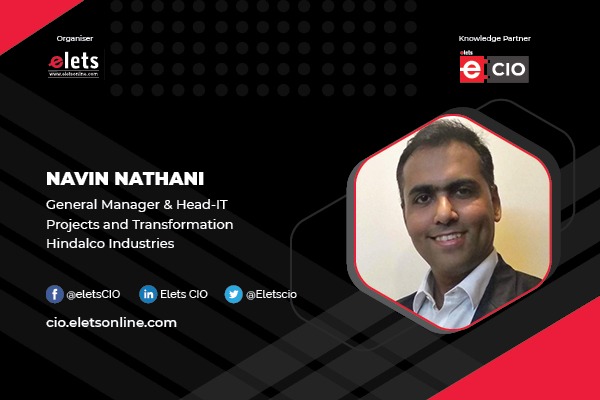 Future-ready manufacturing firms seek to make a positive environmental impact by driving efficiencies through digital innovation, data, and analytics, decreasing greenhouse gas emissions, enabling smarter energy management, and reducing waste. Nidhi Shail Kujur of Elets News Network (ENN) interacted with Navin Nathani, General Manager & Head-IT Projects and Transformation, Hindalco Industries Limited about how the manufacturing industry is constructing a future-ready strategy to keep up with the rate of change and the latest trends in the manufacturing sector.
What does the future hold for the industrial sector in terms of technology and trends?

There are 4 key imperatives which will drive the industries of the future. Future industries will be eco-efficient, agile, and resilient through software-centric automation, leading to increased profitability and sustainability. The 4 key imperatives driving the future industrial sector are:
1. Operational resiliency – Increase operational resiliency while generating stakeholder value. Organizations will connect their assets, processes, and people to drive operational excellence and create the digital organization of the future.
2. Workforce Transformation – Attract, train, and retrain employees for the next generation of the workforce. Organizations will use digital technologies to track knowledge management and collaboration for improved skills and outcomes
3. Sustainability– Achieve net-zero commitments through emissions reductions and decarbonization. Organizations will invest in sustainable and conservational technologies for zero waste, zero liquid discharge and biodiversity.
4. Reimagine energy – Capitalize and expand market positioning, growth opportunities and new business models. Organizations will accelerate energy efficiency programs for people and the planet.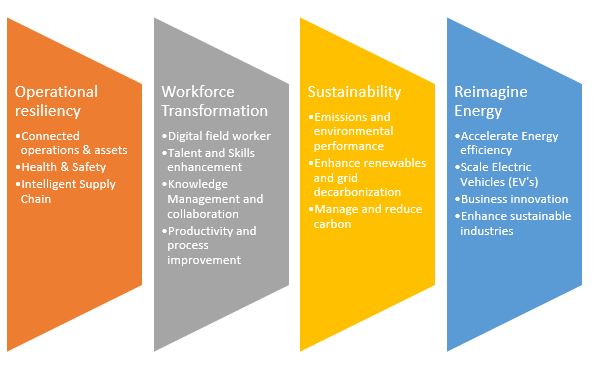 The manufacturing industry has recently been driven by digital transformation and automation. How do you see today's leader's role?
I feel that today's leaders are Digital Trailblazers who want to lead their businesses to tomorrow's business models by providing differentiating value-enabled customer experiences using data and digital. Digital Trailblazers are continuous learners with agile mindsets seeking to make long-lasting impacts. I highly recommend everyone to read the book – Digital Trailblazer: Essential Lessons to Jumpstart Transformation and Accelerate Your Technology Leadership by Isaac Sacolick.
According to me, the 5 dimensions which will help a leader to be more effective at Digital Transformation are:
1. Vision and Ability to see where future revenue streams will come from using data
2. New perspective on business models and transformation of agile customer experience
3. Drive to get teams to the desired goal and digital culture
4. Ability to motivate and foster collaboration among employees
5. Sufficient domain understanding and business acumen for strategic business partnership
How is the manufacturing industry constructing a future-ready strategy to keep up with the rate of change?
Future-ready manufacturing organizations want to create a positive environmental impact – using digital innovation, data, and insights to drive efficiencies thus reducing greenhouse gas emissions, enabling smarter energy management and reducing waste. A key differentiator between manufacturers who are future-ready and those who are not is business agility. These organizations are at the forefront of digitizing sales and operations, establishing stronger channel partner relationships and adopting of "service as a revenue centre" mindset. This means leveraging cloud technology for business-critical systems such as financial planning, demand planning, new product development, demand fulfilment, and S&OP to significantly reduce the time to revenue from launch. Insights-driven capabilities will build strong relationships around data transparency, co-selling, and co-marketing. Moving forward, successful channel partnerships will be able to share insights securely across ecosystems from manufacturers to dealers to end consumers.
Also Read | Manufacturing is frequently referred to as a fundamental component of society: Nikhil Kaushik, Managing Director, Fortcaps Healthcare
Is cyber security a major concern when it comes to adopting new advancements and technologies? If so, how can the manufacturing industry more effectively combat the threat factor?
As OT (Operational Technology) and IT (Information Technology) lines are getting blurred, these internet-facing systems expose industrial systems to new threat vectors. Legacy organisational design compounds this technology challenge. Effective collaboration between IT leaders, manufacturing executives and the OT teams is lacking at many companies. Future-ready manufacturing organizations can combat the threat by being prepared. This starts by creating resilience across IT/OT environments by creating a culture of collaboration and team across people and making a budget commitment. The other most important aspect is gaining centralised visibility across all IT and OT assets (known as Industrial Internet of Things IIOT) for threat monitoring and providing a unified view of vulnerability and risks using prioritization and real-time reporting with metrics. Third-party risk assessment extending best practices and collective industry insights will strengthen the cyber-security eco-system. Resilient organisations adapt quicker to risks and threats and recover faster when incidents occur. This drives value for customers, and investors and positions a company for long-term success.
Disclaimer: All the view expressed are personal and does not reflect the view of others. Certain references from various websites have been included as part of building this article and credit goes to respective content owners.