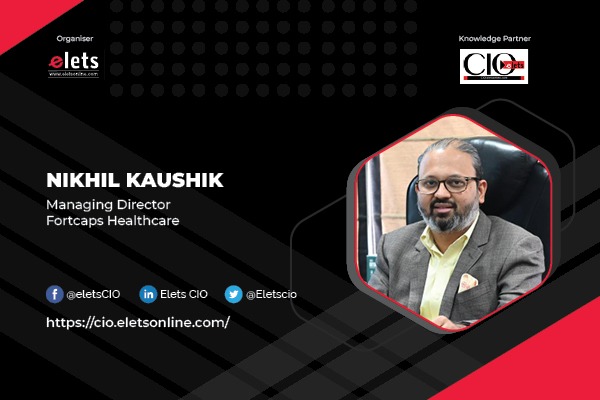 "Increased use of robotics, automation solutions, and computerization are all part of the digitization process, which allows for cost savings, increased efficiency and productivity, and greater adaptability to change. The pharmaceutical industry, on the other hand, has been resistant to digitalization, owing to a lack of experience and the complexity of the development and manufacturing processes involved. Despite this, there is a clear need to digitalize the pharmaceutical industry, as demand for both traditional and new drugs continues to rise", says Nikhil Kaushik, Managing Director, Fortcaps Healthcare, in conversation with Elets CIO.
1. What distinguishes FortCaps from other capsule manufacturers?
To increase the production of empty capsules, Fortcaps follows the principle of utilising the most up-to-date technologies and implementing the necessary automation processes. Fortcaps has become a household name in the pharmaceutical industry and has established itself as one of India's most dependable and well-known industries. The most innovative concept was implemented in 2016, when machine learning-based camera technology inspected all of the manufactured capsules and provided 100 percent accuracy, effectively eliminating the error. Fortcaps also allows customers to customise products with their own content/logo, making it easier for the company to maintain its brand identity.
2. What do you think the Manufacturing Industry will look like in the next five years?
From human-centered methods to machine-reliant assembly lines to highly automated factories, manufacturing has progressed dramatically. Companies should use robots to perform repetitive tasks rather than relying on humans to do so. We are surrounded by technology everywhere we look, and manufacturing industries should grasp the concept of incorporating AI into their operations. Manufacturing will undergo a fundamental transformation from a dream to a reality. Automation will play a critical role in the workforce's dominance.
Also Read: Indian Health tech market is expected to grow at CAGR of 27% for next 5 years: Sahil Bansal, Co-Founder, Fitelo
3. In your opinion, what are the current market scenarios for pharmacies?
In terms of product development, commercial production, and real-time monitoring, automation is transforming pharma. It can promote manufacturing excellence by utilizing sensors and identification systems to not only assist companies in complying with regulations, but also in doing so at the lowest possible cost. Automation is used not only in manufacturing, but also in logistics and delivery systems. When transporting medicines, special precautions are taken, such as storing them in insulated chambers that keep them isolated and unaffected by temperature or other factors. India is being viewed as a manufacturing hub around the world, which has enticed more investors to invest in the country. India now produces half of the world's pharmaceuticals, including critical vaccines and life-saving drugs. A recent example is the Coronavirus vaccine, which was developed in India and distributed throughout the world. Pharmaceuticals have a bright future ahead of them.
4. What are your company's plans for expansion and growth?
Rather than replacing existing jobs, it will create new ones. Sensors, machine learning, computer vision, robotics, and other advanced technologies have proven to improve supply chain resiliency for manufacturers who have adopted them. To reap the benefits of automation now, manufacturing companies are looking to integrate the benefits of shared support services and shared environments. This can be accomplished in several ways, including the establishment of Centers of Excellence (CoE), the enhancement of each step of the automation process, and the optimal use of data collected through sensors. The next five years will set manufacturing industry standards and serve as a foundation for decades to come.