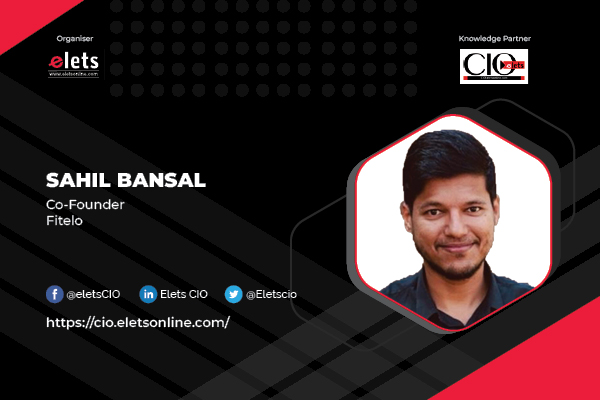 With the pandemic limiting people and their movements, the need to maintain fitness has taken a new revolutionary turn with the rapid ruse in the fitness app industry. According to an article published on the World Economic Forum website, there was a 46% increase in downloads of health and fitness apps across the world between Q1 and Q2 of 2020, with India witnessing the highest increase in the downloads – of a whopping 156%. In a bid to understand ye rising demand of fitness apps and the innovations brought in by the segment Rashi Aditi Ghosh of Elets News Network (ENN) interacted with Sahil Bansal, Co-Founder, Fitelo.
Excepts of the conversation:
1. What inspired you to create the Fitelo App?
Fitelo began in 2019 when Mehakdeep and Sahil, childhood friends who had not seen each other in 12 years, reconnected at an event. Sahil is an MBA graduate who went on to become an entrepreneur. Sahil has over ten years of corporate experience, having worked for Infosys, HCL, and Genpact, among others. His work has centered on psychology and habit formation. Sahil learned that fitness is about developing habits and living a healthy lifestyle during his fat to fit journey. Mehak (Dietitian Mac) has been overweight since he was a child. He decided to solve the mystery himself after trying every weight loss solution. He left his corporate job to pursue a master's degree in nutrition. Before proceeding individually in 2016, he worked at Manipal Hospital and a number of health centres.
2. What are the services you offer and how do they work?
We are the most convenient way to get in shape. Step by step, we work to change an individual's lifestyle. We are attempting to establish healthy habits. As a result, they become and remain fit in the most efficient manner possible. Our approach is entirely natural. There is no need for a gym or fitness equipment, no fad diets, and no supplements or medications are recommended or used in our programme. We assist our clients in better understanding their behavioural-patterns as well as improving their nutrition and lifestyles. It's all about creating new habits when it comes to fitness. When you take small steps over a long period of time, you develop a habit. Every weight loss product or service that people try claims to provide immediate results. People lose weight for a few months and then gain it back. We are working to develop these healthy habits. It is the only long-term and sustainable way to lose weight, stay in shape, and avoid diseases. In 2019, they set out to create a platform to assist others. We have over 390,000 Facebook fans, 74,000 Instagram followers, and 50,000 app downloads as of today. We have 4000+ premium clients.
The services we provide – We provide customized 'Weight Loss', 'Disease Management' and 'Lifestyle Management' wellness plans that are very easy to follow. With our Fitelo app, we work on building long term habits and help our clients get into a healthy lifestyle step by step. How does it work – We have a Subscription-Based Model. As soon as a customer purchases a plan, a personal health coach is aligned with them. The entire client journey is managed by our AI-enabled platform. It enables a high level of customization and personal experience. The Fitelo app helps our clients in creating healthy habits.
3. How Fitelo is bridging the gap in the healthcare industry
Building healthy habits is the key to long-term fitness. Over 15,000 clients have developed healthy habits as a result of our natural and simple wellness plans over the last two years. We provide personalized experiences to our clients thanks to our platform. The approach has been well received by our clients. On Google, we have over 1900 reviews with a 4.9 rating.
Our founders have been on fitness journeys themselves. They have combined experience working with corporations and startups, understand psychology and habit formation, understand technology, and are both fitness enthusiasts. They've built a high-performing team that understands health, psychology, and customer service, each with more than ten years of industry experience. Our ambition is to become India's number 1 weight-loss app. We want it to be as simple & convenient as possible. We want it to be completely natural and sustainable.
4. How does Fitelo use technology to assist women with PCOD and PCOS?
We are leveraging technology to help our clients achieve their fitness goals. It includes weight loss and disease management both. In both case,
Data Collection – As soon as a customer purchases a plan, we collect data from them. A complete analysis of the body nutrition status & requirements is covered in an Online Diet Counselling Session.
Highly Customized Plan – All the analysis is used by Fitelo's team of Dietitians, Doctors, and Trainers to create a 100% customized nutrition & lifestyle modification plan for the customer. Using the data already stored in our system, our platform is able to support our team in doing this efficiently.
Holistic Approach – A lot of health issues occur today due to a bad lifestyle. People are unwelly physically, mentally and emotionally. Once we have created a lifestyle profile of our client, using technology we are able to identify the gaps in their fitness. From a single platform, Our platform is able to suggest interventions in all areas.
Also Read: For sustainability, innovation, process streamlining and tech adoption are the new mandates: Subhakar Rudra, CIO, WPIL Limited
Daily Tracking – Customer can update & track progress in the app on a daily basis. This includes diet, body measurements, activity & water intake tracking.
Ongoing motivation & Focus towards habit building – Using tools such as push notifications, reminders and health calculators, we are able to assist and motivate our clients on an ongoing basis. Throughout the journey, our focus is on habit building.
Our team works on creating new diet sets based on several parameters such as body type, weight type, medical conditions, lifestyle, eating habits etc. Our platform allows high customization for clients yet little time consumption for dietitians. As the platform gets smarter, the customization gets better and so is the client experience.
5. How fitness apps are assisting people in reaching their weight loss/gain goals.
Fitness apps allow you to personalize your fitness goals.
Since fitness apps give you the freedom to work out from anywhere and at any time, they also allow you to have a fitness strategy that can help you achieve your ideal body type while ensuring your holistic wellness.
Monitor your progress in real-time.
Fitness apps record and maintain the data of your food intake and workout sessions, allowing you to see your progress in real-time. Working in sync with smart devices that track your heart rate, blood pressure and calorie intake, fitness apps can allow you to get an overview of your health in one place.
Give you access to the best coaches.
Since fitness apps are primarily digital-based and motivate you to take charge of your fitness regimens remotely, they allow you to work with the best fitness coaches from across the globe, regardless of your location. These personal coaches are available at a much more affordable rate over fitness apps when compared to an in-person session with them.
Take charge of your holistic health remotely.
Fitness apps allow you to take charge of your holistic health and not just your physical fitness. They get you connected to the best dietitians who share tips and give you access to sessions that ensure your mental wellbeing as well. All this and much more over a simple app you can access through your smart phone and smart devices. Fitness apps give you access to holistic fitness and wellbeing at your fingertips.
Fitness apps are motivating and help build positive habits.
Fitness apps allow you to connect with a community of like-minded people virtually. They encourage you to share your progress report with your community. Fitness apps track your progress and fitness roadmap throughout your time with them. They share tips, insights and reminders with you throughout the day, motivating you to achieve your fitness goals.
Fitness apps give you access to a wide range of workout options.
Fitness apps allow you to access any remote session they host, giving you the freedom to incorporate multiple forms of workout options into your fitness plan. You can explore yoga asanas, meditation and other forms of workout options to find a fitness plan best suited for your fitness goals.
6. What is the current market size and what are the future opportunities?
According to a study published in the Indian Journal of Endocrinology and Metabolism, the percentage of overweight rural Indians increased from 2% in 1989 to 17.1% in 2012. The Indian health tech market is valued at $144 billion dollars. For the next five years, it is expected to grow at a CAGR of 27%. Obesity has led to a slew of other health issues in India, including hypertension and diabetes, which are both on the rise. With over 65 million Indians already suffering from diabetes, India is on track to become the unenviable title of diabetic capital of the world by 2025.
Also Read: IVF Devices Market to Grow Over $ 320 Million by 2020-2024: Dr. Rita Bakshi, Founder, RISAA IVF
Obesity rates in India are increasing faster than the world average. Junk food, alcohol and sedentary lifestyle have caused 20% of the country to be obese. In fact, we are the third most obese country in the world.
The majority of the world's population lives in countries where more people die of conditions related to being overweight rather than being underweight. India, notorious for malnutrition, is now a land of obesity
A study in the Indian Journal of Endocrinology and Metabolism says the percentage of rural Indians who were overweight grew from 2% in 1989 to 17.1% in 2012. The Indian Health tech market hit $144 billion. It is expected to grow at a CAGR of 27% for the next 5 years.
Obesity has led to a host of other health woes growing at an alarming rate in India, including hypertension and diabetes.
India is on track to own the unenviable title of diabetic capital of the world as soon as 2025 with more than 65 million Indians already suffering from the disease.
Over the last few years, we have seen a massive increase in cognisance and consumption of preventive healthcare across all age groups and income levels. A great reflection of this is the 20 million unique monthly searches taking place on Google linked to 'fitness near me'.
According to industry studies of the Indian retail fitness services market, in 2019, there were six million active users in India who spent on an average $350 to $400 annually towards fitness services, amounting to $2.6 billion market size. The market size is estimated to hit a whopping $6 billion by 2023.
7. What are your plans for expansion?
Fitelo will be a one-stop shop for sustainable and natural fitness in the next five years. The Fitelo platform will be one place where an unhealthy or unfit person can go when they need information, advice, a product, or a service to help them achieve long-term fitness.