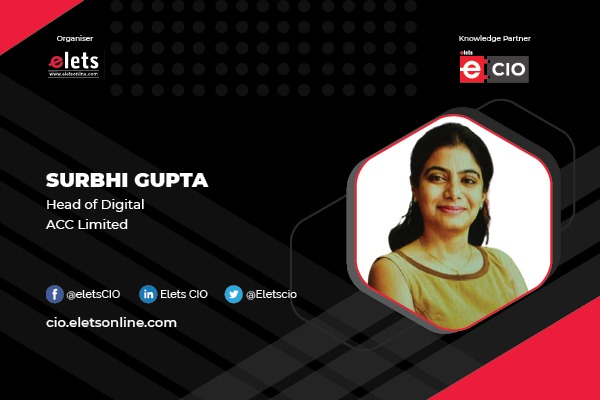 The technology will vary per industry in the coming years, and almost every production vertical—including automotive, electronics, pharmaceutical, and warehousing—will experience profound upheaval. Because they save labour costs, boost uptime, and lower error rates. Digitisation and automation of production are profitable long-term investments. To be aware of what the manufacturing sector's technological future holds, Nidhi Shail Kujur of Elets News Network (ENN) interacted with Surbhi Gupta, Head of Digital at ACC Limited.
What does the future behold for the manufacturing sector in terms of technology and trends?

The manufacturing sector is only now catching up with the digital transformation that has been very much evident in sectors like retail and finance. However, it seems like the sector will make up for lost time and we will see a rapid deployment of Industry 4.0 technologies in near future. Already the use of Artificial Intelligence has become quite relevant in predictive maintenance and predictive quality use cases. AI will continue to drive initiatives targeted at the improvement of OEE at plants. A key factor for improved operations will be capturing the right data and computing vast amounts of data at real-time speeds. IOTs, Edge/Cloud computing and Network & Connectivity will be the technologies that will help capture and process data at speed. In fact, as the need for automated process control becomes more real-time and predictive, 5G in combination with multi-access edge computing will play a key role in delivering low latency and high-reliability outputs.
There will be more focus on Human augmentation and Extended reality. During the pandemic, we already saw that remote monitoring and collaboration at plants could be achieved with AR/VR technologies. There will be a step change in manufacturing operations as these technologies become more entrenched in plants.
Also Read | At Cisco IT, we are committed to using technology to measure and improve workforce and workspace experience
Additive manufacturing is poised to transform industrial automation with more focus on reduced waste and sustainable manufacturing. AM has been quite effective in highly customised and high-value applications like medical devices however with increased investments over the next decade large-scale adoption of AM technologies has become more realistic. While all these technologies will launch us into the age of the industrial revolution, some fundamental areas of IT/OT security & big data and analytics will continue to be an inherent part of all planning and design processes.
Digital transformation and automation have been driving the manufacturing industry in recent times. How do you see the role of a leader today?
I always maintain that a large part of digital transformation is about bringing a change in an organisation's mindset and thinking, and technology merely complements it. Different organisations have their own maturity curves on their digital journey however there are five focus areas for any digital leader –
Design digital strategy that is aligned with business strategy;
Encourage Innovation and experimentation;
Drive digital literacy and promote digital ambassadors within the organization;
Take a more human-centred approach to internal Communication;
Focus on delivering any solution with speed and adopt a fail-fast approach in trying out new solutions.
In a nutshell, the digital leader's role should be empowered and flexible enough to lead the organization in adapting to digital change and connecting technology to the marketplace as well as the organizational business and culture.
From rapid changes in technology to increasing consumer demands, every industry is trying to reinvent processes for a more sustainable future. How is the manufacturing sector building a future-ready strategy to keep up with the pace of change?
With the disruptions seen during the pandemic, it has now become imperative for organisations to rethink the role of digital in their overall strategy and build resilience and agility to adapt to ever-changing environments. The pandemic has created new vulnerabilities along with new opportunities for businesses and we need to make rapid technology changes to drive maximum value from the resulting scenario.
To be future-ready we need to make bolder investments in technology with a focus on data, IoT, AI and Cloud computing. There is a need for higher digital literacy within the organisation and increased investment in talent with digital COEs established at all sites. The disruptions in the supply chain due to global factors now behooves organizations to look towards simpler and shorter supply chains and shrinking product development cycles. We need to grow the partner ecosystem that can help mitigate the risk of overleveraging the existing setup.
Also Read | In the New Normal, a Secure and Accessible Enterprise IT Infrastructure Ensures Business Continuity
In essence for creating a future-ready competitive organization, it is critical to invest in a strong technology foundation and at the same time the right talent, capabilities, and leadership
Is Cyber security a key concern in adopting innovations and technologies? If yes, how can the manufacturing industry combat the threat factor more efficiently?
With the world becoming more digital every day the threat of cyber-attacks is also on the rise and more so in manufacturing as hackers can move across IT & OT systems for malicious activities. Today as more IOTs are added to the plant network for improved operations each one of these devices represents a potential risk. Previously isolated systems are now being integrated which further adds to security challenges. Cyber-attacks in manufacturing cannot just result in loss of data or IP but can even lead to derailment of production.
Considering the above, we need to have certain measures in place to combat the risk of attacks. We need to conduct timely assessments and inventories of all OT assets and keep them up to date. Take a DevSecOps approach in deploying new connected systems and ensure security is at the heart of new system design. Ensure all suppliers provide regular security and software patches. Incorporate continuous monitoring across IT and OT systems and regularly fix any vulnerabilities identified. These internal steps can be augmented with threat intelligence monitoring the dark web to uncover potential threats.
The more vigilance we bring to our processes and tools, the better prepared we will be to deal with potential attacks.