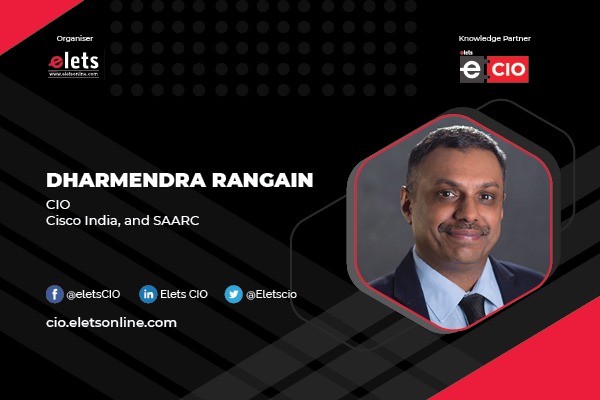 The pandemic has effectively demonstrated how far technology can go in improving lives. Digitization and other emerging trends have opened several doors for tremendous growth and transformation across all critical sectors. I truly believe that the time to reimagine our future and make it more sustainable and inclusive has never been better. To know how the role of CIOs evolved during the pandemic; Nidhi Shail Kujur of Elets News Network (ENN) interacted with Dharmendra Rangain, CIO, Cisco India, and SAARC.
Q1. Given the two unprecedented years businesses have gone through and the leaps made in digital transformation, how has the role of the CIO evolved during the pandemic?

The past two years have made us more dependent on digital technologies to stay connected. Organizations had to immediately adapt to newer technological innovations to provide business resiliency. The most notable change for companies has been the realization that whatever can be delivered digitally must be delivered digitally. This massive digital adoption has catalyzed a considerable shift in the CIO's role.
Even before the pandemic, the CIO's role was already shifting from a technology leader to a cross-functional business leader. During the initial days of the crisis, it is commendable how CIOs across sectors supported their IT teams – from managing the rapid shift to remote work and the complex IT ecosystem to enabling businesses, healthcare, and other critical functions securely and seamlessly.
According to Gartner, worldwide IT spending is projected to total $4.5 trillion in 2022, an increase of 5.1% from 2021. So, today, CIOs are no longer just the curators of IT within their organizations. The role demands a mindset shift towards spearheading and shaping business strategy in a digital world. With hybrid becoming the new world order, the time is now for a CIO to prioritize the effective adoption and implementation of newer technologies, foster innovation, create elevated customer experience, and keep the workforce and workplace safe from evolving cyber-attacks and ultimately enable business growth.
Q2. With hybrid becoming the norm, how is Cisco powering the hybrid world? How is Cisco as an end-user of technology, embracing these changes?
Looking at the way life has changed over the last two years; we know that hybrid work is the present and future. According to a recent Cisco study, 76% feel that their role can be performed as well remotely as in the office, and 71% of employees want the hybrid work model to become the norm. But it is no longer enough to solve the challenges of remote work or support a safe office reentry. It's about finding solutions to thrive and innovate. Wi-Fi has become the primary network of choice for our users at the office. We have started deploying next generation wireless networking with Wi-Fi6 and AI-based solutions like DNA- Assurance to provide the best experience for them.
At Cisco IT, we are committed to using technology to measure and improve workforce and workspace experience. We have the unique ability to glean insights from a wide range of tools enabling hybrid work across networks, endpoints, and applications from millions of customers globally. For example, we use the Cisco DNA Spaces solution to get insights on how our employees collaborate in the office, which areas are more crowded, etc., and change the workplace design in a much more agile way. Using Webex, we provide inclusive, simple, smart, and secure hybrid work experiences from anywhere.
On the other hand, the explosion of bandwidth demands puts significant stress on network capacity, pushing organizations to deploy SD-WAN and secure access server edge (SASE), as it enables networks to access cloud workloads and SaaS applications securely. Most importantly, security is also a key driver for successful hybrid work, and security is built into all our products. We use Cisco's Zero Trust solutions and improve the security and user experience. Most of the major applications running in our private cloud environment are now available, without having to connect to a VPN. Not only has this improved the user experience with less clicks, but instead of looking at the device posture only when they connect to the network maybe once a day, we now could continuously monitor the posture of the device and allow access to the application level.
Q3. What role does technology play in building an inclusive, sustainable future for all?
The pandemic has effectively demonstrated how far technology can go in improving lives. Digitization and other emerging trends have opened several doors for tremendous growth and transformation across all critical sectors. I truly believe that the time to reimagine our future and make it more sustainable and inclusive has never been better.
Firstly, Cisco has committed to Net Zero emissions by 2040. We have already passed the 80% mark on Scope 1 and Scope 2 emissions and our target is to be 100% Net Zero by 2025 for Scope 1& 2. At Cisco IT, we are also continuously working on reducing carbon emissions. For example, in our newer buildings, we are deploying complete Power Over Ethernet solutions based on Catalyst switches along with partner solutions for lighting, environmental monitoring, and control. This drastically cuts down on CO2 emissions and brings in several operational benefits. We also re-cycle all our patch cords and racks of decommissioned servers.
Additionally, as workplaces go hybrid, people in the hinterlands will have access to diverse job opportunities, making them more diverse and inclusive. Recognizing the importance of flexibility and access to diverse talent, at Cisco, we recently announced our move to a permanent hybrid work model for all our employees globally. Much like how work has fundamentally changed, the purpose of our physical spaces must fundamentally change too. Instead of a focus on the where, the focus is on the work.
Our engineering teams are working diligently to continue improving the energy efficiency of our products, saving energy, and reducing carbon emissions for our customers and us. As we move forward, we want to create an environment that will stand out in years to come for generations to reflect on Cisco's motto to power an inclusive and sustainable future for all.
Q4. What are the biggest opportunities and challenges for CIOs, and how can they prepare to meet them?
CIOs demonstrated incredible ingenuity and strength during the pandemic. However, they must keep up the momentum in providing long-term digital value to enterprises. According to Gartner, overall IT spending in India will reach $110.6 billion in 2022, up 6.3% from 2021. As an IT leader, now is the time to make bolder decisions, assume newer responsibilities that will boost customer and employee experience, and guard against evolving cyberattacks. But with the opportunity to transform comes the hurdles and gaps such as the ever-evolving threat landscape, to continuously bolstering security architecture and finding and retaining the right talent.
Firstly, managing the new-age digital, hybrid workforce and creating digital agility should be among the biggest priorities that CIOs need to address—strengthening existing technology offering for a seamless offline and online experience – tools that spell productivity and secure collaboration. Secondly, security must be a top concern. Fortifying the existing security portfolio that ensures the enterprise is protected, whether it's the corporate office or the home office. Thirdly, committing to sustainability. Implementing the right technologies and practices is the key to meeting ESG goals that an enterprise uses to track progress. Investing in emerging technologies like artificial intelligence and the internet of things can address material issues such as sustainable sourcing and product transparency.
Q5. Lastly, what are the most in-demand IT and soft skills for the future?
According to McKinsey, demand for tech workers worldwide will rise by 55% by 2030. Digital disruption and the overnight transition to hybrid work have exposed alarming digital skills divides. Today, IT professionals need skills that are more deep and agile. Some of the critical IT skills in today's hyperconnected world are Cybersecurity, Cloud computing, DevOps, AI/Machine Learning, Data Analytics, Blockchain, and Software/Mobile development.
SDX or Software Defined Everything is another area of focus for Cisco IT. As software development becomes cloud-native, it has become critical to focus on automating everything in the infrastructure space, be it day 0 configuration of infrastructure or add/move/change till complete decommissioning. Software developers want everything in the private cloud as APIs. We have been delivering that for the last few years. App developers have the freedom to deploy the app in the private cloud, all from their CICD pipelines. If they are deploying in a hybrid cloud, where the public cloud needs to talk to the private cloud, they can create that network overlay in just a few clicks on their own.
On the campus and core network, what used to take about 480 minutes of work to bring up a new site, we have reduced it to less than 30 minutes using automation. Using automation, we have also reduced the time needed for the software upgrade of a site by 59% (DNAC SWIM). The key to success here is changing the skillset and mindset of the workforce, not just processes and platforms.
One thing I would strongly recommend is using Cisco DevNet to learn and get certified. It has tons of documentation, cookbooks, sandboxes to play with, and put that learning in to practice.
Similarly, soft skills such as critical thinking and problem-solving are equally important, along with self-management skills such as continuous learning, flexibility, and resilience. As a result, the Cisco Networking Academy provides in-demand digital skills such as Networking, OS & IT, Programming, IoT, Infrastructure Automation, and Cybersecurity and has trained over 10,50,000 learners since its inception. India's burgeoning youth presents a considerable opportunity. By addressing the skill divide, the country can achieve its vision of becoming a $5 trillion economy and a global digital superpower.