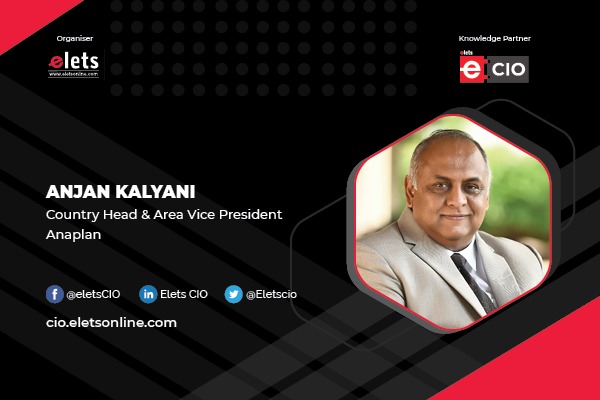 A supply chain plan must be adaptable enough to respond to changing market conditions and meet demands successfully and consistently. Anaplan's Rapid Scenario Supply Planning provides "what-if" scenarios with real-time holistic data. It ensures that an organisation's entire network has a reliable supply forecast. To brief us about how Anaplan enables Rapid Scenario Planning and Business Modeling for enterprises to orchestrate supply planning performance, Anjan Kalyani- Country Head & Area Vice President, Anaplan India interacted with Nidhi Shail Kujur of Elets News Network (ENN).
Why is supply chain planning technology necessary in the current era?

Technology advancements are creating rapid change in the Indian supply chain. Because of improved manufacturing capabilities and factory automation, more goods can be sent swiftly from India to international markets, increasing total business efficiency
It is necessary for the current era as it helps teams manage disruptions and in an agile way, figure out how to move essential products to people in need and streamline processes to ensure it significantly reduces a company's operating expenses.
With increased end-to-end digitisation of supply chains, stakeholders can access real-time status updates with improved visibility and transparency which helps in quicker decision-making based on actionable insight. Unforeseen challenges in the management of supply chains have led to the increased awareness and adoption of digital supply chain technologies that can assist in human decision-making.
Effective supply chain management is an integral part of a company's success and customer satisfaction. It boosts customer service, reduces operating costs, and improves the financial position of the company.
How does Anaplan enable Rapid Scenario Planning and Business Modeling for enterprises to orchestrate supply planning performance?
A supply chain plan needs to be flexible enough to react to ongoing changes in the modern market and meet demands successfully and constantly. Rapid Scenario Supply Planning by Anaplan provides "what-if" scenarios with real-time holistic data. It guarantees that an organization's whole network has a solid supply forecast. Organizations that oversee the planning can make efficient and quicker decisions on the spot and pivot uncertainties due to timely projections for the future and historical insights. Supply chain executives can use Anaplan's Optimizer Hyperscale computing, as well, to convert challenging decisions into actionable steps using real-time data and an enterprise-wide line of sight. Establishing a real-time line of sight and ensuring accurate supply estimates across the extended organisation are essential for continuously meeting demand. Thus, Rapid Scenario Planning empowers organizations with valuable insights and a single source of truth, to identify key supply planning trends and signals.
Also Read | Analysing the role of supply chain management in Healthcare
Real-time collaboration across departments, functions, suppliers and customers is made possible by Anaplan's Business Modelling. Organizations can use embedded intelligence to examine an endless number of scenarios, acquire optimum responses, change constraints to assess various outcomes using as many models as necessary, and then take appropriate action. To provide end-to-end visibility and control, modelling generates a full, high-fidelity digital twin of the supply chain. It creates planning horizons that correspond to the business's pace, from daily to long-term, and it compiles data into a single source of truth, enabling changes in one area to be applied instantly to all others. Thus, both Rapid Scenario Planning and Business Modeling ultimately encourage team collaboration throughout an organization.
Major economic headwinds, including persistently high inflation, talent scarcity, and global supply challenges, are further complicating the already challenging environment in which supply chain organizations operate today. How can supply chain leaders manage the rising supply chain costs amidst recession and build resilience?
The scale and complexity of supply chains have increased because of businesses' sales into and sourcing from international markets. Previously monolithic firms have fragmented into numerous narrowly focused businesses, each concentrating on a particular link in the value chain.
Several economic concerns, including rising costs and the pandemic, are causing delays in the delivery of suppliers' raw materials and parts (particularly general-purpose semiconductors and harnesses), as well as delays in ports and shipping because of lockdowns and a lack of containers.
In response to such situations, management that can respond to uncertainty should always be carried out with logical measures. Until now, supply chain management has only dealt with superficial problems in each area and site. It is important to digitize the universal SCM model to solve essential problems and prepare a foundation and data that can be shared by all departments and entities, for better decision-making.
It might be challenging to even keep up with internal and external challenges in today's unstable macroeconomic and competitive environment, much less leading the industry. Without a disciplined plan and approach to developing lasting innovative skills, a leader today could become a follower tomorrow. It makes sense that a firm should take supply chain difficulties into account when making decisions about new product releases, pricing, customer service, and entry into new markets.
Do you see any growing trend in the adoption of supply chain management software in India?
The Covid-19 pandemic-related limitations in China, ripple effects of the Ukraine-Russia crisis, ESG concerns, and difficulties faced by the companies during the pandemic all contributed to the largest overhaul of supply chains in India in the last 20 years. As a result, consulting companies' supply chain practices are surpassing all other functional practice areas. As businesses struggled to manage demand swings and capacity limitations, supply chain consulting is developing quickly.
According to the Indian Chamber of Commerce, the logistics sector in India is expected to grow at a compound annual growth rate (CAGR) of 10% to USD215 billion by 2022 as a result of the consumer demand recovery, booming e-commerce, a healthy market, improved road infrastructure, and shorter travel distances. Even though supply chain leaders put a lot of time and effort into identifying and minimising recognised hazards, it is difficult to foresee everything in advance, particularly given how closely the supply chain is now tied to both finance and sales. Because of this, siloed business planning is obsolete, especially in the context of the supply chain. A more robust logistics infrastructure will be built using technology and digitization through integrated planning, which will also proactively handle supply chain problems.
Can you share a couple of use cases (specific to India preferably)?
Anaplan's supply chain solutions have played a critical role in the industry's growth and stabilization, despite large market tubulations and uncertainties. Deepak Fertilizers and Petrochemicals Corporation Ltd. (DFPCL), a leading Indian producer of fertilizers and chemicals, is one of the finest customers to use Anaplan's planning solutions.
DFPCL faced challenges in improving customer service while meeting margin targets and staying ahead of the competition amidst the changing customer preferences, and volatility in raw material prices and availability. With Anaplan on board, DFPCL could enhance planning effectiveness and efficiency while identifying areas for improvement in demand forecasting, production planning, distribution planning, and margin management. It improved the capacity utilization across the 7 manufacturing plants and increased the demand forecast accuracy level. The unlimited agility and visibility into business performance provided faster and better-informed decision-making and planning across inventory, production, and scheduling of raw materials.
What is your USP with regard to the business planning solutions in supply chain management?
The Anaplan platform is purpose-built for collaboration because we understand how critical alignment and shared ownership are to a company's ability to connect operational decisions with financial results. Anaplan brings data from every corner of your business – from finance, marketing, and HR to sales and supply chain –into a single, easy-to-use platform that is updated in real-time.
We offer enterprises a single platform where company data is mirrored in real-time – from the factory floor to the CFO's office. The platform replaces the patchwork of point solutions and disconnected tools that require manual input and often result in siloed data, overly complex processes, and wasted resources. With shared ownership and visibility finance, HR, supply chain, marketing, and sales teams can collaborate on plans, forecasts, and budgets with one source of truth. With a consumer-like UX, we have made it easy for business users to visualize relevant data, run 'what-if' scenarios, and turn insights into action. With such a dynamic and collaborative Sales and Operations Planning (S&OP) process, organizations can streamline their capacity to make the best decisions for the business by efficiently incorporating all pertinent indicators and projections.
How is the new-age technology like Predictive Analytics, Machine Learning, and Artificial Intelligence positioned to deal with the supply chain issues of the modern world?
Modern-day supply chain management driven by artificial intelligence (AI), machine learning (ML) and predictive analytics can operate the entire supply chain without any manual intervention. According to a report by Gartner, by 2026 more than 75% of commercial supply chain management application vendors will deliver embedded advanced analytics (AA), AI and data science, for improved decision-making.
Artificial Intelligence and Machine Learning-based predictive models will transform processes like demand sensing, shaping, and orchestration, as well as supply planning. They make the supply chain more instrumented, intelligent, and interconnected. It mitigates risks and disruptions, enhances visibility and responsiveness, improves customer service and employee experience, and provides insight into future requirements. Given the current scenario, every business requires supply chain management tools with critically integrated AI and analytics solutions to optimize business solutions.
How is Anaplan planning to modernize its tech platform to meet the needs of the ever-evolving market from a supply chain standpoint?
The analytical and forecasting capabilities of AI are well-positioned to address almost all the needs of an ever-evolving market in today's day and age from a technology standpoint. However, it turns out that many businesses find it to be too complicated to utilize, necessitating complex data loading methods and knowledgeable data scientists to train the tools.
To meet the ever-evolving needs of the supply chain industry, we are doing just that with Anaplan PlanIQ™, a new tool that helps users drive accurate decisions with forecasting that leverages powerful, integrated AI and Machine Learning (ML). It democratizes access to sophisticated analytics by providing insights that are explicable and projections that can increase the accuracy of plans and foster confident decision-making.
With statistical forecasting and embedded algorithms, supply chain leaders can obtain full line-of-sight visibility into every asset, resource, risk, and change across the supply chain and shift decisions from reactive to proactive while confidently anticipating the right moves to optimize revenue, cost, and profit.
Course corrections can be made possible within hours by creating centre-to-edge alignment and switching whole networks in a few days while staying ahead of demand fluctuations and meeting delivery goals.
With interactive supply-demand balancing, supply chain expenses can be viewed and managed using comprehensive Profit and Loss (P&L) modelling across supply chain networks.
With Amazon Forecast- a fully managed service from Amazon Web Services (AWS) already integrated into PlanIQ, organizations can draw on both internal and external data sources, such as inventory levels, competitor pricing, weather changes, consumer buying behaviour, or other leading indicators to choose the best predictive model and uncover hidden insights.