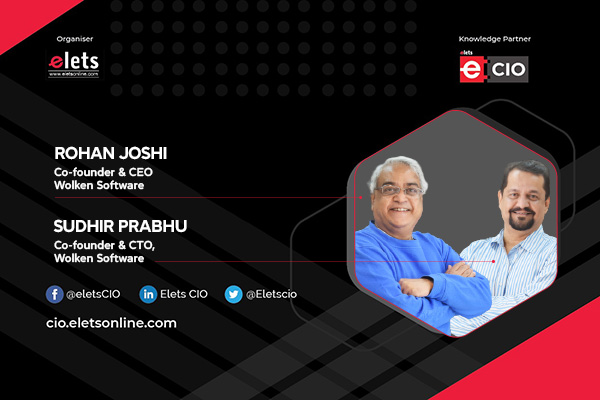 Software-as-a-service nowadays is becoming a more feasible option for organisations seeking accessibility, flexibility, and agility in a competitive business environment. Nidhi Shail kujur of Elets News Network (ENN) interacted with Rohan Joshi – Co-founder, and CEO & Sudhir Prabhu – Co-founder and CTO, Wolken Software about the latest SaaS trends that will disrupt the industry.
Tell us about Wolken Software. How did the journey start?

Wolken started with a passion for bringing excellent service support within reach of every company. It saw its initiation in 2011 as a privately held software company with offices in Palo Alto, CA, in the United States and Bangalore, India. The founders of Wolken, Rohan Joshi, CEO and Sudhir Prabhu, CTO, were colleagues at L&T infotech from 2004-2011. Rohan was the head of sales for Europe for L & T Infotech, having grown the sales from zero to over $120 million, and Sudhir had managed a P & L of ~$90 million and oversaw a team of 1200 professionals.
The potential to disrupt the customer service market was foreseen, and the product was built with the ITIL philosophy. Wolken's Customer ServiceDesk was demonstrated to 200 CIOs across all the industries globally before it was launched in the market. Wolken ServiceDesk was established as a solution to the pain points of businesses as it is simple, scalable, and secure with high configurability and cost-effectiveness.
Wolken currently has 35+ clients globally and has successfully displaced ServiceNow in the inward-looking ITSM arena and Salesforce and Zendesk in the external customer service space in various Fortune 100 & 200 companies across geographies.

Covid-induced challenges brought major problems for SME and the MSME sectors. How is Wolken planning on aiding Small and Medium Indian businesses with its service support?
With the onset of the Covid19 pandemic, Wolken set out to repurpose the enterprise version of Wolken ServiceDesk to Wolken Care that addresses the self-service market, explicitly targeting startups and small to medium businesses globally. The product aims at helping these businesses by making a world-class, feature rich ServiceDesk available at reduced costs.
Wolken's aim with our latest offering Wolken Care is to provide customer ServiceDesk solutions to the smallest of businesses at the click of a button. It is well equipped with features like a top-notch knowledge base to give immediate assistance to agents and customers saving their time, and omnichannel support to connect to their customers on any channel of their choice.
Wolken Care offers all the key features and modules of Service management. The key differentiators are a BI tool for reporting & analytics, an inbuilt knowledge base, and automation that helps in better and faster governance thereby reducing the case resolution time. It is extremely customizable and requires little to no external support. The application is designed for high scalability and is built on a future-ready technology stack and open-source technologies.
How much did you grow digitally in the last two years? Which deployments/ practices helped you with business continuity?
In the last couple of years, Wolken has added various Fortune 100 & 200 companies as our customers globally, 12 of whom were added during the pandemic. Wolken penetrated new geographies and industries, making our ServiceDesk available to SMBs on tight budgets to excel in customer service initiatives.
Talking about growing digitally, Wolken immediately switched on the Business Continuity Plans, and yes, it did bring some challenges as there was hardly any time for transition. Still, once we made sure that all our employees were well settled and safe in their homes, we introduced biweekly and monthly all-hands meetings to connect with everyone. SaaS tools for communication, collaboration, and employee engagement helped us immensely stay on track.
Also Read | Need for SaaS Security in the changing landscape
We hired resources all through the pandemic and grew our workforce by almost 20%. Wolken has seen a double-digit increase in revenue numbers and a CAGR of ~10%
Amidst the pandemic, we had an opportunity to deploy our customer ServiceDesk for a Fortune 100 Company headquartered in the US with offices worldwide. The Client's IT department is based in the US, India, and Singapore. We eagerly looked forward to collaborating with the customer and kickstarted the project by replacing their Customer ServiceDesk provider, ServiceNow, for their global customer service. Our API-based platform made information consumption easier for the clients and vice versa.
Being a SaaS company, which SaaS trends, in your view, will disrupt the industry?
Software-as-a-service (SaaS) is becoming an increasingly viable choice for organisations in search of accessibility, functionality, and versatility in a competitive business set-up.
In 2022, more than $1.3 trillion in enterprise IT spending is at stake from the shift to the cloud, growing to almost $1.8 trillion in 2025, according to Gartner.
The Key Trends are:
Artificial Intelligence and Machine Learning (AI & ML)
Today Artificial Intelligence (AI) is the new corporate buzzword and is expected to make significant waves in the future, with a projected market value of $733.7 billion by 2027.
The rise of machine learning technology is redefining the entire concept of how work will be done in the coming days. These technologies allow companies to operate more securely and efficiently, increasing automation and reducing downtime significantly.
As digital transformation across industries revs up, businesses will look at data to streamline their workflow while gaining a deeper insight into their customers or users. Investment in analytics-driven SaaS innovations will only amplify with time.
Migration to PAAS (Platform as a Service)
We expect SaaS to migrate towards the realms of PaaS (platform as a service) – developments that empower businesses to build apps as add-ons to their original services. The likes of Salesforce and Box have recently launched PaaS-centric services in a bid to hold a substantial market share in their sector, and we expect to see this trend become more prevalent this coming year.
These out-of-the-box style data centres can't eliminate the need for developers or engineers completely. But, having less code or no code to form the foundations of a platform or solution means that technical staff or support teams can spend more time driving innovation. No code SaaS capabilities will increase productivity and agility, bringing new players to the market faster, meaning that exciting new solutions will emerge from the digital woodwork.
Growing Need for API connections
The API (Application Programming Interface) has been a fundamental part of software development for ages, and this is precisely what our fifth SaaS trend focuses on. SaaS providers didn't come with a complete integration solution before. That failure complicated the work and caused them to disappoint their customers. They would then redirect their clients to a third-party application to supply the specific APIs enabling the customer to integrate the cloud into their system.
Source: DataPine
How did Covid impact the global cloud market size?
With the onset of the Covid19 pandemic, businesses have been prompted to go wholly digital and transform every aspect of their businesses. Having their employees dispersed and working remotely, cloud-based apps and collaboration tools like Zoom, Dropbox, SharePoint etc., become critical to employee engagement and team collaboration. This has shifted the paradigm for organisations to function non-optimized, resulting in companies looking for innovative areas that can improve their revenue by a small percentage and employee efficiency.
This has had a significant impact on the cloud market size, and the market is expected to grow from USD 233 billion to USD 295 billion at a Compound Annual Growth Rate (CAGR) of 12.5% during the forecast period.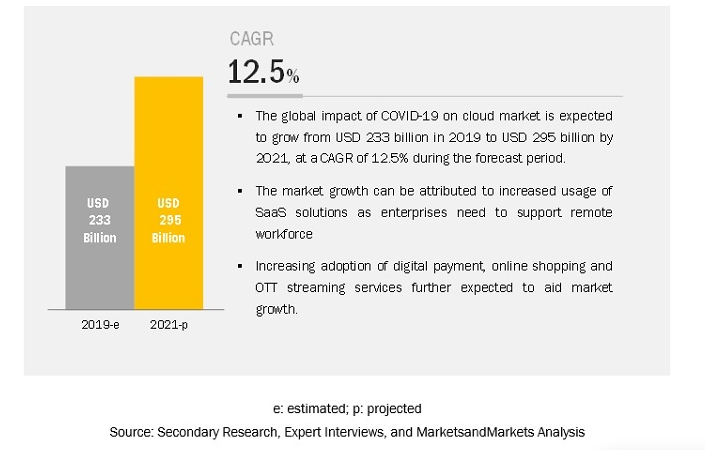 Cloud technology adoption is expected to increase in sectors where the' work from home' initiative can help sustain enterprise business functions. Those sectors include IT & ITeS, telecommunication, BFSI, and Government.
Other sectors, such as healthcare & life sciences, travel, hospitality, retail, manufacturing, etc., are expected to increase spending on public cloud services in the next 2-3 years. According to a statement by a leading Cloud Service provider in the region, the expenditure on public cloud data centre hardware and software grew by 7%. In comparison, the spending on traditional data centres and private cloud fell by 1%.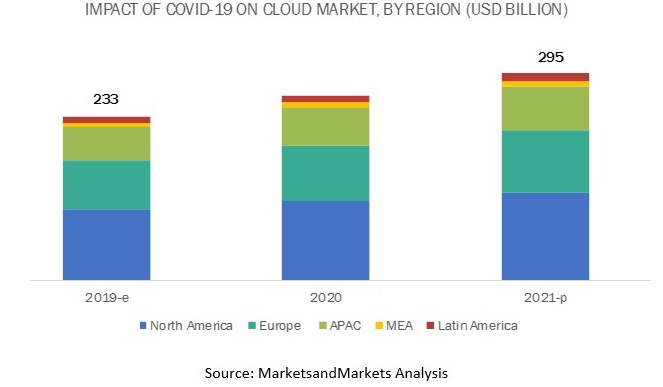 Source: MarketsandMarkets™
The future roadmap of Wolken Software during and beyond the pandemic?
To be amongst the top SaaS service providers for Customer Service & Enterprise Service Management.
To hit target revenues of $100M in 4-5 years & be profitable all along
To develop new and advanced product features every quarter, E.g., improvements in AI, ML, Bots, Analytics, Reports, Views etc.
Launch new products and new flavours of our products. Move into adjacent markets like Quality Service Desk, HR Service desk etc.
Make Wolken a brand name that the audience resonates with.