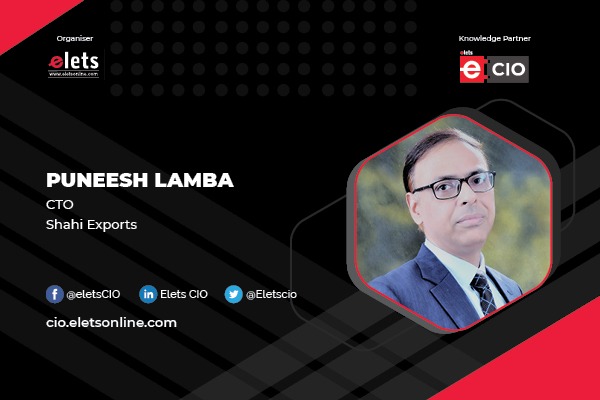 Challenging the status quo and reimagining the existing processes with digital in mind, was the best lesson that COVID19 taught us. It showed us that to be agile and move to a virtual world and it also showed us that controlling physical processes through hands and feet support is much more difficult in a crisis like COVID whereas doing it using technologies like cloud, IoT, computer vision etc. is much easier, faster, and efficient. To know how the manufacturing industry transformed, post-covid, Nidhi Shail Kujur of Elets News Network (ENN), interacted with Puneesh Lamba, CTO, Shahi Exports.
Q. Could you elaborate on your journey of working in various sectors for over 25 years?

Ans. My professional journey started 29 years back when I joined a Tier-1 automotive company right off campus and was inducted into their marketing team. Spending the first few years in the market travelling extensively, touching almost every aspect of business, and having wonderful peers taught me a lot before I leapt into the world of technology. The technology world was completely different those days and coming from marketing where numbers defined your achievements to technology where numbers did not have much significance, made me feel like getting lost initially. Slowly, things improved and when I could connect those dots that were unexplained in my mind about business, things became quite interesting. My first technology stint was in ERP implementation and since ERP takes you through all business processes, I started loving this and very soon became very passionate about technology and what wonders it can do in an organisation.
Learning is something that has driven me my whole life and I have not bothered much about other aspects of a job if I was learning new things and that took me to new industry verticals every time I switched jobs. From automotive, I moved to verticals like IT/ITES, EPC, Paper, Energy, Cement, Education and Apparel and every time got new challenges and happily worked towards solving them using technology.
Q. What changes have you seen in the manufacturing industry post-covid?
Ans. The biggest change in the manufacturing industry post-covid is that they have realised that physical presence is not required to get the work done except for a few activities and processes. Due to this, a lot of physical processes are also getting converted into virtual processes and instead of moving papers from desk to desk, now data is moving in workflows from one person to another and that has reduced the lead time of processes considerably. The other change is that the industry realized that while on-premises data centres were difficult to maintain with hands and feet support during lockdowns, the cloud infrastructure was completely taken care of virtually.
Also Read | For Us Online and Offline Both Sales Hold Equal Weightage
Digitisation of every repetitive, rule-based, and predictable process became extremely important suddenly, and, in the process, a lot of waste got eliminated. The status quo started getting challenged more and more, and a set of activities became leaner than before bringing in a lot of efficiency in the system.
Q. What are the key adaptations the organisations have seen so far in the garment export industry?
Ans. Garment export is a huge industry in India and has been growing in double digits for many years now. All the big global brands source garments from here and it has become extremely important to adopt cutting-edge technology solutions to remain ahead of the curve. Disruption has become the most focussed approach in the garment industry where long lead times of delivery, physical processes, use of paper etc. are all getting challenged post-covid, and new solutions leveraging augmented reality, artificial intelligence, computer vision, robotic process automation etc are leading the way for a complete transformation of industry. Another area, that is getting big-time attention, is adapting industry 4.0 solutions and practices so that productivity and efficiency of all resources can be measured and improved. These solutions again impact lead time, rejection rate, overall quality etc.
One of the major areas in which the Garment Industry is taking lead, is the sustainability of the industry, its players, and mother earth. Huge and serious initiatives are being taken in this area to make sure that unsold inventories at the retailers are reduced, fashion forecasting is better, usage of less water, power and other resources and moving towards alternate sources, etc. some of the sub-areas that are receiving big time investment in time, money, and energy of companies.
Q. Could you elaborate on the strategies/achievements, which helped you grow faster?
Ans. Well, I have always said that learnability is the biggest skill that anybody can have. If we accept the simple fact that we do not know everything and we need to keep learning and updating ourselves, then the growth path becomes clearer. Learning from everybody has always remained my strong area. Whether it is my manager, business teams, my team, books, or movies – there is so much to learn from everywhere, and simply keeping an open mind to be able to change your perspective upon new learning, takes you forward.
The strategy I follow is not to look at using technology for the sake of it, but to look at a business problem from the eyes of the person or team that is sharing it. I then understand it completely and then propose how different tech solutions can be applied to solve that. We all know that one business problem can be solved in many ways, using different tech solutions, so those options should be seen without bias and then go ahead. Business problems cannot be understood if we do not understand the business itself, so it has been my endeavour in my whole career to understand business and operations and become a business CIO rather than an isolated technology CIO
Technology evolves very fast, and it is important for technologists to not get emotionally attached to a solution they implement and is successful. This will mean that if a new solution is available in the industry and there is a business case (money, adoption, Roi etc.), then they should not shy away from replacing their solution.
Lastly, going live with a technology solution to solve a problem is not enough. This is a policy that I have never followed. My project is over when the solution was adopted well by users and the actual benefits of the solution are compared with expected benefits (created during the business case preparation phase) and are found ok. The above thought process has helped me grow in my career so far.
Also Read | "Simplifying & Streamlining Mobility Management"
Q. What will be your organisation's roadmap for 2022?
Ans. While 2021 was groundbreaking for Shahi regarding the use of technology for solving business problems and remaining the GOLD standard in the industry, 2022 is a year of further extreme digitalisation for Shahi. We are challenging the status quo and each process is being revisited to make them leaner, faster, more efficient, and digital. Our digital twins of samples have already shrunk lead times considerably and now many other solutions are using AI-ML, computer vision, Internet of Things, RPA, and advanced analytics in the pipeline to keep us in a leadership position.