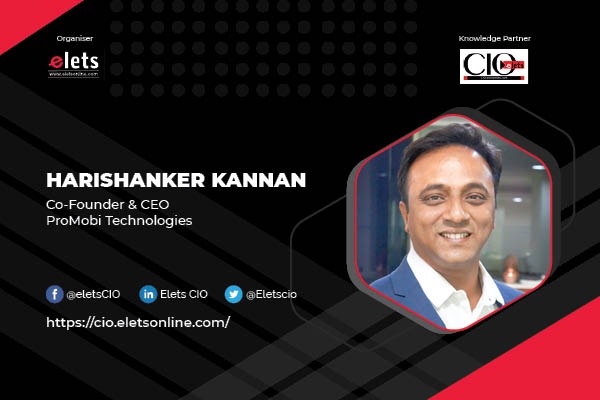 Scalefusion by ProMobi Technologies is known for its simplicity and ease of use. It offers the best customer experience throughout device management journey, facilitating 360-degree monitoring of the device fleet of an organization, says Harishanker Kannan, Co-Founder & CEO, ProMobi Technologies.
• Tell us about ProMobi Technologies?
ProMobi Technologies is a product company that specialises in SaaS products, based out of Pune, with offices in Gurugram and Hyderabad. We also have global operations in Canada, France, USA and Mexico.
Our mission is to build world-class SaaS products that people would love, from India. In line with our mission, we aim to develop SaaS products that are admired and loved by companies worldwide while solving critical business use cases, along with creating a social impact.
We started our journey in 2014, as a parent company to Scalefusion (then known as Mobilock Pro), a kiosk-based locking solution for Android that evolved into a full-blown device and endpoint management solution. Prior to 2019, Scalefusion catered exclusively to SMBs with an Android-centric device management solution. In 2019, we added iOS device management features and macOS and Windows 10 device management capabilities to our MDM solution portfolio. As a result, we were able to expand our solution set to meet the needs of larger businesses. That's when we rebranded to Scalefusion.
Also Read | The Indian market has tremendous scope : Sahil Mehta, Managing Director & Founder of Emmbros Overseas
Since then, we have been adding new capabilities to make Scalefusion a more agnostic solution for every industry. We have garnered the trust of more than 8000 customers and maintained our presence in 120+ countries with some significant accolades on our name. In 2021, we were listed in Gartner Midmarket Context Magic Quadrant for Unified Endpoint Management and were named as one of the best IT management software by G2 in 2022. We are up and running on our motto to make device management simple and effortless by providing cutting-edge features and reliable customer support.
• Please give insights into your products & services.
Our portfolio comprises three SaaS products, namely, Scalefusion, NuovoPay and Nuovoteam.
Scalefusion is our flagship product which is a powerful mobile device and endpoint management solution for 360-degree monitoring of the device fleet of an organization. It helps businesses in gaining visibility and streamlines IT controls across devices. It facilitates enterprise IT teams to have optimized control over their entire device inventory consisting of Android, iOS, macOS and Windows operating systems. It removes complexity with a clutter-free, easy-to-use dashboard and makes the mobile device management journey simple & effortless for businesses.
NuovoPay is a platform that simplifies the process of device financing for finance companies, telecom operators and resellers. It helps combat the associated challenges with mobile financing like delayed payments, physical device recovery, and EMI defaults. It empowers financing entities to enable billions of people to own a smartphone of their choice.
Nuovoteam is a platform for seamless enterprise communication. It is a secure Push-to-Talk, business messaging and collaboration software. It also serves as an all-in-one employee app that helps organizations track and monitor their non-desk workers. It helps monitor employee location, employee work hours with clock-in, clock-out, track work status and assign tasks, enable organization-wide unified contact management and make way for communication with Push-to-Talk (PTT), VoIP calling, instant messaging, video calling and group chats.
• Scalefusion is your star product. How does it simplify mobile device management?
Scalefusion is a device and endpoint management solution. It is a seamless and hassle-free way to manage any organisation's endpoints and devices. It allows companies to configure their mobile devices such as smartphones, tablets, laptops, rugged devices, POS and digital signage and other digital devices for business use across multiple operating systems such as Android, iOS, macOS and Windows 10. With a plethora of features including remote troubleshooting, conditional email access, application management, location tracking, content management, deep dive analytics, device & user enrollment, Scalefusion enables organisations to fully embrace their mobility journey without needing a specialized IT team, under different deployment scenarios like dedicated or fully managed devices, COPE (Corporate Owned, Personally Enabled) devices, and BYOD (Bring Your Own Device).
Scalefusion secures corporate data and ensures seamless authorised access to critical business data, while restricting employees from using their devices for anything other than business-related apps and websites. Its industry-agnostic nature makes it useful to every industry including construction, healthcare, mining, logistics, transportation, education, hospitality, telecom, retail, BFSI and IT.
Taking the guesswork out of implementing MDM, navigating the dashboard and creating policy-driven flows, we provide an easy-to-use platform that can assist organizations in managing their endpoints, without any complexities. We assert – it's simple, it's Scalefusion.
• What is scope, benefits & strategic deployment of SaaS for banks and FinTech companies?
The banking and finance sector has been transforming continuously and this evolution will continue to make cashless, virtual, mobile, on-the-go payments and financing available for everyone across the globe. In this huge transition, the conventional organisations in this sector are also inevitably embracing mobility, creating an elevated demand for SaaS.
The benefits of SaaS for BFSI go above and beyond the basics such as operational excellence and replacing paper-pen-based transactions. It drives employee productivity since the SaaS products are designed to solve a niche problem, while also ensuring an increase in customer satisfaction – for example, enabling the use of mobile apps, wallets and banking kiosks for getting things done faster. Since data security is a huge must-have for BFSI, SaaS products such as Scalefusion can be a game-changer in bullet-proofing the devices and data used within the industry.
Also Read | For Us Online and Offline Both Sales Hold Equal Weightage
SaaS deployments for BFSI need to be implemented with extreme caution and strategy since this is a sensitive market. The biggest challenge can be convincing the organizations in BFSI to move to cloud-based deployments since several still trust only on-premise. This is why, we at Scalefusion, continue to extend support to on-prem deployment for organisations that aren't yet comfortable moving to the cloud fully, although the cloud is definitely the future.
• What are your expansion plans?
With our growing portfolio of innovative solutions, we plan to explore uncharted territories across diverse industries in the coming years. Some of the features we specifically plan to incorporate on the Scalefusion front include Mobile Threat Defense and OS Patch Management. Furthermore, the Scalefusion Infinity Partner Program will be driven to reinforce and intensify OEM collaborations and drive the adoption of MDM. Through channeling our efforts into key areas, as well as expanding to new geographies, we strive to create a greater impact globally.
—————————————————————————————————
For more information around our products, please visit the below links:
Scalefusion: https://scalefusion.com/
NuovoPay: https://nuovopay.com/
Nuovoteam: https://nuovoteam.com/