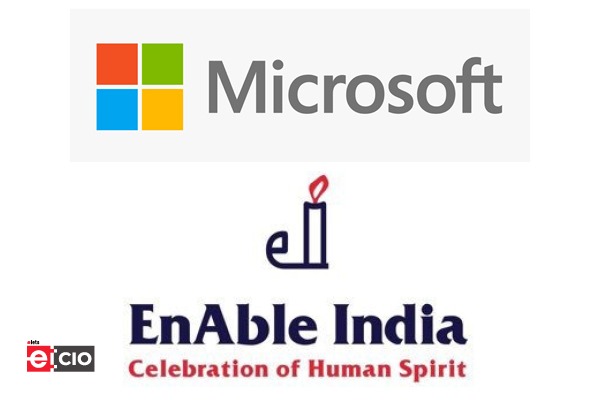 Microsoft announced a partnership with EnAble India to open 100,000 opportunities for people with impairments, keeping with its aim to reduce the disability employment gap (PwDs). The initiative, dubbed "Inclusion to Action," aims to provide an opportunity platform by uniting more than 100 organisations in the nation from the financial services, manufacturing, retail, and tech sectors to collaborate on various tech skilling, mentorship, internship, and employment initiatives to achieve economies of scale in the shared objective of economic empowerment for PwDs.
People with disabilities face numerous obstacles to fair employment opportunities, which contributes to greater unemployment rates and socioeconomic disparities. People with disabilities must have equal access to education and employment opportunities as everyone else to address these issues. Technology may play a significant role in enabling this access by providing persons with disabilities with mentoring and skill-building opportunities and improving connections between them and career prospects.

With programs ranging from tech skilling and mentorship to internships and jobs, the Memorandum of Understanding (MoU) between EnAble India and Microsoft seeks to establish an ecosystem for both opportunity seekers and suppliers. The technical skill-building programs are made to improve knowledge of digital accessibility, which might lead to a cultural shift as businesses develop their hybrid work strategies. The development of accessible products will be facilitated by the growing representation of PwDs, which will benefit people with disabilities who utilize technology. Additionally, people with disabilities have access to a training program on cutting-edge workplace tools for increased productivity and successful teamwork.
Dipesh Sutariya, Co-Founder, Enable India, said, "At Enable India, we believe work is core to human dignity. In an era where 85 per cent of the jobs are filled by networking, there is an urgent need to unlock opportunities for persons with disabilities whose social circles are 10% of that of non-disabled. We are proud to partner with Microsoft to unlock 100,000 opportunities for persons with disabilities as pathways to economic empowerment."
Also Read | Microsoft joins ONDC as the first global firm, which intends to build a shopping app for Indians
Anant Maheshwari, President, Microsoft India, said, "At Microsoft, we believe that disability is a strength, and we are committed to creating an ecosystem of accessibility to help tackle the disability divide, including disparities in employment. This unique collaboration between EnAble India and Microsoft marks the beginning of a continuous endeavour to engage with multiple stakeholders across industry, advocates, experts, policymakers, and the disability community to empower and transform employment opportunities for individuals with disabilities. All of us now need to act with a bolder ambition to empower this large untapped talent pool to achieve more."