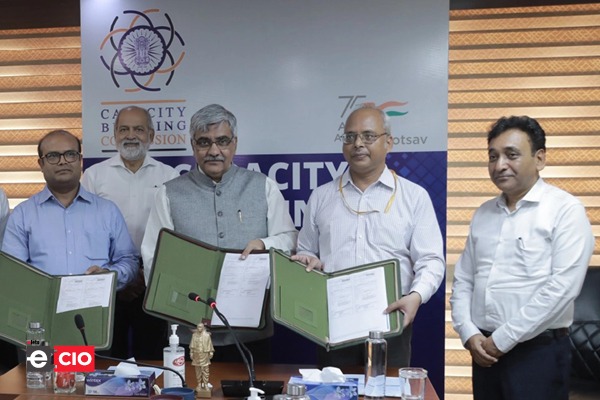 To equip India's government officials with skills for the future, Microsoft has teamed up with the Ministry of Skill Development & Entrepreneurship (MSDE) and the Capacity Building Commission (CBC). By working together on the Capacity Building by MSDE in the Microsoft Digital Productivity Skills project, the Indian government's almost 2.5 million civil officials will improve their functional computer literacy (GoI). The project will give them the digital tools they need to support the disadvantaged and vulnerable members of society with efficient and effective citizen-centric services. They will be able to provide last-mile social welfare services thanks to it.
In the solemn presence of Mr. Ashutosh Chadha, Group Head & Director, Government Affairs, Microsoft India, Mr. Rajesh Aggarwal, Secretary MSDE, Mr. Adil Zainulbhai, Chairman, CBC, and Mr. Praveen Pardeshi, Member Admin, CBC, the MoU was signed and exchanged.

Section officers, assistant section officers, clerks, upper division clerks, lower division clerks, undersecretaries, deputy secretaries, and similar officials at senior, junior, and support levels in the central government institutions will all receive training as part of the initiative. For the ministries of Defense, Skill Development and Entrepreneurship, Expenditure, Finance, Social Justice, Civil Aviation, Ports and Shipping, and Labour, CBC has taken on the capacity-building plans.
The absence of digital productivity application abilities required for working on Microsoft Office programs like Word, Excel, and PowerPoint presentations at a professional level was one of the key competency gaps observed among these occupational roles. So that they may efficiently perform their responsibilities in various ministries, the officials will be able to update their digital productivity abilities through the partnership's training programs.
Also Read | Microsoft to set up largest data centre at Hyderabad
Lauding the partnership, Shri Rajesh Aggarwal, Secretary, MSDE, expressed "Today's collaboration is in line with the initiative envisioned by our Hon'ble Prime Minister- Mission Karmayogi, it is aligned towards the development of our civil servants. By emphasising programmes that drive digital literacy, we will be able to provide hassle-free services to our citizens and bring transparency into day-to-day business. Our aim is to develop citizen-friendly and business-friendly policies. Technology has become an integral part of our everyday lives, Microsoft Word, Excel, and PowerPoint are now an essential component of our work life. Therefore, it is imperative that our workforce is trained in these programmes, and I am certain that with this alliance, we will be able to make Mission Karmayogi, a successful scheme."