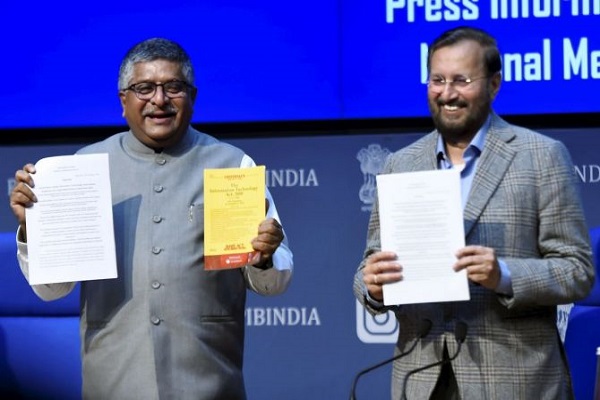 The center announced new guidelines for intermediaries regarding the "soft monitoring" rules necessary to hold social media and other businesses accountable for "abuse and abuse." To do this, large technology platforms must implement stronger complaint resolution mechanisms and appoint executives to coordinate with law enforcement agencies in India.
For social media platforms such as Twitter, Facebook, etc., the guidelines essentially remove the 'safe haven' available to these companies, this limits their liability for the content that users post on their platforms, when the platforms are no longer available duty of care.

The government's decision has come at various activities in different regions over the past 12 months to establish new regulations to oversee big technologies that could force some of the world's most valuable companies to fundamentally recalibrate their business models to deal with regulations.
Although the government has been working on these rules since 2018, work on publishing the new guidelines won after the dismantling of former US President Donald Trump and the recent dispute between the IT department and the site of Twitter microblogging on the distance of some new impulse accounts associated with the protest farm.
Regulation also appears to be taking a maximalist stance, both due to the strength of the number of users in the Indian market and the growing awareness of the diffusion powers of in-state tech groups operating in the state field, particularly in governance and legal and order issues.
IT Minister Ravi Shankar Prasad reiterated that social media companies can do business in India, but must comply with the laws established in India. While the government is open to criticism and the right to object, it is "equally important" that users of social networks have a forum to present complaints against the "abuse and abuse" of these platforms.
Also Read: India Inc & the Role of Social Media During COVID
"Social media users who come across crores should also have an appropriate forum to resolve their complaints in a timely manner," Prasad said.
Guidelines for Social Media Platforms

A Grievance redressal mechanism should be developed and there should be a Grievance Redressal Officer

Should be registered within 24 hours and disposed in 15 days: Union Minister @rsprasad#ResponsibleFreedom #OTTGuideline pic.twitter.com/8A0DQycQqe

— PIB India (@PIB_India) February 25, 2021