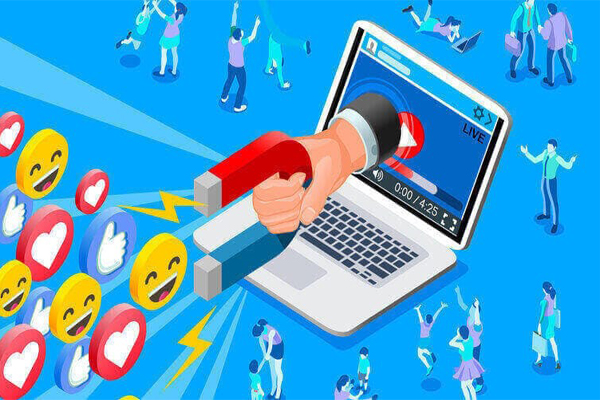 The world around us is changing frequently due to the extensive and deadly spread of severe acute respiratory syndrome-Novel Corona Virus. Not only the healthcare sector but this pandemic has put intensive pressure on the economy and operations of almost all sectors. The pressure created by the lockdown and minimal physical interaction is emerging as a roadblock to all sectors and this is the time when the extensive use of the digital mode of communication is taking the front seat. Not just for awareness but to spread the brand endorsements to the next level, India Inc is using Social Media and the range of growth opportunities its offers without any physical interaction. Based on views and experience of experts from several sectors, Rashi Aditi Ghosh of Elets News Network (ENN) explores the rise and shine phase of Social Media in India.
Social Surge–
· Social media volume saw a whopping 50X growth between January and March in India in the wake of the Covid-19 pandemic.
· Social media buzz picked up from 0.4 million in January and 1.6 million in February to a staggering 20.3 million till March 24. The number reportedly spiked simultaneously as coronavirus cases jumped from just one in January to the over 500 in March.
· During Lockdown, in e-commerce, average orders surged for staples with edible oil growing by 106 percent, salty snacks by 84 percent, soft drink by 68 percent and biscuit by 31 percent on a weekly basis in last one month till last week.
· Sales of hand sanitiser reported 1425 percent growth, face mask grew over four times, hand wash by 86 percent, floor and toilet cleaner by 77 percent. Source: Nielsen
· In the first week of lockdown, Indians dedicated more than four hours every day on social media. This is an 87 percent increase from a week before lockdown.
· Before the lockdown, social media usage was on average 150 minutes per day. However, in the first week of lockdown, the figures jumped to 280 minutes per day.
· Internet browsing saw a 72 percent spike during the first week of lockdown. Source: Hammerkopf Consumer Survey
Social Magic for India Inc-Opportunities Amid Adversities
To get a clear view on how Social media is helping companies in reaching out to their customers especially during the pandemic. We spoke to top-level executives from some of the leading brands across the country.
Need for Social and Digital Transformation
Sharing his views on the drastic change in consumer buying pattern and the need for innovative social and digital strategies, Anil Bhasin, President, Havells India says, "Consumers buying pattern has undergone a radical transformation since the time of Covid-19 crisis and businesses across categories had to device a new strategy to get the consumers back. We believe that social and digital marketing will remain prominent in the coming future to reach consumers."
"To deal with the 'new normal', we have also digitised our offerings and ramping up a hyper-delivery model — online-to-offline. The new business model will bring offline and online channels together to help the business boost sales of our products at a hyperlocal level. The dealer/distributors in the same area codes will be able to sell their products to customers with a super expedited delivery time. At the backend, we have also invested in a dedicated app for retailers to place an order that is automatically relayed to the dealer network and billing processes," added Bhasin.
So, if a company has no active social media account, they are failing to grab an opportunity to interact with a large base of customers? Yes, the experts we interacted with gave us the same feedback.
Not in Social Media-You're Missing Out on Opportunities
Saikat Samanta, Head IT from Videocon Industries states, "In my opinion, companies that do not have any active social media accounts yet, do risk missing out on numerous marketing opportunities. Creating and developing a website is important for any business but not sufficient, as you need to expand your online outreach to social media platforms. Nowadays Social Media marketing helps you to interact with the target market and based on your posts your customer base gives you feedback and subsequently which improves the responsiveness, customer engagements and branding. In the competitive world of product-oriented business, more and more companies are capitalizing on the benefits of social media for their business growth."
"Social media has gradually evolved into an integral aspect of our daily lives where we chant or rant virtually almost everything about their lives. The online presence in social media sites actually let you know what is popular, customer's pertinent issues and what they prefer and also helps in marketing strategies by increasing traffic and serving as a part of the Search Engine Optimisation strategy."
Social Media for Fast and Instant Outreach
The expanding reach of social media, which is no longer limited to the millenials, has a two-way approach to meet the requirements of organizations. While a customer feels free in reaching you and giving good or bad feedback on a product or service, companies can also interact with them and convey a message in sync with the brand's philosophy and assure the client that she/he is heard.
Also Read:- COVID-19 is 'The Turning Point
Shobhana Lele, CIO, Bombay Dyeing, "Social media plays a major role in determining organizations' customer outreach. Therefore, organizations must include social media in their strategy and roadmaps. Since the medium is fast with an almost instant outreach, the challenge is to create content with clear messaging that is precise and easy to understand. The consequences of one wrong message can undo months of preparation and years of reputation. Secondly, social media is a two-way road. Just like organizations use it to reach out to customers, customers also reach out. Organizations need to step up not only to recognize and address the conversion of potential leads into customers and but also give enough and more support to keep the customer engaged and delighted."
Social Media is Changing 'Marketing'
Today, social media is not just a way to connect with our audiences, but it gives a business a voice and a platform where your potential customers can interact with you and also be a repeat purchaser.
Bipin Kumar Chaudhary, Head IT, Cinepolis, "Social media marketing can lead to more customers, more traffic more engagement further leading to increased brand awareness and resulting in more conversions/sales. For us at Cinepolis, social media helps us connect with our target audiences and also helps us tap into segments of the market that may have similar interests and affinities. These platforms also help us gain valuable insights regarding our customers' behavior which further help develop other revenue models."
Bipin shared some statistics with us. They are as follows:
· 80 percent of social media users prefer to connect with brands through Facebook
· 87 percent of users trust LinkedIn as a source of information affecting decision making.
· 77 percent of the top 100 companies have a Twitter account.
· Social media unlike traditional channels of advertising is not just a one-way broadcast but also helps in customer interaction, learning and engaging.
According to the Internet and Mobile Association of India (IAMAI), 75 percent of marketers measure the success of their campaigns in terms of engagement, while seven out of 10 marketers plan to increase their influencer marketing budgets."
He says, "Approximately 78 percent of consumers say that their purchasing decisions are influences by a business's social media posts. And today, social media has a variety of avenues through with one can acquire customers. Clicks, views and engagements today helps turn your potential audiences to repeat customers."
Chaudhary believes that" Customers find it easier to relate to non-celebrities and are more likely to trust their opinions on a brand. If an influencer vouches for a business, they provide social proof about the usefulness of the products or services."
He also believes that "Nothing makes a customer feel more important than being acknowledged. Using customer testimonials also helps in a great way to attract new customers and build trust. The world is changing with and with them, the way we conduct our marketing is changing".
Use it Wisely!
While social media is helping brands to reach their customers and expand their prospects, unwise usage of the platform is also creating a lot of chaos.
Sarbani Bhatia, Senior VP-IT, Jagran Prakashan, "The rise of the social media and digitisation of content has also resulted in proliferation of fake news, unverified information and distorted facts. It is the responsibility of traditional and trusted media sources to counter all such misrepresented facts and rumours, and spread objective information and rational discourse."
Conclusion:
Change is inevitable and only the fittest survive the competition. So, with time it is significant to inculcate the change to meet the requirement. Experts from across the industries term Social media as that change which can turn adversities into opportunities not just during the Covid outbreak but also after the pandemic.