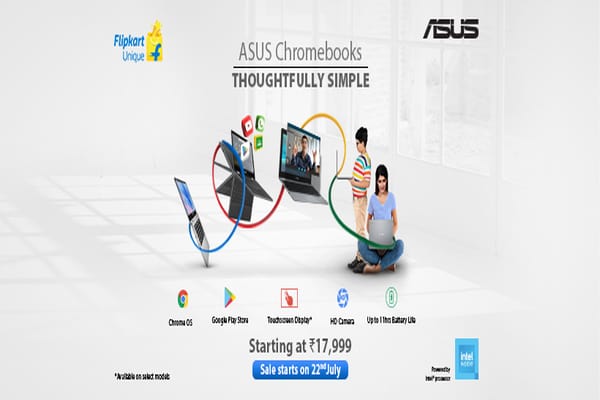 ASUS, the Taiwanese tech major and the fastest-growing consumer laptop brand in India, today announced the launch of six new Chromebooks in India, a series of simple to use, fast and highly affordable laptops, to enable millions of Indian consumers to adopt digital learning, work and entertainment experience.
The new range of Chromebooks will be available on Flipkart from July 22nd onwards to customers across the country.

Commenting on the new Chromebook launch, Leon Yu, Regional Director, India and South Asia, ASUS said, "At ASUS, we take lead in introducing latest technology to our Indian Fans. To meet the needs of current times, we are happy to introduce a new range of ASUS Chromebooks are fast, intuitive, easy to use and highly affordable. We strongly believe, Indian consumers now have reliable range of Asus laptops with their preferred OS to choose from, across affordable price points. ASUS Chromebooks will immensely benefit students, homemakers and new age cloud-focused enterprises."
Commenting at the launch, Dinesh Sharma, Business Head, Commercial PC and Smartphone, System Business Group, ASUS in India said, "We are excited to introduce our 'Thoughtfully Simple' yet 'Transformative' ASUS Chromebook series, which is designed to ensure extremely intuitive and user friendly computing experience for modern day learners and modern day cloud focused enterprises." He further added, "We will be also announcing a range of community support activities for ASUS Chromebook users and share a range of resources that will help consumers make use of their Chromebook Thoughtfully Simple."
Also Read: Flipkart set to acquire distressed Cleartrip
Rakesh Krishnan, Senior Director, Electronics at Flipkart said, "As the country's homegrown e-commerce marketplace, we have been the preferred destination for millions of customers across the country by meeting their evolving requirements. With 40-45% of our demand for computing devices coming from the student community, we have been working closely with our partners to make available student-friendly, affordable products at their doorstep. We are happy to make available ASUS' new range of Chromebooks on our platform which will play a key role in shaping students' academic journey with its cutting-edge technologies".