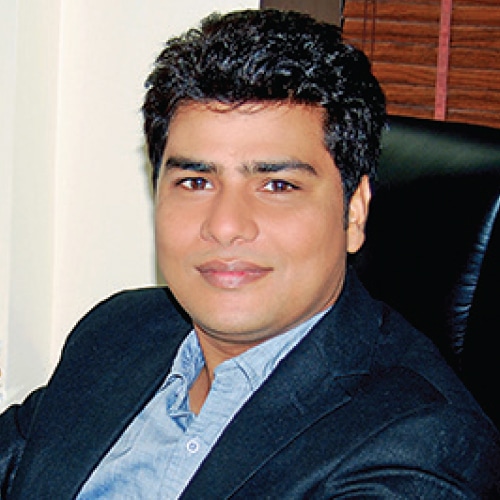 To ensure a holistic development, it is important to maintain a coherent and inclusive atmosphere, says Sudhir Singh, Managing Director (Sales & Marketing), Marg ERP. He also believes that there has to be timely delivery to the need of the hour. In an exclusive interview with Jyoti Bhagat of Elets New Network, Singh talks about the vision and plans of Marg ERP.
Tell us about the vision and USP of Marg ERP.

Marg ERP is a leading software application provider in GST and helping companies in the smoother transition into GST. We are a growing and passionate organisation. They say, if you are passionate about something, no adversity can affect you. We, as a team also didn't get bogged down by the GST storm. We have strongly maintained growth despite the GST boom. One of the reasons is making prudent investments. The best investment was in terms of building a team and expanding the business across India.
What are the major challenges you have faced?
India primarily runs on the Small and Medium Enterprises (SMEs). Our competition is mainly with the SMEs run in the tier two or tier three cities like Kanpur, Udaipur or Agra. They have captured the market owing to their personal connections and affordable product and services. We, on the other hand, despite offering upgraded product and service, are unable to capture these markets due to the presence of these companies. We have already come up with a solution to mar this challenge.
What are the initiatives you have taken to mitigate this challenge?
We ran a project named Milaap. As the name suggests, we are merging with the SMEs operating in tier two and tier three cities. Within this project, we speak to these businessmen to understand their challenges. We propose them to join Marg ERP where we mentor and groom them. In the process, they develop the capability to bring out better product and services. On the other hand, we can capture the local markets which were earlier monopolised by the SMEs. The idea of project Milaap is to complement with the SMEs rather than treating them as competition.
How many companies have you included in this project? What is the number that you are targetting?
So far, we have associated with more than 50 companies across India, mostly across north and east regions of India. Two mergers have been done in West India and we have almost cracked one in South India. There are around 200-250 Milaap projects in our pipeline. We are targeting to associate with around 1000 companies with the motto of growing together.
Which are the states where you have worked on the project Milaap so far?
So far, we have approached and gained success in the states of West Bengal (Kolkata and Siliguri), Bihar (Patna and Gaya), Uttarakhand (Dehradun, Rishikesh, Haridwar), Uttar Pradesh (Meerut, Muzaffarnagar, Kanpur, Agra), Rajasthan (Udaipur), Haryana, Chandigarh, Punjab, Jammu & Kashmir, Odisha and Maharashtra (Nagpur and Jalgaon). In South India, our first Milaap is about to get finalised in Kerala and we are in talks with four companies in Karnataka.
Such companies are more visible in the western and southern zone of India. However, your mergers are more in the north and east zones. Is there any specific reason for that?
You are right. Our objective was to pick the low hanging fruits first. Since we are more at home in the North zone and were more confident in exploring these areas first, hence we worked on these zones first. Moreover, there are some cultural gaps as well in these regions. After gaining success in the north and east zones, we are now proceeding towards the west and south zones as well and doing steady progress.
What kind of challenges did you face in bringing these companies onboard?
We have approached mostly SMEs, who have gained prominence in the local market. The major challenge was to convince them why this merger would be a win-win situation for both. Also, some of the companies are present in the market for the past 10-15 years and to merge with us somehow deflated their ego bubble, hence they delayed the process. They had a feeling that Marg ERP would curb their independent way of working. We did not lose patience and successfully convinced them that their authority or ownership won't be hampered. We will only focus on growing together by utilising each other's fortes.
What are the advantages you faced after merging with these companies?
After the mergers, our network has become much stronger as we now have a cumulative client base, who were earlier exclusively associated with the SMEs. We have now captured the entire market in the cities where we have deployed project Milaap. Growing network means growing opportunity. We have added the value of our brand and expertise to the network and strong clientele of the SMEs. Last but not the least; we can add much diversity in our clientele, as well the organisation. Another aspect was, while these SMEs were focussing only on the accounting, after associating with Marg ERP, these companies are offering holistic products and services.
How are you developing and updating the products and services of Marg ERP?
Unless we move with time, we will get redundant. Hence, we are moving towards SaaS based products. Over time, I have realised that you have to be on time. If you are too advanced, then your clients or customers will not be ready for your product. On the other hand, you can't afford to be late as well. Indians need hand-holding as they are not able to use the software on their own. We plan to now utilise technologies like Artificial Intelligence, blockchain etc. in the products and launch it when the time is right.
Your core area is in the SMEs. Don't you think deploying technologies like AI, blockchain etc. would be expensive for these companies in terms of cost as well as the skills?
Technology is never expensive, we made it expensive or out of reach for certain sections of the industry. We at Marg ERP aim to deploy the products to the masses and create volume. We either make expensive software and sell it to a single big company or price it moderately to sell across various medium industries and create an impact. Let me give you an example of how we have involved technology in our product. We have created an app which has the data of all the companies we are connecting with. It has created convenience for us along with our clients. We believe in creating ease of doing business.
How has been the growth rate of Marg ERP this year?
We have achieved 25 percent growth this year. I must also mention that our attrition rate is also negligible. We offer a conducive environment for our employees, the number of which is around 600 at the moment. We are also planning to expand our team.
What are your plans for the future?
We are expanding our company to the international level. Marg ERP is already functioning in 20 countries including the SAARC countries, some countries in Africa, which we have been operating from India itself. Now we are planning to open offices in Australia, Singapore, Dubai, Kenya, Bangladesh etc. Our concept is the same, where we want to support the local companies. We are also working with Skill India in six states at present. Mentoring is one of the most crucial roles we play. A lot of youth from the rural areas come to us whom we mentor well and make them employable.
There is a gap between need vs. delivery. I have a strong observation that the government is not able to deliver as per needs. Rather, they are delivering first and then urging to create the need. Ideally, it should be the other way round. We have given a proposal to the state governments of Bihar, Uttar Pradesh and Rajasthan that we would teach the youth as per the market demands of the market. This would also address the problem of unemployment to some extent. The state governments have accepted the proposal and employment opportunities will be created. We are working on this project for the next year. With Skill India, we are already working in the states of Uttarakhand, Odisha, Uttar Pradesh, Maharashtra, Madhya Pradesh and Gujarat.