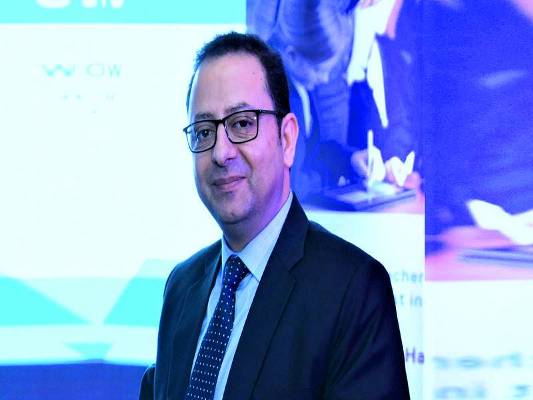 Ajay Kaul, Director and GM, Head Government Business, Dell Technologies in interaction with Jyoti Bhagat, EletsTechnomedia.
What is Dell PolicyHack all about and what was the rationale behind Dell organizing the Hackathon?

Dell PolicyHack is a Public Policy framework which got initiated a long time ago. It falls under our umbrella of Realizing 2030 where we strive to explore how we can realize the new-age partnership that is coming out by better utilization of new technology and making human life better. The Policyhack is aimed to address the disruptions which are caused by the advent of technology. This initiative allows us to come together and understand the rationale behind the challenges that technology implementation has created. While doing so, we believe that whatever transitions happen, for them to effectively take place we first need to understand the challenges (multiple dimensions and multiple industries) that exist.
In today's times the amount of technology-led disruptions that have happened are impacting several areas and we believe the Education sector has been one of the biggest beneficiaries of it. The impact of technology in the Education sector is covering multi-generational people, right from the ones who are getting taught to the ones who are teaching. The challenges that have come up today are in the virtue of teachers thinking that are they really adding value today? This is the result of technology and the change that we all have experienced which makes students believe that they know even more than their teachers. It poses a great question that is we training the teachers enough to be able to impact the education journey of a student. This gave us the motivation to explore opportunities in the India context.
Execution of Dell PolicyHack:
We intend to do multi-cities initiatives amongst which Delhi is the first city in this policyhack series hosted by Dell. We got together a forum which consists of academia, industry, the think-tank, the teachers as well to share their thoughts with us and brainstormed on:
1 What are the challenges that are coming with the new age technology advancement that's happening across the globe and where does India stand with regards to that?
2 Then picked the areas that we need to solve first to resolve the challenges that lie in front of us. It is here that the government, policymakers, the enablers need to come together and create a sustainable and scalable methodology.
From that standpoint, we have looked at various ways in which teachers who are the fulcrum of this entire change can be trained in a specific manner. Teachers are also keen and asking themselves the all-important question: Are we adding value to the future of these children? Because today, children need to know more than what they were expected to know earlier. We believe that curriculum, content, teaching methodology using tech can bridge this gap.
Response to the Dell Policyhack:
The response has been fabulous. This is an area that touches us personally as well. We know that teachers are also constantly asking themselves whether what they are teaching today is relevant to the future or not, especially considering the kind of information that's available with the touch of a button. Since the issue resonates with the teachers, the response has been great.
Some of the initiatives that the government schools have taken in this forum are as good, if not better than the private schools. We are happy to note that the gap that always existed between private and public schools has reduced. The beauty of this whole exercise is that Technology doesn't differentiate between a Private School or A Government School.
Overall from Government perspective, what sorts of programs or initiatives you are undertaking in collaboration with the Government and the specific areas and some plans in the coming year. One of the areas that we believe to be amongst the biggest technology adoption sector is government business. Digital transformation is bound to happen and there are many organizations and bodies who are at different level of this transition. We have workforce transformation, IT transformation and security transformation which has brought a paradigm shift in the working semantics of the government. Dell Technologies broad range of IT solutions are helping government organizations modernize and simplify their IT infrastructure; support workforce transformation; keep everyone safe, and ultimately improve lives through new and more intelligent digital government services. There are three areas where IT transformation in government is most critical to long-term success.
 Consolidation of IT infrastructure to reduce costs and improve operational efficiency
 Support for new applications and edge devices
 Protection of data assets and demonstration of regulatory compliance
We combine industry-leading capabilities, public sector expertise, and best practices to deliver reduced risk and complexity and increased agility. In addition, we work side by side with our partner ecosystem of ISVs, resellers, integrators, outsources, and service providers with State and Local government leaders to build and secure their modern infrastructure – and ultimately help transform the way they serve citizens.
With the government focusing on digitization, we have certainly added value through our diverse product portfolio. GSTN – GST Network, for example, is built on our stack. The recent Central Board of Excise and Customs revamp of the infrastructure is on us. Aadhar itself is all on our stack. CBDT, when you file your e-returns, you are actually filing e-returns on our infrastructure. So we are playing a very active role and a very partnership-oriented kind of an approach when it comes to the government.
We see opportunities for creating new cloud capabilities, but in a hybrid secure, internal needs like using various technologies within government operations. Even in the financial sector, the converged infrastructure has made operations more cost-efficient and is capable of driving growth and performance at the same time.
Which government bodies and states you are currently working with?
We are closely working with Rajasthan Government, Kerala Government, AP – Telangana government and the projects range from skill building initiatives, health missions to start-up and incubation centres of the state.