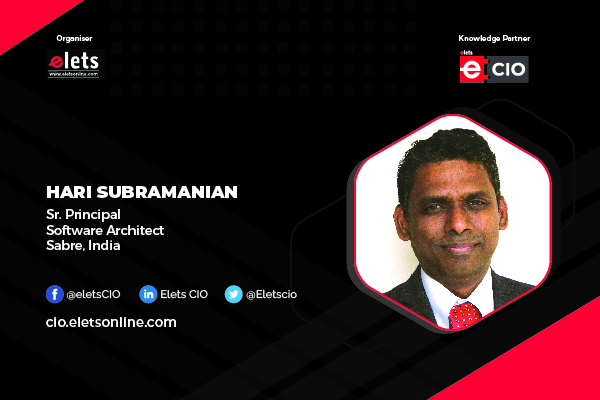 Sabre aspires to enable intelligent retailing by providing technology that enables its customers to create unique, relevant, and appealing offers and distribute them via multiple channels. To brief us about what role Sabre GCCs play on "Sabre to create a new marketplace for personalised travel in a cloud-based environment, Hari Subramanian, Sr. Principal – Software Architect, Sabre, India spoke to Nidhi Shail Kujur of Elets News Network (ENN).
1. What are Sabre's growth and current advancements in India?

Sabre started in 1960 and created the world's first computerised reservation system. The journey has progressed from Computer Reservation Systems CRS in 1964 to the Travel AI system and services that enable us to create new market space for travel powered by cloud technologies.
Sabre India has been a part of this journey for the last 15 years and contributing to Global Sabre Goals. To give it a simple picture, Sabre's tech stack consists of four layers:
User experience
Business services
Platform services
Infrastructure
Sabre Bangalore has teams working on all four layers, and its goal is to enable a new travel marketplace by 2025 with a transformational mindset.
Sabre GCC has teams and team members as part of tech transformation, research, and next-gen technology such as AI, ML, real-time data analytics, and cloud migrations.
2. Sabre's travel innovation/ecosystem evolution
Sabre India has achieved great heights and is working towards achieving greater heights. We are working towards providing travellers with a new travel marketplace. Tech transformation is the next big thing in the innovation ecosystem, and all these infrastructures are moving toward the cloud infrastructure.
Tech transformation efforts bring cost benefits, powers innovation, provide increased security, and ensure speed-to-market
Sabre labs, innovation, and research-focused groups have a significant presence in Bangalore and are part of global activities.
Sabre believes in creating a culture of innovation and a mindset for the teams to be engaged that helps us grow. Sabre Bangalore is leading many forums which create a culture of innovation within the organisation. The forums like BlitzCode, Global Blitz, Solve!T, and Women in Tech (W!T), to name a few, bring all of us together beyond regular assignments and schedules, create daring ideas, and bring those ideas to reality.
3. What role do Sabre GCCs play on "Sabre to create a new marketplace for personalized travel in a cloud-based environment"?
Sabre wants to enable intelligent retailing by providing the technology that allows its customers to create unique, relevant, and appealing offers and distribute them through multiple channels. One of our key strategic initiatives, 'consumer demand for a personalized experience,' focuses on IT capabilities, processes, and intelligence to enable intelligent retailing. The long-term partnership with Google plays an important role. With Google's knowledge of data and Sabre's travel experience, we create capabilities that enable travellers and give them the best travel experience. Delivering the right offer at the right time across all relevant channels, customers are positioned to provide tailored personalisation to travellers that should drive higher conversion rates and build traveller loyalty.
Also Read | Revamping Cybersecurity with Next-Gen technologies: AI & ML
4. Given that the travel business is flourishing, where do you see corporate travel heading?
We are slowly coming out of the pandemic. A recent report by Deloitte said that business travellers are undoubtedly willing to spend more on tickets irrespective of the cost. The concept of 'Revenge Travel' is gaining a lot of momentum, as people were stuck in their houses, and now the situation is improving. Corporate travel was one of the first to open up, businesses are willing to spend, and it is seen that there has been about 46% growth since 2022, and it is anticipated to grow in 2023. Our CEO, Mr Sean Menke, has quoted that – 'Corporations are happy to have their employees back on the road'. Hence, I am confident that business travel is flourishing. The concept of Bleisure (business + pleasure) is a catalyst for potential recovery. With Revenge travel and Bleisure, we can see travel picking up its pace.
5. Now the trend is personalized travel, so elaborate on the tech behind personalized travel.
It's all about AI when we talk about travel now. A few years back, people were doubtful if things would work, but in my opinion, AI is ruling the tech world. We have plenty of tech experts like Data Scientists, Data Engineers, Data Analysts, and developers., working towards different tech aspects to make travel more personalized.
In short, AI is the next big thing and makes the personalization of trips a reality. Personalized travel provides a seamless experience to travellers. This can be in the form of a tech platform that will bring together multiple service providers from across the board to form one extensive travel ecosystem. We are keenly researching and working towards Travel AI in partnership with Google.
6. What function does Site Reliability Engineering (SRE) play in the travel technology industry?
When we talk about SRE, two key advantages come as a flash. Reliability and speed-to-market. For every product life cycle, especially the travel ecosystem, it is inevitable to reduce product lifecycle friction and make the feature available to customers immediately and make it available 24×7.
Our SRE principles, such as reliability, meeting the reliability expectations of our customers and exceeding customer expectations with well-engineered software, operations, and business.
So, by SRE practices such as data guides for decision-making, SLOs, SLIs, and proactive monitoring, our DevOps engineer ensures upholding the SRE principles and ensures we are heading in the right direction and keeping up the promises to the customer.