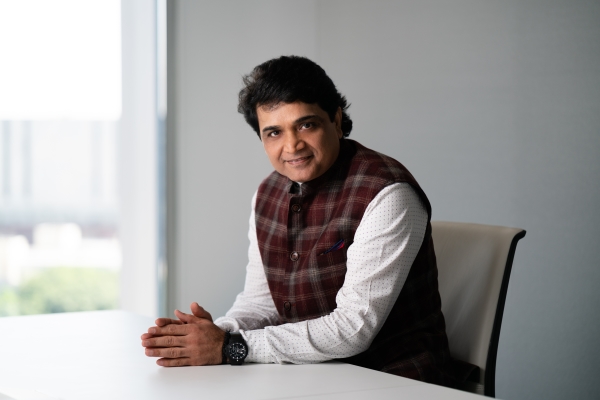 In an interview with Anupama Mehra of Elets News Network (ENN), Anil Bhasin, Regional Vice President – India & SAARC, Palo Alto Networks, shares how SASE model is addressing the limitations of traditional architectures by converging networking and security in the cloud.
Palo Alto Networks leaped aboard with the launch of its Secure Access Service Edge (SASE). Please tell us about it.

The adoption of cloud technology and increased user mobility have fundamentally changed the way that network and security infrastructure must be built. The emerging SASE model addresses the limitations of traditional architectures by converging networking and security in the cloud. Leading companies already rely on Prisma Access for its consistent delivery of comprehensive networking and security services, including IPsec VPN, SSL VPN, cloud-delivered malware analysis, DNS Security and URL filtering capabilities.
This gives Prisma Access the potential to be a leader in the new market category defined by Gartner called SASE, which is a convergence of network and cloud security that recognizes the new demands required to secure cloud and mobile workforces, while also delivering on integration leads and management. Palo Alto Networks is both enhancing the Prisma Access platform and extending its industry-leading SASE capabilities like new Prisma Access SD-WAN service, new cloud-based management user interface, new SaaS service-level agreements, and new advanced DLP service.
What are the current trends in the IT industry and how it is impacting the enterprise security domain?
We have recently released a report that uncovers the truth about the state of cloud security among large enterprises in India and across Asia-Pacific. Conducted by Ovum Research, the report shows that large enterprises are not prepared for cloud-related cybersecurity threats, and more importantly, make the assumption that public clouds are by default secure. In fact, 72 percent of security decision-makers in large enterprises in India believe that security provided by cloud providers is sufficient to protect them from cloud-based threats. Organizations need to recognize that cloud security is a shared responsibility. While cloud providers are responsible for the security of their infrastructure, the onus is on companies themselves to secure their data and applications stored in that infrastructure.
What is your Indian and global market focus?
India is a huge market for us. We are constantly looking at addressing the security issues that today's organizations face and remain committed to our strategy on integration and transformation across our enterprise, cloud and AI/ML solutions. As digital transformation is altering the way companies evaluate their security needs, Palo Alto Networks will continue to help our customers successfully navigate this transition through:
 

Securing the enterprise

by delivering highly effective security in their on-premises infrastructure while taking away unnecessary complexity and breaking down existing silos.
 

Securing the cloud

by delivering unprecedented visibility into risks and consistently governing access, protecting data, and securing cloud applications.
 Securing the future by harnessing the power of advanced AI and machine learning.
Cyberattacks have increased in recent years. What steps are you taking to curb it?
In terms of innovations, we are making to secure the enterprise, we are looking at extending SD-WAN capabilities to our Next-Generation Firewalls. Gartner has continued to recognize our technical leadership and we were named as a leader in the Gartner Magic Quadrant for Network Firewalls for the eighth consecutive time. As for securing the cloud and access to the cloud, we have discussed how Prisma Access is now the industry's most comprehensive SASE platform. Further, our cloud solution Prisma Cloud allows organizations to obtain a full and unified view of their security and compliance posture across any type of cloud workload, including containers, serverless and host environments under a single pane of glass. Lastly for AI/ML innovations, we have recently announced Cortex XDR 2.0, which is an advancement of the industry's only detection and response platform that runs on the fully integrated endpoint, network, and cloud data. This proactive approach to threat detection and response allows organizations to better defend their infrastructure and data from damage, unauthorized access, and misuse.
How was the year 2019 for the company? What new innovations are you planning?
2019 was a strong year in terms of year-on-year growth for us in our newer Prisma and Cortex offerings. We developed and announced significant new technologies and created a healthy go-to-market structure for accelerating success in the market. With the recent acquisition of Zingbox, Inc., a differentiated player in IoT security, we will provide a first-of-its-kind subscription for our Next-Generation Firewall and Cortex platforms that gives customers the ability to gain control, visibility, and security of their connected devices at scale. The proposed acquisition of Aporeto, is an addition to our strategy of widening our leadership in cloud security.
We intend to leverage Aporeto's unique machine identity technology to help customers secure their journey to the cloud by enhancing our leading Prisma Cloud capabilities. We have also recently introduced significant product enhancements, including Cortex XDR 2.0, SD-WAN and DLP capabilities for Prisma Access and the integration of Twistlock and PureSec into Prisma Cloud.
Our focus will continue to be on our mission is to be the cybersecurity partner of choice, protecting our digital way of life. By helping our customers solve this very real cybersecurity challenge, we strive to maintain trust in our digital world. We'll do this in an innovative and disruptive way – using an unconventional approach, we have built a security platform – engineered from the ground-up – based on a new and innovative technology that is more adapted to today's use of the Internet, modern cyber threats and enabling business operations.
Also Read:  Micro Focus: Protecting organizations' digital assets
 Also Read: CyberArk: Curbing Cyberattacks, Securing valuable Data