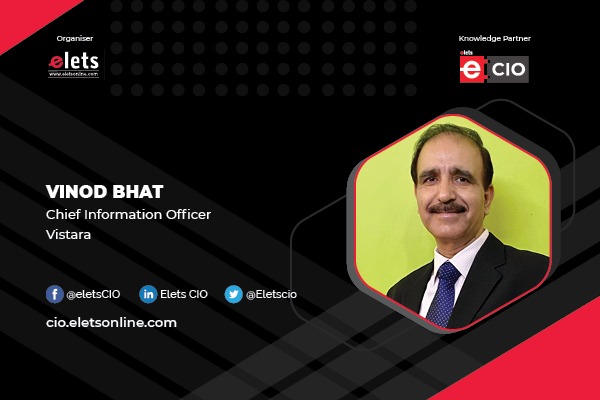 Automation, Artificial Intelligence (AI), Machine Learning (ML), Robotics, Cloud, IoT, Big data, and Analytics are examples of cutting-edge technologies that can help an airline streamline and automate many processes and tasks. AI and Big Data assist airlines in making quick proactive decisions about flight planning, flight operations, ground services, customer engagement, aircraft engineering, and safety by analysing data trends. To give inputs on how can airlines capitalise on emerging technologies such as IoT and AI, Vinod Bhat, Chief Information Officer, Vistara spoke to Nidhi Shail Kujur, Elets News Network (ENN).
What are some of the key technological advancements that allow Vistara customers to have a smooth and trouble-free experience?
Vistara has been at the forefront of enhancing its state-of-art digital infrastructure including Cloud, Data, Analytics & Insights, AI/ML, RFID, Automation, Omni-channel strategy, Customer Experience, Employee Productivity, Chatbots, AR/VR, CyberSecurity and so on. In our endeavour to enhance customer experience, we have invested in the "Customer 360-degree" platform, which has become the digital backbone for customer centricity. It is helping us to position personalised offers and solutions to various customer segments. We have also revamped our customer support platform, which gives an end-to-end view of customer interactions to our call center/support staff while addressing customer situations. The chatbot interface is further enhanced to serve customers with meaningful information and options.
We are closely working with the Airport Authorities of India (AAI) and other stakeholders on the "DigiYatra" journey (a biometric/facial recognition-based identification), which will change the travel experience for the better and make it completely touchless. Once registered, customers will be able to experience a seamless process, right from the moment the customer reaches the airport to board the flight. The face will be the new boarding pass.
We are also taking lead in working with airport operators for Self-Baggage-Drop (SBD) initiative. Once operational, customers can do self-service baggage drops at the kiosks, without the hassle of standing in the queue and going to the check-in counter.
We are also conducting proof-of-concept/value (POC/POVs) for Virtual/Augmented/Mixed/Extended Reality by visualising various aviation use cases, which will form a great platform for the Metaverse journey in a digitally immersive world.
How important have your cloud-based IT Operation Management systems been throughout the pandemic?
Vistara was born on the cloud. This infrastructure proved quite handy, especially during the pandemic when the demand was fluctuating a lot. We are able to ramp up/ramp-down cloud resources on demand, which is giving us business agility, resilience, flexibility and cost optimisation. From a business continuity perspective, we are on multi-cloud architecture and are on a constant journey of workload optimisation for better cost control. We are enhancing cloud security further by rationalising tools and putting the right controls, with a focus on zero trust (ZTNA), and secure access service edge (SASE).
Please describe how your commitment to investing in cutting-edge technologies has contributed to the airline's operational efficiency.
We are continuously exploring the implementation of state-of-the-art technologies for better customer experience and operational efficiency. For operational efficiency, we identify business processes, that are ideal for Automation/LowCodeNoCode kind of technologies. We have also invested in self-service technologies such as chatbots, in order to provide enhanced support and better control to our customers and employees to improve operational efficiency and increase cost optimisation.
Also Read | Revamping Cybersecurity with Next-Gen technologies: AI & ML

Our Digital Center of Excellence (DCoE) focuses on developing solutions for key business problems, by staying abreast with the technological changes happening in the industry.
Our dynamic scale-as-needed cloud model has helped improve infrastructure resilience, adaptability and cost optimisation. Departments like Engineering, Flight Operations, Ground Services and Safety have seen a lot of automation of data exchange between aircraft and IT systems, enhanced analytics for real-time decision-making regarding safety and MRO maintenance, technical monitoring of operations for better disruption management of flights and much more.
In partnership with Aerospace Software Development (ASD), we became the first scheduled Indian airline to deploy RFIDAeroCheck technology as part of our commitment to maintaining the highest safety standards. ASD's RFIDAeroCheck tracks the presence and expiration of emergency equipment on the airline's entire fleet of Airbus and Boeing aircraft.
Vistara will be the first Indian airline to implement an electronic logbook (currently in the airborne stage) which will enable us to digitise the aircraft paper flight logs for enhanced operational efficiency. Further, in order to improve employee productivity and experience, Vistara has implemented a new fully automated mechanism to develop crew rosters for the management of its 2,500+ cabin crew and pilots across the network based on their lifestyles and preferences.
In the near future, you will be the first Indian airline to go paperless and implement an e-tech logbook. What are the benefits of utilizing this solution?
An e-tech logbook solution will aid our efforts to go paperless in our operations, which is a step further in ensuring our operations are as environment-friendly and sustainable as possible apart from also being more efficient.
We have appointed ULTRAMAIN ELB which will enable accurate, real-time global operational visibility of the entire Vistara fleet for efficient maintenance, higher dispatch reliability, and increased aircraft utilisation. Currently in the airborne proving stage, implementing the E-tech logbook will fully replace aircraft paper technical log, cabin log, journey log, damage log, and fueling log providing a validated electronic Certificate of Release to Service (e-CRS) on flights operated by Vistara. This application will be used by Flight Crew, Cabin Crew, and Engineers on iOS devices to provide integrated workflows with Vistara's maintenance and operational systems.
How can airlines capitalise on emerging technologies such as IoT and AI?
New-age Technologies like Automation, Artificial Intelligence (AI), Machine Learning (ML), Robotics, Cloud, IoT, Big data and Analytics that help make sense of data can streamline and automate many processes and tasks for an airline. By analysing data trends, AI and Big Data help airlines take quick proactive decisions related to flight planning, flight operations, ground services, customer engagement, aircraft engineering, safety and so on. These tools have been key in helping airlines optimise operations, implement social distancing measures, improve revenue, and take data-driven and data-informed decisions while staying ahead in the game. On top of it, technologies like 5G and Edge computing have multiple use cases for aviation for customer experience, security, and business decisions.
Your plans for growth in 2023 and beyond.
At Vistara, we strive to make our operations seamless and provide a hyper-personalised and distinguished experience to our customers throughout their journey. We are enhancing our digital investments in Cyber, Data and Information Security Infrastructure, which includes tools in XDR, SIEM, SOAR, PAM, IGL and other process and technology areas.
As we gradually expand our fleet and network, we will be directing our efforts towards automating processes involved in the aviation business, across various departments – flight operations, ground services, corporate, safety, HR, engineering, etc., in order to support our growth and increase business value.