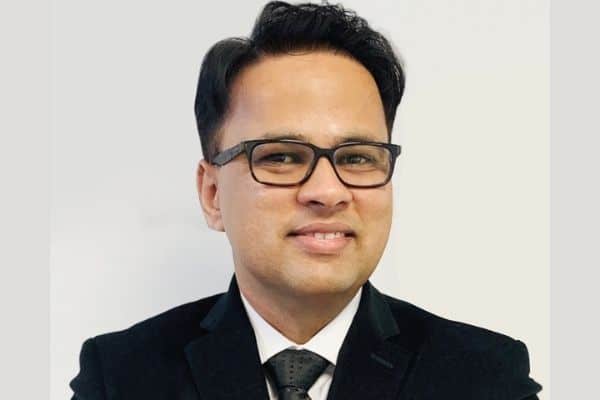 The sudden outbreak of deadly Covid-19 brought several challenges especially for the healthcare industry but with time some opportunities in disguise, primarily in the form of digital push have been reported, which is helping gain a lot of efficiency and speed towards treatment delivery. To understand, how meaningful digital alliances among healthcare and pharmaceutical industry players are benefiting each other lately, Rashi Aditi Ghosh of Elets News Network (ENN) interacted with Dr. Harshit Jain, Founder & Global CEO, Doceree.
1. Healthcare industry was at the centre of Covid outbreak. What challenges and opportunities did you witness during this time?

Coronavirus outbreak has accelerated the adoption of digital in the healthcare sector. Data suggests that the Pharmaceutical sector had been hesitant in opening up to digital mediums. However, post COVID-19, a new picture has emerged as traditional marketing investments got halted during this time. Pharmaceutical brands are now waking up to the reality of digital and how platforms like Doceree can make their marketing efforts effective and efficient, and even cut costs. Prior to COVID, we hadn't seen such faster conversions in the healthcare industry.
Meaningful digital alliances among industry players that are mutually beneficial are essential to keep the momentum steady. Pharmaceutical brands and digital platforms have a lot to capitalize on at the moment by way of forging 'effective and efficient' partnerships. It will ensure that the growth they witnessed during this hour would last beyond the current crisis. While pharma brands might have had been a laggard in exploiting the potential of digital marketing so far, they are now getting ready to embrace the medium to the fullest.
2. How do you explain the Physician-only platform? How is Doceree different?
Doceree is disrupting the Physician marketing landscape much in the same way digital ad networks transformed the consumer marketing space. To realize our mission and vision, we created the First Global Network of Physician-only Platforms for Programmatic Marketing. Doceree's integrated and collaborative ecosystem enables pharmaceutical brands and digital platforms to mutually benefit from untapped opportunities present in Physician marketing in the most 'regulatory compliant and transparent manner'. With Doceree, Rx drug marketers can now promote their brands in the digital domain to Physicians without bothering about the nitty-gritty of regulations. At the same time, Doceree provides an opportunity for digital platforms to make more revenue. With our platform, they can now focus on their core business and the problems they are solving in healthcare than swaying their attention to making more monies.
Over the last decade, innovative digital business models emerged in a lot of sectors and helped companies reduce marketing costs significantly. However, pharmaceuticals by and large remained an exception in opening up to digital mediums. The marketing approaches are still confined to traditional ways of doing business and Physician marketing is nowhere close to consumer marketing that grew leaps and bounds after companies in the space switched to digital methods and made them an essential tool to reach out to their target audiences. This is where Doceree is making all the difference. It is enabling Pharma brands to use digital technologies by addressing issues that have been acting as a roadblock in digital adoption among Rx drug brands.
Doceree is integrating doctor-only digital platforms not just in India but across the globe to create a unified and cohesive digital ecosystem
 It is enabling pharmaceutical brands to target doctors at the right moment with the right message to be able to drive behavior change and achieve desired business outcomes.
It is bringing transparency in 'doctor reach and results' through AI-enabled dashboard.
By being regulatory-compliant, our platform has reduced a lot of hassles related to regulations that Pharma brands faced while partnering with individual digital platforms.
Also Read: Digital Twin Technology – Exchange data and interact through IoT
3. Globally, experts are predicting a promising future for start-ups. Do you expect a cash-positive scenario lately?
When we started Doceree in 2019, we ventured into a space that was very niche, especially in the context of the Indian market. Pharma brands across the globe were not much open to using digital mediums for physician engagement as traditional route of in-person interactions by sales reps still remained the most popular way to connect with physicians. However, the pandemic changed the entire scenario — sales reps were locked indoors and the only way for pharma organizations to reach out to physicians was through only digital. Around this time, pharma companies realized that digital needed to be more than a checkbox activity in their marketing plans. Our platform turned out to be exactly what pharma brands looked for, providing them complete transparency in accessing physicians through a regulatory compliant medium. Doceree enabled pharma marketers to target physicians contextually at opportune moments, helping them optimize their business outcomes. That we have been able to expand to three international geographies – the US, India, UK & Europe in a span of two years shows how critical our platform had been for pharma players. We have been expanding to a new international market every six months and launching various products and features to provide further optimization capabilities to pharma marketers. Presently, we are working with top 7 out of 10 global pharma players and over 50 publishers throughout the world. Our India business became cash positive in the first 15 months and the US business is expected to become cash positive in the next three months. We are on track to clock projected annual revenue of $6 million this year.
4. Would you like to tell us about Doceree's expansion to three international markets – India, US, Europe?
There is no global player in the space right now and our premise is based on creating one. Irrespective of any market, physician marketing lagged much behind consumer marketing when it comes to digital. While the concept was almost new for Indian pharma marketers, the story was no different even in the developed markets like Europe and America. It is the mental block pertaining to regulations and compliance that had limited the adoption of digital in the pharma industry. This hesitation has now been waning among pharma marketers, especially in India where digital penetration is growing fast in the sector. The concept exists elsewhere in the US, Europe, UK and Japan, but because not much innovation has happened in the space the growth has been very slow. Consumer marketing in the last decade changed the way brands reached out to their target consumer. That kind of transformation did not happen in the pharma marketing space so far, be it any market we talk about. The pandemic though has fuelled the adoption of digital in the industry and marketers are now being more serious about digital pharma marketing tools and strategies. We can say it is now becoming an exciting space across markets. We are introducing products that are specific to a particular market and provide optimization opportunities to marketers in those markets. The expansion to three international markets is exciting as we are witnessing quite a demand for our platform and our offerings.
Also Read: Covid-19 Helped us 'Pause and Introspect': Shobhana Lele, CIO, Bombay Dyeing
5. What are your growth plans for 2022?
The plan is to expand to Japan next year and come up with market-specific products to cater to the needs of pharma marketers. We will continue doing partnerships in this domain to further optimize the business goals of pharma brands.