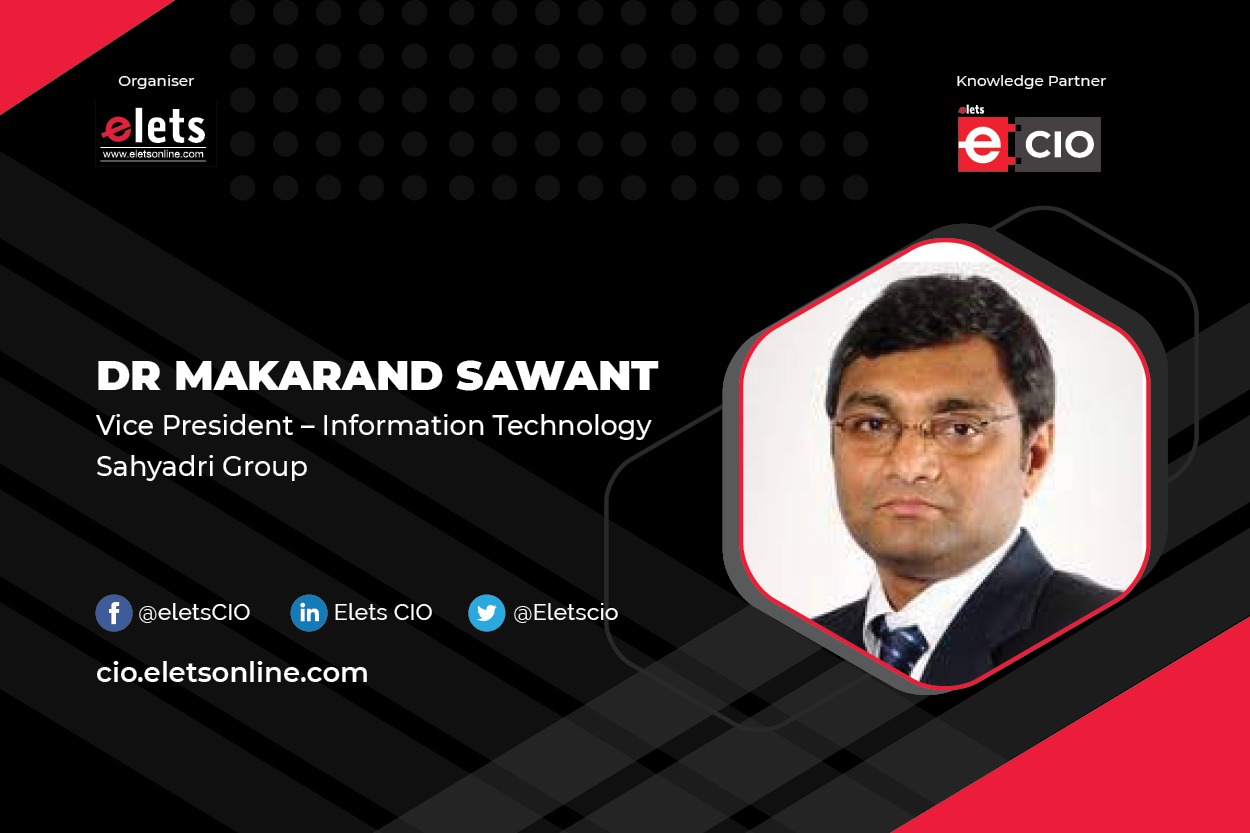 Industry 4.0 has reached a tipping point in Indian manufacturing with a determination to increase investments in the next two years to create great customer experiences and long-term business models. With the adoption of Industry 4.0 and smart manufacturing, the manufacturing sector is now increasingly focused on digital transformation and automation. To know more about how digital transformation and automation have been driving the manufacturing industry lately, Nidhi Shail Kujur of Elets News Network (ENN) interacted with Dr. Makarand Sawant, Vice President – Information Technology, Sahyadri Group.
1. What does the future behold for the manufacturing sector regarding technology and trends?
Intelligent solutions by use of AI/ML & Analytics will the future technology requirements in the manufacturing sector as the trend is towards the adoption of Automation, Robotics, Artificial intelligence & Smart manufacturing solutions.

2. There has been a lot of talk about digital transformation in the manufacturing industry lately. Your take on this.
The manufacturing industry is now more focused on Digital transformation and automation through Industry 4.0 & Smart manufacturing adoption as it has a lot of potential to leverage these technologies for driving efficiency & quality in the plants.
3. With growing roots in technology, cybercriminals are also getting very active nowadays. How does the manufacturing industry combat cyber security issues more efficiently?
Cyber security must be an integral part of any solution and security must be considered in the design of the solution. Cybercriminals as continuously trying to find loopholes in the system and leverage it for conducting malicious practises and attacks. Adoption of security standards and best practises can help mitigate this risk.
Also read | Cyber innovation is the need of the hour to help organizations adopt new security technologies: Akshat Jain, CTO & Co-founder, Cyware

4. The industry also grapples with the issue of technology shortages. How do you tackle these challenges?
Developing the skills of internal people for adopting new technologies is the key to success in implementing and managing technology. The selection of the right partner for implementation is also very critical as a long-term strategy. Continuous upskilling is required as part of the sustenance plan.
5. Not just adoption, but adoption of the right technology is vital for success. How do IT leaders provide it?
Choosing the right technology is very crucial as organisations need to consider short-term and long-term objectives and goals. ROI and business case must be developed before the adoption of any technology.