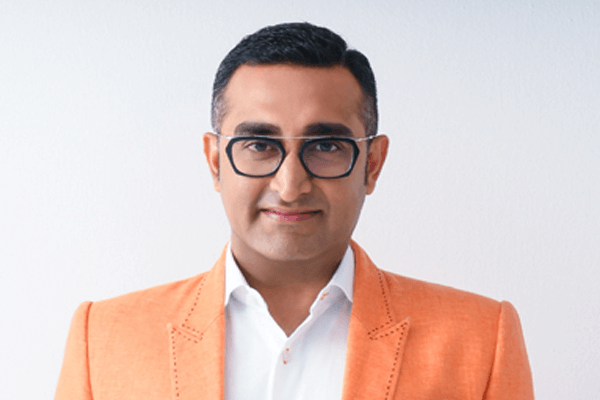 AntWorks disrupted the traditional Robotics Process Automation (RPA) industry and created a whole new technology category, the Integrated Automation Platform (IAP), says Asheesh Mehra, Group CEO and Co-founder of AntWorks in conversation with Anupama Suresh Mehra of Elets News Network (ENN).
AntWorks has recently partnered with SEED Group to drive the adoption of Artificial Intelligence in the GCC. Please tell us about it.
Our partnership with SEED Group is an incredible opportunity to bring AntWorks' leading expertise in Artificial Intelligence (AI) to the Gulf Cooperation Council (GCC)- helping the UAE's Ministry of AI realize its 2031 Artificial Intelligence Strategy. The partnership will support the expansion of intelligent automation within the Middle East (ME), a region where AI is expected to become a USD 320 billion by 2030. We look forward to a powerful and productive relationship that will make straight-through processing a reality across the GCC.
This is a market that thrives on innovation and has taken some of the most ambitious steps in the world in adopting the use of AI across government and business as they seek to create new economic, social, and educational opportunities for citizens.
The SEED Group establishes ground-breaking companies with a strong presence in the Gulf Cooperation Council (GCC) and will work with AntWorks to offer ethical AI solutions for GCC companies with ANTsteinTM SQUARE, the world's first and only Integrated Automation Platform (IAP), powered by fractal science. AntWorks seeks to replicate its success across Asia, UK and the US, where the organization has automated entire business processes end-to-end for many clients across the BFSI (Banking, Financial Services, and Insurance), transportation, logistics and public sector, among others.
With successful adoption of AntWorks' IAP solution, businesses will stand to save millions and realize increased performance and efficiency by automating and processing business data, including unstructured data, which will make up 80% of the world's data by 2025. The partnership will help the GCC become a blueprint for the AI economy in the rest of the Middle East, Turkey and Africa, especially as governments look to diversify and drive revenue from non-oil and gas sectors.
How do you feel technology like AI is going to impact businesses, our lives and the planet we inhabit?
Artificial Intelligence is going to have a long-lasting impact on how businesses operate today and how they will be operating tomorrow. AI will witness traction in healthcare as a result of which medical results and clinical trials will conclude a lot quicker. Logistics and transportation will be redefined by driverless cars, smart roads, and smart cities. The technology will also have a far-reaching effect on human lives from predicting natural disasters to assisting blind people for safe navigation.
Artificial Intelligence also comes with great challenges, such as AI bias, accelerated hacking, and AI terrorism. The success of using AI for good depends upon trust, and that trust can only be built over time with the utmost adherence to ethical principles and practices.  As we plow ahead into the 2020s, the only way we can really see AI and automation take the world of business by storm is if it is smartly regulated. This begins with incentivizing further advancements and innovation to the tech, which means regulating applications rather than the tech itself.  Whilst there is a great deal of unwarranted fear around AI and the potential consequences it may have, we should be optimistic about a future where AI is ethical and useful.
How was 2019 for the company? And what new partnership you are looking forward to.
It has been a year of milestones for AntWorks. Most notably, we have introduced the new and enhanced version of ANTstein SQUARE, a full-stack Integrated Automation Platform (IAP) that enables enterprises to automate end-to-end business processes quickly, easily and in a scalable manner. To support and accelerate its growth, AntWorks has significantly increased its geographic footprint and global headcount. Over 2019, we expanded our global presence across key markets, increased our strategic partnerships, continued to foster an inclusive and collaborative culture, and launched the most innovative product of its kind. Our momentum is always guided by our mission to manifest the power of ethical AI while delivering the greatest value to our clients and the people of AntWorks.
We will continue to expand our global presence across key markets and one of it, is through increasing global strategic partnerships.
Please tell us about your product ANTstein.
AntWorks disrupted the traditional Robotics Process Automation (RPA) industry and created a whole new technology category, the Integrated Automation Platform (IAP). It changed the way the industry views automation, going beyond RPA. Benchmarked against competitors who've been in the industry for far longer, AntWorks is tipped to revolutionize business processes and the overall operational efficiencies of enterprises in every sector by helping them move past task-based automation and achieve scalable, end-to-end business process automation.
When AntWorks entered the market, its founders were very clear that they were not going to replicate yet another, non-scalable RPA tool which did not address the unstructured data challenge enterprises face (80% of enterprise data is unstructured). With a firm belief, that data is the most critical component in an automation journey, the AntWorks platform was built to extract and read all data types. The founding team invented an alternative to OCR (Optical Character Recognition), the industry's standard tool for extracting data. Called Cognitive Machine Reading (CMR), AntWorks' proprietary technology uses fractal science and pattern recognition to read and ingest every data type.
Thus, AntWorks ANTstein SQUARE offering was born as the industry's first IAP that provides enterprises with the ability to process all types of data using an all in one solution for data curation, building, deploying and managing an AI-enabled digital workforce.
Our data ingestion engine uses a fundamentally different science called fractal science while the market at large is still using neural science. RPA business cases are failing today because they are using OCR where they are not being able to deal with unstructured data. From the very beginning, we wanted to create a platform that would be able to deal with all types of data in the back office.
ANTstein can understand structured as well as unstructured data to deliver an end-to-end straight-through process for customers. We took an approach of building the platform from a business process perspective when everybody else took an approach from a technology perspective. So, the product is unique not only from a capability perspective but also from the science that has been used to develop it.
AntWorks is unique in the marketplace because it has moved the industry from RPA to Integrated Automation Platform (IAP).  For e.g., if an organization had to deploy an automation program today within its business unit, it would go to five or six different service providers and product providers for RPA, Optimal Character Recognition, NLP among others. With our ANTstein platform, one has access to all the tools under one roof and one umbrella.
How are you helping organizations to face the challenge of solving the unstructured data?
Given that unstructured data will make up 80% of the world's data by 2025, we will see deep automation tools, like integrated automation platforms (IAP) that use fractal science, become the benchmark for business processes in companies and governments worldwide, to deal with vast unstructured data in day-to-day business workings.
Our early focus on data first as a strategy is playing out well in a market pivoting away from RPA and taking a holistic view of automation. We focus on addressing the data challenge, as that is the fountainhead for all downstream automation in an enterprise, be it robotics or machine learning. Transforming data into information that processes can consume lies at the heart of automation success.
The ANTstein SQUARE platform curates, transports and uses machine learning simultaneously to help enterprises experience the seamless automation journey that they are looking for. The platform addresses every data type, so businesses don't miss out on the value of various forms of unstructured data, which account for 80% of enterprise data. The world has always measured human productivity and not measured bot productivity. ANTstein SQUARE measures how productive the bot is, and it brings in a unique cognitive responsiveness framework, multitenancy for collaborative working, failover recovery, and many more features, which will let organizations realize the true power of a seamless automation journey. With our ANTstein SQUARE solution, we have shifted the paradigm from digitization to automated data curation.
ANTstein SQUARE uses fractal technology which allows it to rely on relatively small data sets to train the data ingestion engine. Customers benefit from this because smaller data sets mean higher accuracy, less infrastructure and quicker training time. First-generation neural technology-based RPA solutions require much bigger data sets. An example of the kind of work we are doing, in this case, a big 4 audit client: By automating, reading and reconciling financial statements, the average processing time for tax computation has been reduced from 2 hours to 30 min, with a significant reduction of human intervention. There has also been a 100% increase in productivity, visibility, and accuracy, as well as 360-degree visibility across documents.
What sectors are you catering to your services to?
Our clients cut across broadly nine industry verticals. Telecom, transportation & logistics, insurance, media & entertainment, healthcare, Life Sciences, mortgage banking, retail CPG and technology & consulting.
We are working with City Union Bank (CUB), one of the largest banks in South India. City Union Bank onboard almost 200 new customers each month. It must process the data of every single customer, which from physical form to digital upload takes about one hour to complete. The bank also needed to solve the problem of rising manpower costs and multiple errors and entries. Not to mention potential business loss due to delays in KYC verification.
ANTstein square, a fully integrated automation platform provides an end-to-end cKYC compliant solution helping CUB achieve faster onboarding and regulatory compliance. The cognitive machine reading module of ANTstein square ingests, contextualizes, and converts all KYC documents including handwritten text, photographs, and signatures all on a single integrated platform. Once completed, data is uploaded into the CERSAI central repository to achieve compliance. ANTstein square helped CUB achieve a 97% increase in productivity, a 70% decrease in manual work, zero errors and 100% compliance.