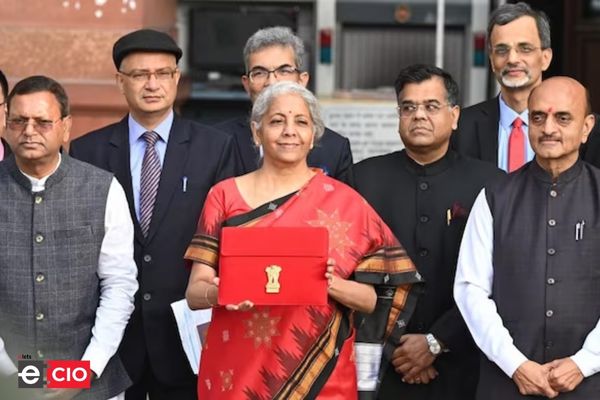 On 1st February, Finance Minister Nirmala Sitharaman delivered the Union Budget 2023. The Union Budget of India is one of the most eagerly anticipated events in the country, as it outlines the government's plans for the coming financial year. The budget affects all sectors of the economy, and technology is no exception. As the world continues to become more digital, the role of industry leaders has become increasingly important in shaping the future of business and industry.
The Indian economy has been recovering from the impact of the COVID-19 pandemic. However, there are still challenges that need to be addressed, including low consumer demand, a decline in investment, and a lack of job creation. Industry leaders expect the budget to provide measures to revive the economy and create a more conducive environment for businesses to operate.
"Digital development and upskilling took center stage within the IT and tech sectors at the budget 2023. The government has aptly recognised the growth and need for AI within the country by promoting their vision of Make AI in India and Make AI for India. Upskilling will enable skill penetration in Tier 2 and Tier 3 cities, enabling India to be the digital hub of technology. The 30 Skill India International Centres and the National Education Policy, will facilitate talent transformation and create jobs across the country. We at Ascendion strive for talent upskilling and transformation, and are pleased by the Government's initiatives and plan for the future within the IT and talent industry." Prakash Balasubramanian, Executive Vice-President and Global Head, Engineering Practices and Delivery.
Vishak Raman, Vice President of Sales, India, SAARC and Southeast Asia at Fortinet said, "A steep increase of 33% in capital investments to 10 Lakh Crore almost three times the outlay made in 2019 shows why India is one of the most buoyant economies in the world. While investments and development programs are all tech-driven the budget realises the potential of 5G by setting up 100 labs in engineering institutions to develop Apps to assist in all verticals including smart classrooms, precision farming, smart transport systems and healthcare.
The capital flowing into AI startups last year was $2.7 billion globally. The race in AI is heating up after the success of ChatGPT and the budget has realised this potential with the vision of 'Make AI in India' and 'Make AI Work for India'. The setting up of 3 centres of excellence for artificial intelligence in top educational institutions will combine tech and computing power with some of the best engineering brain power in our country.
A robust financial sector, expanding the scope of Digilocker to allow more documents to be made available and setting up e-courts will all go hand in hand with maintaining data privacy. There simply cannot be any data privacy without data protection and cybersecurity will require an entire system of people and technology working together to protect data and networks."
Varun Babbar, Managing Director – India & SAARC, Qlik, said "The FY24 Union Budget is a progressive take on technology and skill development in the country. The proposed Centres of Excellence for AI to further "Make AI in India" and "Make AI work for India" could significantly boost STEM students and tech organisations and set India on the journey to becoming a hub for AI talent. It can provide the next generation of engineers with an opportunity to develop their specialisation in AI. A robust AI ecosystem can help India generate multi-disciplinarian specialists like Data Analysts and Scientists, which aligns with the industry's current requirements. The collaboration between top education institutions and industry players will help convert these plans into reality very soon. It is time for the technological revolution to activate private and public collaborative efforts. This will reinforce data-rich sectors to make impactful decisions in near real-time with intelligent analytics while delivering essential citizen services."
Khadim Batti, CEO and Co-founder, Whatfix said, "This year's budget builds upon the 2022 Union budget agenda of startup growth initiatives such as extension in claiming tax benefits and skilling. With India leapfrogging the global Startup Ecosystem, the government has been taking favourable steps to fuel this growth, which is reflected in the 2023 budget as well.
The National Data Governance Policy, aimed at enabling anonymized data access by start-ups and academia, will help realise a holistic security solution towards data protection, be it on-premises, in the cloud, or in hybrid environments – a must for every sector. An extension of the date of incorporation by one year for income tax benefits to start-ups from 31st March 2023 to 31st March 2024 will be appreciated by all entrepreneurs again this year, especially in today's macroeconomics. This move will help start-ups claim tax benefits for three consecutive years within the first ten years of incorporation. They now also have the benefit of carrying forward their losses on a change of shareholding from seven years of incorporation to ten years – a great addition to this year's budget.
The IT industry contributed 7.4% of India's GDP in FY22 and has been facing a skills shortage and a limited workforce in recent times, which has been highlighted through multiple surveys. Today's development ensures that the government's focus is on enabling the youth by upskilling them on new-age technologies and digital skills such as AI, Robotics, etc. Leading industry players will partner in conducting interdisciplinary research, developing cutting-edge applications, and scalable problem solutions in agriculture, health, and sustainable cities. It will help provide a platform for budding entrepreneurs and enthusiasts to test their theories and solutions and apply them in the current scenario. I feel these steps would propel the nation towards a digital transformation path, further strengthening India's position in the technology industry."
Nitin Varma, Managing Director, India & SAARC, CrowdStrike said, "The 2023 Union Budget holds immense promise for technology development and skilling. Today, developing new skills is essential for various industries with new and emerging technologies. In particular, cybersecurity is a field that is constantly evolving and requires regular upskilling through advanced training programmes. In recent years, we have seen a significant rise in cyberattacks; however, many organisations are struggling with skill gaps and resource crunch. It is encouraging to see that infrastructure and investment as well as youth power are the main priorities as these are closely aligned with dynamic industry needs. Investments in infrastructure will have a large multiplier impact on growth and employment, leading to ramping up the virtuous cycle of investment and job creation.
The three proposed centres of excellence for Artificial Intelligence too are a good opportunity for industry players to partner in interdisciplinary research and develop cutting-edge applications and scalable problem solutions. These initiatives will pave the way for building a workforce that will be skilled and ahead of the curve in their respective industries."
Growth for the Telecom sector
The Indian telecom sector has been a major contributor to the country's economy, with the government recognising its potential for further growth. The government's goal is to provide affordable and reliable telecom services to all citizens, especially in rural areas.
In line with this, the budget has proposed several measures to boost the telecom sector. One of the key announcements was the allocation of Rs. 3,000 crore for the creation of a national broadband network. This network will provide high-speed internet access to rural areas, enabling the government's vision of a digital India.
The government has also proposed to provide tax incentives for companies that invest in developing 5G technology in India. This move is expected to attract investment in the sector, and help India catch up with other countries regarding 5G technology adoption.
Manoranjan Mohapatra, CEO, Comviva said, "With the ongoing 5G rollouts in India, the government's decision to establish 100 5G application Labs is a timely move to spur innovation in developing the 5G ecosystem and India relevant use cases. There is a great opportunity to combine 5G and AI to improve network speed, responsiveness, and efficiency. The special emphasis on establishing AI centres of excellence shall help produce specialized talent to enable India to preserve its global advantage and leadership. These are extremely positive initiatives and shall bring technological advancements to the country as AI and 5G are the two most critical elements to enable futuristic innovations and developed related 5G ecosystem."
Matthew Foxton, India Regional President & Executive Vice-President, Branding & Communications, IDEMIA said, "I am pleased to see the focus in Union Budget to strengthen the Digital ecosystem, India's digital advancements in this decade have been remarkable, especially the integration of digital infrastructure and identity framework. Establishing a strong national identity system is crucial as it boosts security, drives economic growth, and strengthens social unity. The adoption of a unified KYC process, utilising Digilocker and Aadhaar as the primary means of identity verification, is a positive step forward and will increase financial accessibility for marginalised communities."
Arvind Bali, CEO, Telecom Sector Skill Council said, "The government's focus on the skill development of India's potential youth talent through initiatives like NEP, PMKVY 4.0 for skilling in niche new-age technologies like 5G, AI, 3D printing, drones, coding, mechatronics, robotics, and IoT draws further impetus to the ongoing efforts. Blue and grey-collar job demand in India grew by up to four-fold in 2022. Annual demand in telecommunications and 5G have increased by 33.7 per cent in September 2022. There was a demand for 1.3 million workers in FY22-23 which is growing each year. New use cases including cloud computing, robots, and the Internet of Things (IoT) are also seeing a sharp rise in hiring. We believe the initiatives will be beneficial to close the country's growing demand-supply gap in the technical talent workforce. With the government's push to establish 30 Skill India international centres, 100 premier labs for developing applications to use 5G services, and centres of excellence for AI, India has the potential to deliver talent not only across domestic markets but also to the international market. An initiative like the Eklavya Model Residential Schools (EMRS) is also a progressive move by the government to uplift the tribal population and empower the students to take up new job opportunities."
Rajiv Bhalla, Managing Director, India & Vice President, APAC, Barco said, "Indian economy is heading towards a bright future, the 'Saptrishi' of the Budget 2023 prioritizes on inclusive development, reaching last mile, unleashing potential, green growth, youth power. Announcement around adding 50 tourist destinations as a whole package and focusing holistically on physical as well as virtual connectivity, tourist guides, high standards for food streets and tourists' security through an app to enhance tourist experience, is a significant step that will unlock growth and job opportunities in the sector. The Budget is perfectly aligned with Barco's aim to make India a popular tourist destination with a visible impact, allowing people to enjoy compelling entertainment experiences. Further, the Budget has focused on overall growth & sustainability as India has the potential to be a world-class infrastructure centre, moving toward net zero carbon emissions by 2070 & setting up AI-based solutions in health, education, and sustainable cities will give an additional push towards the extensive use of technology".
A. Gururaj, MD, Optiemus Electronics, said "This year's budget is a strong effort to consolidate the Indian economy in post-pandemic dynamics, raising the personal tax exemption limit will certainly boost consumption and the electronics industry will surely benefit from it. Continuing the import duty cuts on Camera Lens and batteries for mobile manufacturing is a welcome step and this will continue to fuel the remarkable growth India has witnessed in domestic manufacturing."
Jagdish Mitra, Chief Strategy Officer & Head of Growth, Tech Mahindra, said, "It is a very positive budget from a technology sector perspective, as it sets the right message about 5G labs, setting up AI centre of excellence and the focus around skilling, which is absolutely the key need for the country as we live through the Prime Minister's vision on TechAde and technology being the core enabler. From a business perspective, steps around ease of doing business have been taken and I think that's commendable. I would like to congratulate the Finance Minister and the government for taking these steps".
Focus on Startups
The government's emphasis on startups is reflected in the budget of 2023, which includes several provisions to support and encourage entrepreneurship. For example, the government has announced plans to set up a National Recruitment Agency (NRA) to make the recruitment process easier and more efficient for startups. Additionally, the budget provides funding for developing technology parks, incubators, and accelerators to support startups in their early stages of growth.
Also Read | Union Budget 2023: Indian economy is on the right track says Nirmala Sitharaman
Moreover, the government has also provided tax breaks and incentives for startups, making it easier for them to do business and expand. The budget also includes provisions for developing a more robust intellectual property regime, which will help startups protect their innovations and ideas.
Arun Sharma, Founder and CEO, Yodda Elder Care said, "The budget is inspiring and encouraging for the start-up ecosystem. For the elders and seniors, setting up 157 new nursing colleges is a positive step in increasing the number of caregivers and is in line with the commitment to increasing public health expenditure to reach 2.5% of GDP by 2025. Also, the limit enhancement in the senior citizen savings scheme to Rs 30 lakhs is likely to encourage more savings from seniors.
While this budget might be very positive for the masses, it misses the intent and lacks inclusiveness for senior citizens. With the rise of the ageing population, there is an urgent need for professional at-home care services for elders. While businesses like caregiving or home visits from nurses have been freed of tax burdens, at-home elder care continues to be taxed at a rate of 18% GST – a factor limiting the affordability and reach of such services. We urgently need these services to be tax-exempt or taxed at a lower rate to ease the burden on senior citizens."
Neha Bagaria, Founder & CEO of JobsForHer said "We appreciate the emphasis on training the young population, and the decision to decrease the total tax obligation, which encourages domestic spending. However, we were hoping for a gender-inclusive budget that would offer more chances for women's career growth, tax incentives to hasten their skills development, lower the cost of higher education for women, and provide support for female entrepreneurs. Hope these are also included in future drafts".
Manoj Paul, Managing Director, Equinix India shared, "With focused initiatives to promote the usage of AI and 5G, the Indian Government is geared up to leverage the advanced technologies for building futureproof businesses and strengthening the digital ecosystem in the country. The emphasis on digitization results in high demand for tech talent that's technologically adept and skilled in digital know-how. With the three proposed centres of excellence for AI and 30 new International skill India centres, our government is all set to empower the youth with advanced tech skills. Additionally, the usage of 5G services by the proposed labs in engineering institutions will create a new range of opportunities, business models, and employment potential, lending a widespread purpose to 5G and increasing the need for a robust digital infrastructure. We welcome these government measures as we believe our digital infrastructure will play a pivotal role in boosting India's digital growth.
With our global climate neutral goal and 100% renewable energy coverage target, along with our green data centre design innovations, Equinix can build and operate resilient, efficient and sustainable data centres to support the Government's Green Growth focus and the National Green hydrogen mission that can help transition to low carbon intensity and reduce dependency on fossil fuel inputs."
Support for the MSME sector:
The micro, small and medium enterprises (MSME) sector is a crucial contributor to the Indian economy, providing employment to a large number of people and contributing to the country's GDP. Industry leaders expect the budget to provide support to this sector by addressing its challenges, such as access to credit, ease of doing business, and technology adoption.
Tax reforms:
Tax reforms are an important aspect of the budget and are closely watched by industry leaders. They expect the budget to simplify the tax system, provide clarity on tax rules, and reduce the tax burden on businesses. This could include measures such as reducing tax rates, providing tax holidays, and streamlining the tax compliance process.
Emphasis on digital infrastructure:
The COVID-19 pandemic has accelerated the digital transformation of businesses and has emphasised the need for a robust digital infrastructure. Industry leaders expect the budget to provide support for the development of digital infrastructure, including investment in technology, digital connectivity, and data protection.
Arun Kumar Gupta, CFO, Newgen Software said, "The Union Budget 2023-24 showcases the government's focus on developing both the physical and digital infrastructure. The boost in proposed capital expenditure by 33% is a clear step towards ensuring the nation's long-term economic development. Also, it was heartening to find that the government has allocated INR 35,000 crore towards reaching net zero emissions and achieving energy transition. Green growth has also been listed among the seven priorities.
In continuation to the previous trends, there are some other initiatives that will further improve the ease of doing business, provide digital thrust, and simplify regulations and compliance. The increase in personal income tax rebate limit and raise in exemption will be a relief for the salaried class. However, no direct benefits were provided to the information technology sector "
The Union Budget 2023 is expected to play a crucial role in reviving the Indian economy and providing support to various sectors. The budget will be closely watched by various industries, and its impact will be felt for the next fiscal year and beyond.