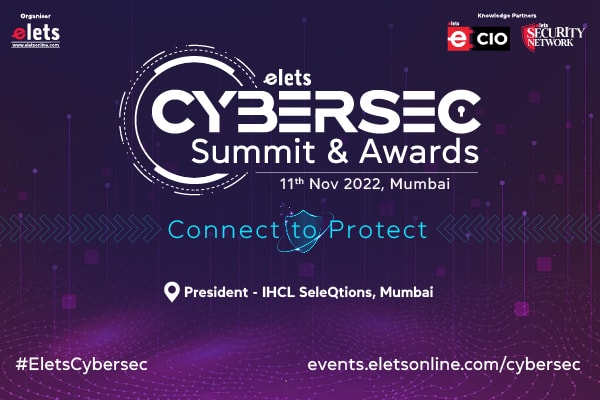 Elevated cyber threats are the 'new normal' given the high level of technology adoption to accelerate digital transformation across sectors & businesses. Aiming at charting out an optimal path to address the cybersecurity challenges, Elets Technomedia will organise Elets Cybersec Summit tomorrow at President IHCL SeleQtions, Mumbai.
The one-day summit will analyse strategies to fortify security in today's evolving digital age & address various challenges faced by enterprises. The attendees will delve deep into action plans and best practices to build resilient and agile digital organisations.

The summit, to be joined by top leaders from the government and cybersecurity community, will host over 200 attendees from across the country.
Dr. M. SasiKumar, Executive Director, Centre for Development of Advanced Computing (C-DAC) Mumbai and Dr. Padmaja Joshi Senior Director Centre for Development of Advanced Computing (C-DAC) will share rich insights on cybersecurity in their respective special addresses. Dr. SasiKumar address will discuss the role of new technologies like AI in dealing with the data challenge. And, Dr. Padmaja will share her perspective on how the government sector is preparing to beef up the cybersecurity framework.
The summit has a stellar line-up of speakers representing the finest CISO fraternity of the country, including Kalpesh Doshi, Group Chief Information Security Officer, HDFC Life Insurance; Ambarish Singh, Chief Information Security Officer, Godrej & Boyce; Makesh Chandramohan, Group Chief Information Security Officer, Aditya Birla Capital; Smitesh Valanju, Chief Information Security Officer, Tata Cliq, etc.
The most brilliant security luminaries will discuss:
Key Attributes of the Next-Gen CISO
Cloud as a Security Enabler
ZTA – How to implement it successfully?
Data Breaches & Insider Threats
The cybersecurity strategy for 2023 and beyond
SYSTECH Technocraft Services Pvt. Ltd. will join the summit as an exhibitor. SYSTECH is a leading, value-added distributor and solution provider for cyber security, blockchain, info security, network performance, and data analysis.
Elets will also host Elets Cybersec Awards to felicitate and celebrate cybersecurity innovations.
For more details about the summit, visit: events.eletsonline.com/cybersec