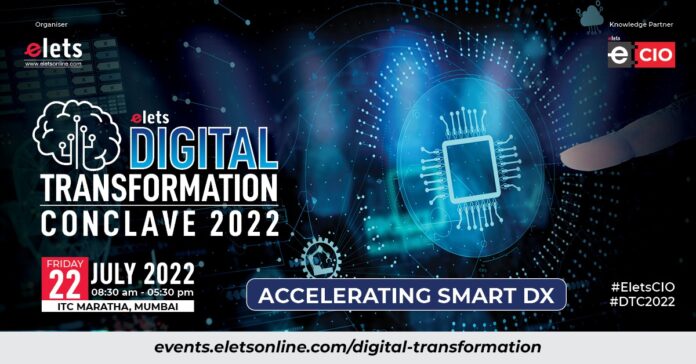 A paradigm shift across all sectors has been brought on by factors such as intense rivalry, new technologies, evolving business models, pressure to comply, and strict governmental restrictions, among others. The speed of digital transformation has quickened over the last 24 months in the Covid-19 pandemic era, marked by strong penetration of disruptive technological trends.
To thrive and survive in the digital era, adapting to new-age technologies and innovation is no longer just an option but an imperative. Rethinking antiquated legacy operating models, acting more quickly to satisfy customer needs, getting rid of outdated procedures, and fostering creativity are all part of the digital transformation essential to stay relevant in the competitive market.
With a vision to accelerate future-ready innovations, Elets Technomedia with Elets CIO is euphoric to host the in-person Digital Transformation Conclave (DTC) on 22 July at ITC Maratha in Mumbai Maharashtra. The theme of the summit is "Accelerating Smart DX".
The summit will bring senior digital and technology leaders including Chetan Trivedi – Chief Information Officer; Hindustan Zinc Limited (Vedanta Resources), Nikhil Chaturvedi – EVP & Global Chief Digital Officer; JSW Limited, KV Dipu – Senior President; Bajaj Allianz General Insurance, Ganesh Ramachandran – Global Chief Information Officer; Alkem Laboratories Limited, Dhaval Pandya – Corporate Chief Information Officer; Piramal Enterprises Limited, Narendra K Saini – Chief Digital Officer & Data Officer; Lupin Limited together for the exchange of ideas and collaboration.
The participants will explore how to strategize IT investment goals, future-proof the business with innovation & technology, and will delve into ways to ensure continuity & resilience in the insightful panel discussions. The conclave will also showcase various innovative products/services at the expo.
Key Discussion Points:
Paradigm shift from Core business to Digital
Prioritising the next level Digital Transformation
Reimagining the Business and the Future of Work
Relook IT landscapes and IT spends to refuel the Digital Transformation journey
Balancing Operations with Innovation
Connecting the Dots: People, Processes & Technology
Creating a Workplace of Diversity and Foster Innovation
Technologies – IoT, AI, ML, DL, IIoT, RPA, Cloud, etc. shaping the business
Securing Innovation Through Cyber Security
Underlining Risk Management models
Data Governance, Protection & Privacy
Better Employee & Customer Experience
For more details, visit: https://events.eletsonline.com/digital-transformation/