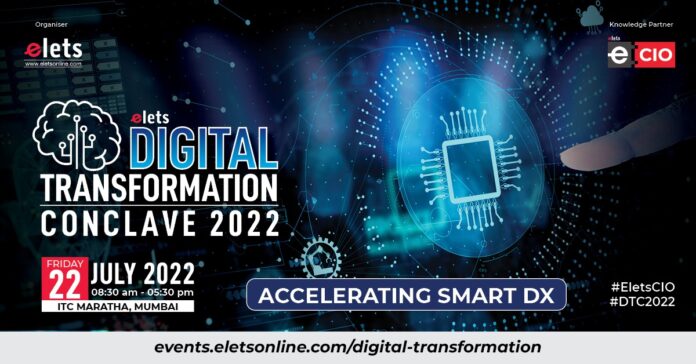 Elets Technomedia with Elets CIO on July 22, 2022 organised a successful Digital Transformation Conclave in Mumbai. The theme of the conclave was "Accelerating Smart DX". The conclave, which featured over nine knowledge sessions and drew 30+ top technology leaders, convened on a single platform for a one-day collaborative learning session, to examine the latest innovation, challenges, and development opportunities in digital transformation.
The summit kicked off with the welcome statement by Dr. Ravi Gupta, Founder, and CEO of Elets Technomedia Pvt Ltd. The power-packed conclave facilitated insightful deliberations starting with the keynote address by Sumnesh Joshi, Deputy Director General, UIDAI, Government of India. "Aadhaar is the foundation. It is the biggest step taken towards digital transformation by our country. Now we are in the position to showcase our technology and we are leading in the digital transformation," he said.

The summit was attended by senior leaders involved in the digital technology sector. Some key speakers included Ajeshkumar Charuvilla, EVP and Global Chief Digital Officer of JSW Limited; Ganesh Ramachandran, Global Chief Information Officer of Alkem Laboratories Limited; Padmabhushan Bahadure, Chief Technology Officer of IDBI Bank Limited; Surbhi Gupta, Head of Digital at ACC Limited and Vikram Karthick, Head, Digital Transformation, Mahindra Group (Farm Division).
Some of the focus themes for the event included Paradigm shift from Core Business to Digital, Prioritising the next level of Digital Transformation, Reimagining the Business and the Future of Work, Balancing Operations with Innovation, Connecting the Dots: People, Processes & Technology and Creating a Workplace of Diversity and Foster Innovation.
The participants explored ways to strategize IT investment goals, future-proof the business with innovation & technology, and delved into ways to ensure continuity & resilience in the insightful panel discussions. The conclave also showcased innovative products and services at the expo.