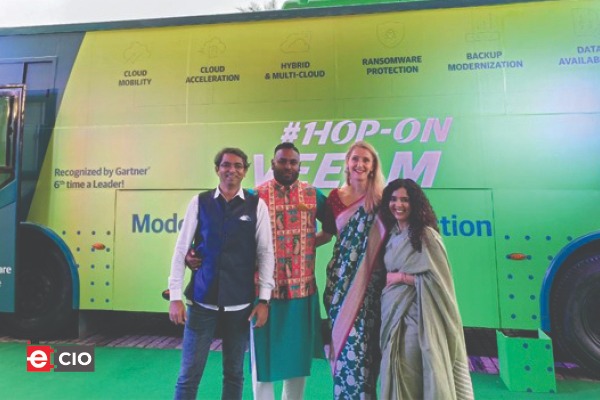 The Hop On Veeam roadshow brings Veeam customers, partners, and colleagues together to learn, interact, and receive hands-on experience in safeguarding data from ransomware, cyber attacks, and disasters. Veeam Software, the leader in backup, recovery, and data management solutions that deliver Modern Data Protection, announced the launch of 'Hop On Veeam: Your Journey to Modern Data Protection,' a multi-city bus roadshow in India showcasing innovations around its most advanced data protection solutions across all environments – cloud, virtual, SaaS, Kubernetes, and physical.
Veeam partners, customers, and distributors will benefit from in-depth conversations about the current data protection landscape and will have the opportunity to engage with Veeam stakeholders about essential data protection best practices. The Hop On Veeam bus will feature a hands-on lab unlike any other, with engineers demonstrating on-demand live demos of cloud-native solutions for AWS, Azure, Google Cloud, and SaaS offerings for Microsoft 365, Continuous Data protection solutions (CDP), Veeam disaster recovery orchestrator (VDRO), Veeam Cloud Connect, NAS Backup, Veeam Backup & Replication v11, and Instant Recovery to VMware vSphere.

Businesses' reliance on data, as well as the volume of data generated by them, is increasing, making them increasingly vulnerable to cyberattacks. According to the Veeam Data Protection Trends Report 2022, 84% of Indian enterprises were targeted by ransomware in the last 12 months, making cyber-attacks one of the main causes of downtime for the second year in a row. This highlights Veeam's opportunity to educate Indian businesses on the importance of data backups and the timely implementation of data protection solutions to maintain business continuity.