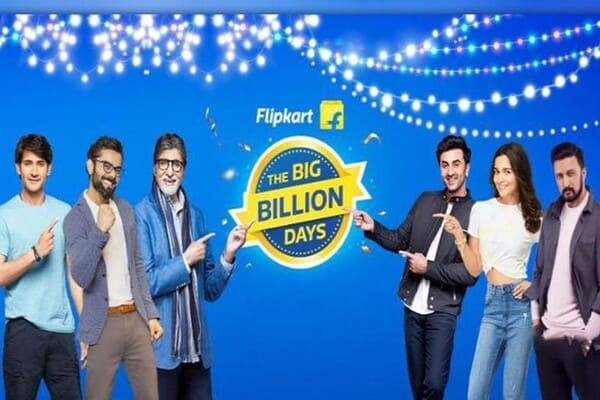 E-commerce giant, Flipkart is all set to launch the 8th Edition of its biggest festive sale of the year with the flagship event the Big Billion Days, from October 7 to 17, 2021. All the non-Plus customers will be able to gain early access by redeeming 50 earned Super Coins on the Flipkart app. This year's sale will bring new opportunities for businesses and homegrown brands to celebrate with consumers across the country.
"Over the past year, in collaboration with our ecosystem partners, we've worked towards creating opportunities that revitalize consumer sentiment in these challenging times and revive India's economic growth," said Kalyan Krishnamurthy, chief executive officer, Flipkart Group. "Flipkart's commitment to providing value to consumers, opportunities for growth for MSMEs, sellers and our lakhs of Kirana partners, and employment generation through e-commerce, goes to show how the country has embraced e-commerce over the past year and a half and The Big Billion Days is our way of giving back to the community and enthuse the festive spirit across the nation."

There is a special facility for all the flipkart customers, the newly launched EMI facility on 'Flipkart Pay Later'. It opens a credit line of up to Rs.70,000 for eligible customers, that can be paid back over flexible tenures of 3, 6, 9 and 12 months, enabling high-value purchases for them this festive season.
Flipkart continues to strengthen its seller base and is on track to have 4.2 Lakh sellers on its platform by December 2021.The new sellers and MSME base come from Tier 2 and 3 markets such as Agra, Indore, Jaipur, Panipat, Rajkot and Surat .Currently, the Flipkart Marketplace supports digital commerce for 3.75 Lakh sellers.
Flipkart has partnered with various celebrities, including Amitabh Bachchan, Virat Kohli, Alia Bhatt, Ranbir Kapoor, Sudeep Kiccha, and Mahesh Babu. They will be seen promoting the sale in creative figurine get ups.