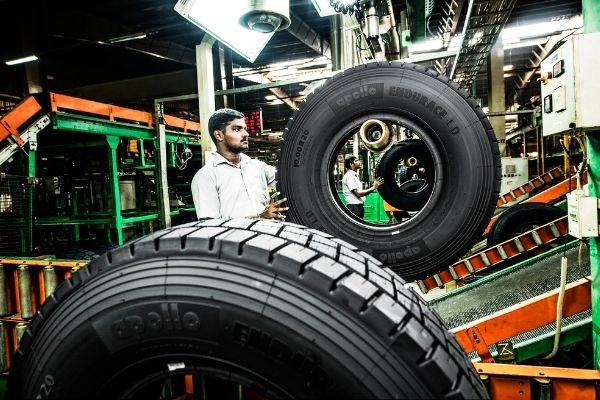 Amazon Web Services (AWS) today announced that Apollo Tyres, has collaborated with them to digitally transform its factories.
Apollo Tyres will be moving all of its IT infrastructure to AWS and broaden its portfolio of services to innovate new customer experiences while driving productivity, compliance, and process efficiency gains globally, across seven factories.

By 2022, Apollo Tyres plans to migrate all mission-critical enterprise applications, including its SAP applications, to AWS to enhance customer experience, improve process efficiency, and enable process automation.
Apollo Tyres produces more than 2,425 tons (2,200 metric tons) of tyres daily in its seven factories worldwide. Each factory previously ran their on-premises infrastructure in silos, which provided limited visibility into global manufacturing efficiencies.
"By digitally transforming with AWS, we can unlock productivity and efficiency gains in our factories globally, innovate new products and services faster, and enhance customer experience," said Hizmy Hassen, Chief Digital Officer, Apollo Tyres. "We are using AWS capabilities, like IoT and machine learning services, to connect our factories and make them smarter. This fosters collaboration between our IT and business teams to make the production process more efficient, while delivering higher quality products at lower cost."

"Apollo Tyres is using the cloud to digitally transform, improve the tyre manufacturing process, and deliver better value to customers," said Vaishali Kasture, Head of Enterprise, Mid-Market, and Global Businesses, AWS India and South Asia, Amazon Internet Services Private Limited (AISPL). "By moving its entire infrastructure to AWS, Apollo Tyres creates an environment of rapid and continuous innovation to provide safer and better quality tyres, and enhanced customer service experiences."
Also Read: Covid-19 has enhanced price transparency, customer awareness: Vijeta Soni, Co-Founder & CEO, Sciative
About Amazon Web Services
For over 15 years, Amazon Web Services has been the world's most comprehensive and broadly adopted cloud offering. AWS has been continually expanding its services to support virtually any cloud workload, and it now has more than 200 fully featured services for compute, storage, databases, networking, analytics, machine learning and artificial intelligence (AI), Internet of Things (IoT), mobile, security, hybrid, virtual and augmented reality (VR and AR), media, and application development, deployment, and management from 81 Availability Zones within 25 geographic regions, with announced plans for 27 more Availability Zones and nine more AWS Regions in Australia, Canada, India, Indonesia, Israel, New Zealand, Spain, Switzerland, and the United Arab Emirates. Millions of customers—including the fastest-growing startups, largest enterprises, and leading government agencies—trust AWS to power their infrastructure, become more agile, and lower costs. To learn more about AWS, visit aws.amazon.com.