Global technology company Johnson Controls has a portfolio of diversified technologies which is being provided to a wide range of customers in over 150 countries, says Shrikant Bapat, General Manager, Building Technologies & Solutions of Johnson Controls in an interview with Elets News Network (ENN).
Give us an overview of the Johnson Controls.

Johnson Controls creates intelligent buildings, efficient energy solutions, integrated infrastructure and next generation transportation systems that drive the future of urban efficiency. Our innovative building technologies are designed to improve and modernise the building's efficiency and productivity.
The company manufactures and delivers vehicle batteries to global automakers, aftermarket channels, and distributors. Johnson Controls produces 152 million batteries which are one-third of the industry's output every year and powers passenger vehicle, heavy-duty and light commercial trucks, motorcycles, cars, marine applications, etc.
I represent building technologies and solutions that include gamut of offerings like building automation systems, air systems, HVAC controls, security and fire safety, etc. Johnson controls is one of the industry's most trusted partner for security and fire safety, specialising in complex integrations with years of experience in serving different industry verticals like schools, hospitals, airports, mass transit, government facilities, etc.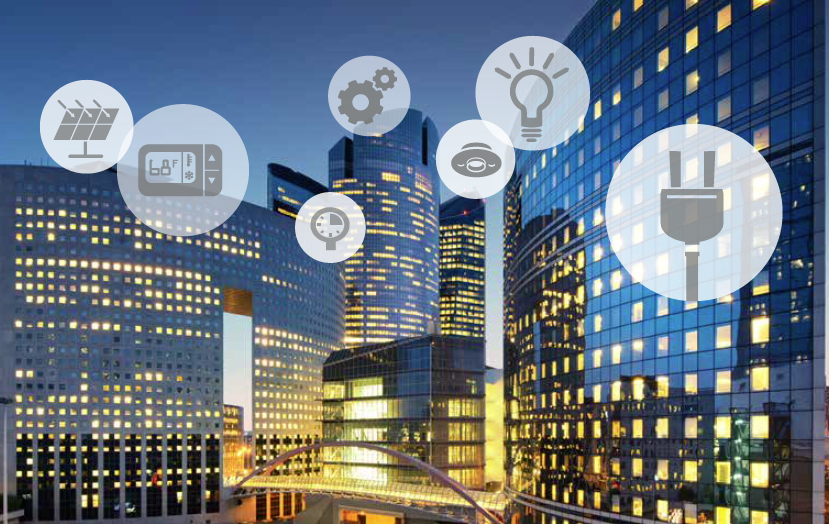 "
The
company
is multi-industry leader in heating, ventilation, air conditioning and refrigeration (HVAC&R) industry, and design innovative technologies to advance energy efficiency and increase building intelligence.
"
Any new products and advanced solutions for smart buildings and cities in the pipeline?
At Johnson Controls, we have introduced cutting-edge technologies which include our Metasys 8.0, YORK YMC² chiller and smart connected chillers.
Metasys 8.0 is the enhanced version of Johnson Controls' building automation system. The platform can be operated through any mobile device without the need for software installation and features an open system, which allows seamless integration of all below the line (BTL) listed third-party equipment. In addition, enhanced security measures allow information across all network devices to be captured.
Smart connected chillers, a solution that integrates industry-leading remote monitoring and cloud-based analysis tools in planned service agreements and warranties to give greater control to critical equipment within a facility. It ensures very high uptime of chillers by reducing unplanned or emergency repairs and reduction in Mean Time To Repair (MTTR). This secure system connects YORK or other make chillers using Metasys platform and streams data from the chiller to the cloud.
YORK YMC² is an oil-free magnetic bearing centrifugal chiller driven by a permanent magnet motor and latest variable speed drive (VSD) technology with an astonishing industry-leading low sound, approved stable ratings for lower condenser water entering the temperature, which can be leveraged in cities such as Hyderabad, Pune, Bangalore, and Ahmedabad.
Lau JET Fans are manufactured in India and can operate at high temperatures of up to 250 degree Celsius for two hours as certified by TUV NORD and consumes 0.74/0.10 KW at 2850/ 1450 revolutions per minute (RPM). This product can be installed in most Indian cities for underground car parking. It is also one of the fastest ways to install ventilation systems in new or existing buildings.
What is the vision of Johnson Controls specific to India?
India is one of the fastest-growing markets in the world today. Our aim is to create smart innovations for the Indian market and evolve as a major player. As a brand, we offer a platform to integrate building management solutions to support smart cities with improved infrastructure of buildings, comfort and better learning environment. And, we see a great opportunity along with major growth in the country in near future.
India is at a very initial phase of smart cities project. If looked globally some of the smart city concepts have been built years ago. Once India matures into that level of development in terms of smart cities, we would further design solutions that fit India by ensuring that we add value to the smart city concept.
How the merger between Tyco and Johnson controls hint towards the next phase of transformation?
As a brand, our major concern is to create our presence by offering our technology solutions across different segments in the market together.
Our successful merger with Tyco has greatly enhanced our existing capabilities and expanded our portfolio of products and solutions. Our combined insights and world-class technologies will help us to meet the needs of our customers throughout the entire lifecycle of their buildings in a better way. We are also well-positioned to support India's push for Smart Cities together with our local partners.
Moreover, India has a lot of scope in terms of smart city initiative that government has projected and once it starts developing the company will explore more and will offer appropriate solutions as per the industry needs.
Any expansion plans in near future?
We have a plan to open six regional offices in tier-2 cities. Our idea behind this is to get closer to new upcoming smart city projects and develop solutions in accordance with them.