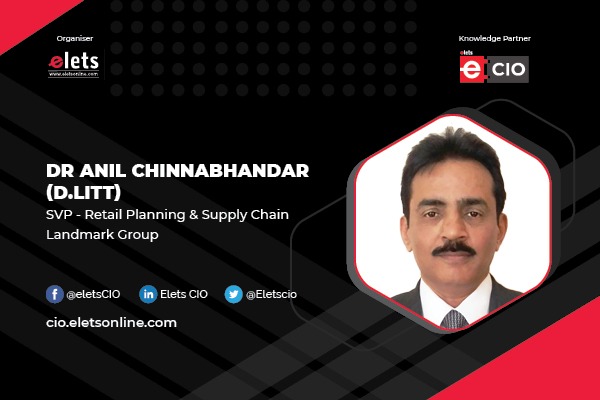 Fashion retailers are working hard to attract customer's attention and provide an exclusive experience for them. Only brands that are successful in driving engagement and drawing audiences will experience exceptional brand loyalty. Nidhi Shail Kujur of Elets News Network (ENN) interacted with Anil Chinnabhandar, Senior Vice President – Retail Planning & Supply Chain, Landmark Group on how the brands balance dynamic customer demands nowadays.
Now more than ever, customers carefully evaluate the brands they choose to do business with as they know personalisation offers an exceptional CX. How do you balance dynamic customer demands and the solutions provided?
Customers, mainly the apparel customers have been very vocal about their sense of Fashion, choice of Designs, embracing newer Trends and consciousness of Value for money all along. Covid experiences have created a New Normal for the ecosystem! Customers have become more demanding from Retailers – Service, Quality, Timelines and Value proposition! Therefore as retailers, it is essential for us to remain 'close to our loyal customers.' Continuous engagement with our customers is what provides clarity on the varying demands both on fashion and usability. The functional aspect of the apparel has certainly crept into the making; interests around lounge-wear, comfort-wear, easy-wear or knitted merchandise continue to grow as the customer is spending a good part of her working day at home. However, the Festive season is pushing customers to opt for Fashion, Trendy and Festive colours, leading to the fusion of ethnicity into their choices. Such a change of mood to celebrate life even with Covid around us can be seen in a variety of lifestyles in the community now.
Given the dynamic scenarios of customer demand, we as Retailers have to become more nimble in our approach; carefully choose the opportunity; become genuinely agile in the back end; cut down the time 'Fiber to Fashion' or 'Fabric to Shelves' to the bare minimum. Our ability to respond to a variety of geo-specific requirements is surely a challenge. From Onam in Kerala to Pujo in the East, to Diwali in large parts of the country and leading to Christmas and New Year, occasions provide good opportunities in select markets. Such a complex demand needs absolute clarity in the backend – Design, Manufacture, Moving, Storage and Distribution activities have to occur with precision. All of these need a great deal of system support, right from designing, prototyping, procurement, supply chain, replenishment and online deliveries need a whole variety of applications to run and manage these activities. In addition to this, we need to have solid analytical tools, reporting support and timely alerts to handle exceptions. It has become important for Retailers to continuously explore better solutions/support including relying on AI/ML-driven applications, business intelligence support and Supply chain control Towers
Fashion is constantly changing. How important is it for a multinational brand like you to transform and re-invent?
Fashion was always changing all along! Fashion retail is a well-oiled season-driven business; at least with 4 seasons; Spring, Summer, Pre Autumn and Winter from the global standpoint. Indian retailers have another season included between Pre-Autumn and Winter, which is the festive season. Typically Indian Apparel retailers make a good chunk of Annual Revenues within these 50-60 days Festive window! That too this Festive season has demand around Indian Ethnic driven styles and accessories. These seasonal nuances have been well and truly understood by the retailers, including multinational ones and have been catering towards the customers all these years. Our styles, designs and ethnicity-depicting merchandise has been embraced and appreciated by our customer base all these years. Consistency with our pricing, customer-centric campaigns and continual engagement with customers have provided an edge to us all these years.
In covid driven new normal period too, we have continued our journey of quickly identifying our customer needs, working closely with our supply partners to deliver the expectations seamlessly. Further our Online capabilities have been scaled up with the upgraded infrastructure, best of breed solutions to manage the order-to-last-mile journey smoothly have made the overall customer experiences to newer levels. All of our Brick & Mortar stores have been transformed into Online service centres too, which means the customer can pick the merchandise on the spot and order for those styles or sizes from the same stores, which can be delivered quickly across the country.
Learning how to use AI to improve customer experience is a skill set that is only going to become more critical in the future. What are your plans for dealing with this?
AI is one of the technologies to improve customer experience; as customers keep visiting over 400+ stores daily, there is an abundance of inputs coming through these interactions as well. AI-driven tools and analytics certainly offer better insights and journey, which has been already embraced by the leading application vendors and consultants. The exchange of business intelligence and trend-related knowledge between Online to offline and offline to online has also been captured and used. Along with AI-driven intelligence/inputs, even ML-driven inputs are becoming key to the success of any business. The fashion world is going through a revolutionary phase with a huge focus on recycling and the next level of ethical sourcing. We are closely watching the space with the intent to adapt every possible help to improve customer experiences.
The customer experience is a content experience, with that in view how do you plan to update your team's knowledge of CX trends?
We have had a robust system of measuring and understanding customer experiences for our brick-and-mortar stores for years; right from floor feedback, blogging, surveys, direct engagement etc have traditionally provided good insights. Now that we have moved into Omni Retail space, we have weekly learning of customer experiences.