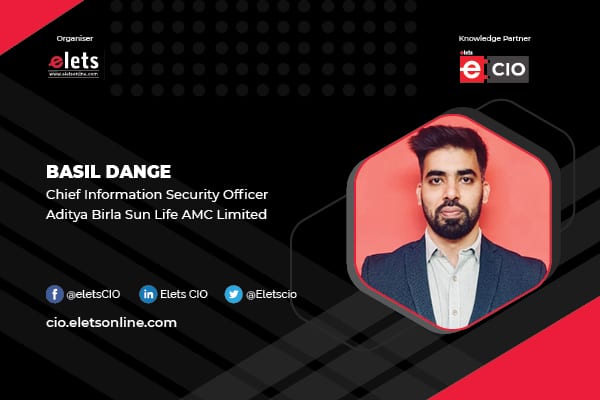 While AI and machine learning-based solutions can significantly reduce the time required for threat detection and incident response. Cybercriminals can also use the technology to increase the effectiveness, scalability, and success rate of attacks, significantly changing the threat landscape for businesses in the years to come. To learn about how the next-gen techs like AI/ML are impacting the cyber threat landscape, Nidhi Shail Kujur of Elets News Network (ENN) interacted with Basil Dange, Chief Information Security Officer, Aditya Birla Sun Life AMC Limited.
How important has analytics become for organisations?

To my understanding, it plays a crucial role within the organisation for both business as well as for security professionals as it provides an area which needs to be focused on for enhancement, business use this data and perform analysis and take action accordingly for e.g., if for mutual fund industry if the business is able to get information such as which pages or website/policy there are getting more quires or hits they can then perform analytics and start promoting or branding or take action accordingly. Similarly, security professional also uses analytics to identify frauds and is able to predict future attacks based on trends and can implement controls/ visibility accordingly.
What are the significant factors impacting the security industry's growth?
There are a couple of factors few are:
The security team is not able to justify or provide details on benefits to business or management about security and how it is helping the organisation to be on the front foot/compete with their competitor and how it helps to increase time to market with security and attract the consumer
Security providers are still not yet open to working in an integrated way and hence most of the solution still works in silos and complete stories are not getting stitches.
Solution/technology should be onboarded based on the long-term road map and how it will be stitched with both technologies which will help business and security admin.
Expertise in multiple technology and solution
How are next-gen techs like AI/ML impacting the cyber threat landscape?
With the introduction of AI/ML with most of the security solutions, the admin can take faster decisions by identifying the behaviour of the attacker and blocking/remediating the same such capabilities are enabled for solution deployed on an endpoint to permitter to the cloud.
Correlation is done much faster with AI/ML to my knowledge and review still there are manual inputs/efforts required from the security team to further enhance the capabilities
How are CISOs preparing to meet the global demand for skilled, diverse workers with technical skills to meet the cyber challenges?
There will always be a shortage since security is and will be here to stay, there are a couple of things which need to be done:
Automation for the ongoing task, we should focus on things which are done by humans/administrators and offload those tasks to machines. Rather than making, machines do tasks which cannot be done by humans.
Share knowledge within the industry such as a playbook so the recreation of the wheel can be avoided.
Training resources by hiring fresher who will not stay but the younger generation are always eager to learn, and the same time shares their ideas/knowledge which change the complete perspective of think and view.
Also Read | "A CISO doesn't need to be a technology expert but should be aware of all the latest technologies"
What according to you is the future of the CISO role?
CISO will be getting more responsibility in future with the adoption of digitalisation, especially in the BFSI sector where all controls must be moved to endpoints which are nearer to the user. CISOs with technical knowledge and focused security will be playing a more crucial role.