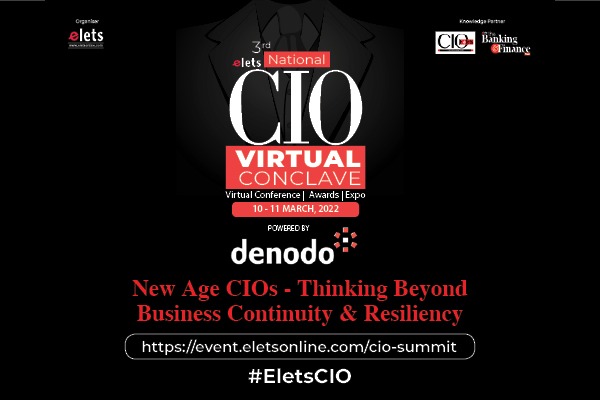 The outbreak of the Covid-19 pandemic and its continuing effect brought multiple levels of disruption in the last two years. While challenges were evident, the testing times brought several opportunities in disguise, as well.
These uncertain times, also underlined the need to maintain continuity and compelled leading organizations across the globe to consider their response, and the actions they need to take now to maintain their business.
As digitisation and technology became a significant part of every operation, CIOs and their role became vital in making sure the organization can function as pandemic containment measures are implemented.
Underlining the key role of CIOs, Elets Technomedia is going to organise 3rd National CIO Virtual Conclave & Awards on 10th & 11th March 2022 with the focal theme – New Age CIOs – Thinking beyond Business Continuity & Resiliency.
This two-day confluence will focus on encouraging signs on the horizon and holds discussions on the dramatic change in processes and organizational structures and technological deployments.
Eminent dignitaries namely Rupesh Nain, Chief Information Officer, Adani Group, Ganesh Ramachandran, Global Chief Information Officer, Alkem Laboratories Limited, Ashish Ahuja, Chief Operating Officer, Fino Payment Bank, Dr. Priyabrata Sarangi, Chief Information Officer, DCM Sriram Industries Limited, Juhi Singh, Head of Digital- Center of Excellence India & International, Marico India Limited, Utkarsh B,Chief Architect, Flipkart, Azain Ghany, Group Chief Information Officer, Emjay – Penguin and many more.
The conference will be supported by Denodo (Powered by Partner), Oracle (Cloud Partner), GoTo (Associate Partner) and Crestron (Unified Communication Partner).
Trendsetter CIO Awards 2022 will also be organised during the summit where leaders will be felicitated for their exemplary contribution through innovative strategies to the sector they represent.
For more details on the summit, please visit: https://event.eletsonline.com/cio-summit/