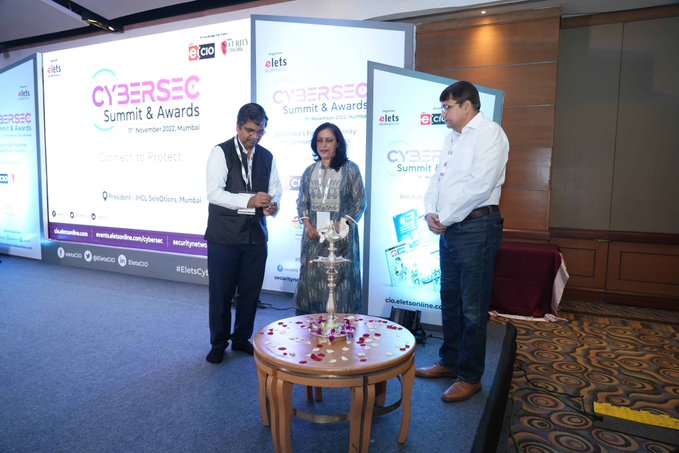 Capturing the most pertinent thoughts addressing the challenges and solutions to counter cybersecurity threats in the ever-evolving & digitally empowered world, Elets Technomedia organised the Elets Cybersec Summit & Awards on Friday at President IHCL SeleQtions, Mumbai.
The summit witnessed the participation of the finest fraternity of cybersecurity professionals. Over 200 industry leaders attended the event for an exchange of ideas and experiences.
With top leaders under one roof, the summit provided exclusive networking opportunities and thought-provoking conversations to help enterprises chalk out an innovative security action-plan for future-readiness.
Dr. Ravi Gupta, CEO & Editor-in-Chief, Elets Technomedia, kicked off the power-packed summit with his visionary talk. "Every industry, including cybersecurity, is going digital at an ever-increasing rate. Today, we will discuss the integration of digital technologies into cybersecurity," he said.
Special Address
Dr. M. SasiKumar, Executive Director, Centre for Development of Advanced Computing (C-DAC), Mumbai and Dr. Padmaja Joshi, Senior Director Centre for Development of Advanced Computing (C-DAC), Mumbai enlightened the audience on the current scenario and the changing cybersecurity landscape in the digital age.
Highlighting the key challenge during his special address on "AI and Cybersecurity: The Data Challenge", Dr. M. SasiKumar said, "The trendiest topic on the planet right now is Artificial Intelligence. The new AI possesses hidden information like a few general networks. There is no clear information of data, and it makes it tough to predict what is happening aside from the outcome."
"The information that powers your security systems must be safe and secure. Data's ability to be trusted is becoming a crucial quality because it powers people's internal operating systems," he further added.
The summit presented yet another captivating and invigorating address on " Cybersecurity & e-Gov Solutions" by Dr. Padmaja Joshi Senior Director Centre for Development of Advanced Computing (C-DAC), Mumbai. "The government has evolved to use "Single Sign On" to help its services. e-Pramaan is one such service. "Single Sign On" can help us do away with unnecessary login and password while availing any services as it is painstaking to remember a plethora of passwords and login IDs," she said adding that we must be mindful that "Single Sign On" must have additional features from the cybersecurity perspective viz., multi-factor authentication, fraud detection and management, authorisation, secured channel and identity verification.
She further said, "Mobile Penetration has increased drastically. We have 100 login IDs or passwords for 100 of the services we use which is really a very cumbersome process. A strong and unbreachable database is a must for cybersecurity."
Brijesh Singh, Additional Director General of Police, Government of Maharashtra, also graced the summit with his presence. "For the first time, cybersecurity is becoming paramount in national geopolitics. With the way certain nation-states are developing capabilities, I feel cybersecurity is no longer an enabler, but rather an existential threat," he said in the special address.
Pertinent Cybersecurity segments
The most brilliant security luminaries from across the country shared in-depth insights into key elements impacting the industry such as key attributes of the gext-gen CISO, Zero Trust Approach, data breaches & insider threats, the cybersecurity strategy for 2023 and beyond, etc. in engaging panel discussions.
Manoj Nayak, Chief Information Security Officer, SBI Life Insurance Co. Ltd. said, "Everyone must consider security before constructing any electronic infrastructure. The CISO and security functions must expand to include the full spectrum of information risk, not just information security or cyber security."
On the successful implementation of Zero Trust Security approach, Basil Dange, Chief Information Security Officer, Aditya Birla Sun Life Insurance opined that we need to check the feasibility, and stability while deploying it, adding that organisations must have a plan on how it can be rolled back in case The ZTA doesn't work.
"Zero Trust is very much like the security that we use in an organisation to protect from internal and external threats. Zero trust not only protects the organisation, it also encourages customers to trust the organisation," he further said.
The action-packed summit also decoded cybersecurity in the digital age and how organisations can mitigate risks while building resilience. Rachit Shukla, Chief Information Security Officer Head- Information Security, Hippo Stores said, "As a cyber security expert, if your cyber security strategy is not built on a strong and robust risk management approach, you will undoubtedly ignore threats or risks that your organisation faces. Cyber security is no longer a function in silos. It has to adopt a well integrated approach to see that cyber security outreaches the technology."
Recognising Cybersecurity Leaders & Stalwarts
The summit concluded with Elets Cybersec Awards, recognising cybersecurity innovations from across the country. The glittering award ceremony highlighted key initiatives, products and leadership that are bringing agility and advancements in the security framework.
Expo
SYSTECH Technocraft Services Pvt. Ltd. showcased cutting-age solutions at the expo. SYSTECH is a leading, value-added distributor and solution provider for cyber security, blockchain, info security, network performance, and data analysis.