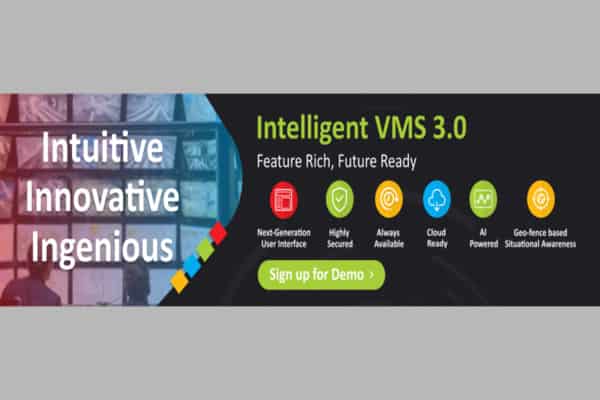 Videonetics, the world's first AI & DL powered Unified Video Computing Platform (UVCP™) has intergrated its Intelligent VMS 3.0 with COM-SUR, the world's only CCTV video footage auditing, smart backup, and standardized intelligent incident reporting software.
The technology integration will help users to carry out auditing and review of CCTV video feeds in real time, creating exceptional intelligent incident reports for quick escalation and resolution of an incident with a unified, future-ready, and unprecedented enterprise class functionalities of Intelligent VMS 3.0.

"Videonetics is focused on developing strategic relationships and building a strong ecosystem, thereby making our technology accessible to our partners and customers. With this technology integration, we are committed to delivera holistic solution to customers for achieving optimal outcomes from surveillance video, advanced level of situational awareness for any size of installation, ensure a lower total cost of ownership (TCO), enhancing aid in investigations of any incident" stated, Avinash J Trivedi, VP – Business Development, Videonetics.
Also Read: I-T department declares 3 email IDs for grievance registration under faceless assessment scheme
Gautam D. Goradia, Founder and CEO of COM-SUR said "COM-SUR, the world's first unique 3-in-1 feature-rich software enabling meaningful auditing, smart backup, and standardized intelligent incident reporting by the seamless integration with the Intelligent VMS 3.0 of Videonetics, delivers a force-multiplier, as a powerful CCTV surveillance tool. This synergistic partnership will effectively demonstrate to users, for diverse home/industry applications, tangible benefits ranging from security to productivity. The homogenous interaction between a video management system and the COM-SUR software makes auditing of a footage very easy, shrinks the data size, and creates actionable incident reports for timely intervention and corrective actions".